Romanian referee Octavian Sovre is facing time out from football after the "Haaland-affair" in Manchester on Tuesday, OG News has learned.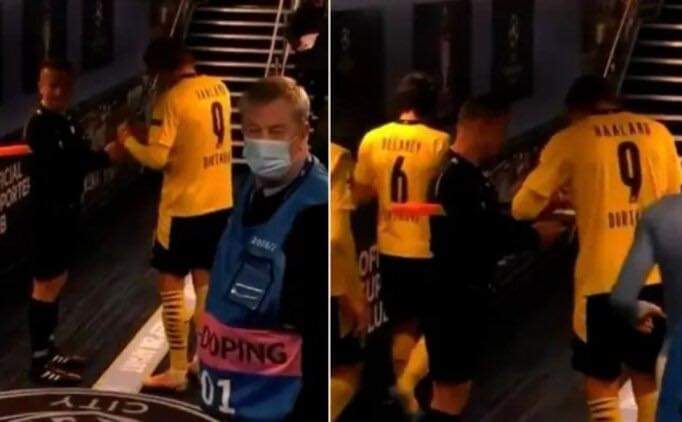 Sovre was caught on camera while asking superstar Erling Haaland for an autograph at the end of the Champions League clash between Manchester City and Borussia Dortmund (2-1) in the first leg of the Champions League quarterfinals.
Heavily criticized right after the game for lacking professionalism, Sovre soon became a hero after the reason behind his gesture became known. The Romanian ref had been supporting a charity in his hometown by donating memorabilia taken from football superstars after the games.
Sovre claims he gave away more than 250 objects, including cards signed by Barcelona god Leo Messi. "Messi was touched when he heard about the charity and their fight to help people with a severe form of autism. He heard me out and signed nine cards for me, not one or two," Sovre told the Romanian media.
Romanian refs' boss: "You shouldn't have talked!"
It wasn't only Messi who was impressed with Sovre's campaign to help SOS Autism Bihor. The charity takes care of around 30 children and adults with severe forms of autism. The most important names in Romanian football, including former Barcelona and Real Madrid great Gheorghe Hagi, who's the country's biggest football personality, as well as former Chelsea and Juventus forward Adrian Mutu made donations to the charity, too.
SOS Autism Bihor intends to put all the shirts, boots and signed footballs up for auction to mark World Autism Month, which kicked off last Friday and runs throughout April.
Sovre spoke out about the events in Manchester on Tuesday and expressed his willingness to "take all risks" so the charity's actions become known.
"I first said no when I was asked, but in the end, I decided to accept a dialogue," Sovre told Romanian outlet Playsport. "Maybe they'll now fine me because of these interviews, but I decided to do it no matter what. These people fighting autism need help."
A negative reaction from Sovre's boss came fast.
Sources inside the Romanian FA tell OG News that Kyros Vassaras, chairman of the CCA (Romanian Refs' Committee), decided to remove Sovre from the officiating crew for tomorrow's big national derby between third-place Craiova and second-place CFR Cluj.
In a personal conversation between the two on Wednesday, Vassaras reportedly told Sovre he was extremely upset that the Champions League linesman was being so talkative with the media. He reminded Sovre that UEFA strongly discourages referees from answering press requests for interviews.
Supposedly quite angry, Vassaras scolded Sovre: "You shouldn't have talked! Try to fix this!"
BREAKING | The Romanian Refs' Committee decided to STOP assistant ref Sovre from refereeing for the time being. He will not be part of Hategan's officiating team on the last round of the regular season in the Romanian first tier. pic.twitter.com/ILsb3Dtqwk

— Emanuel Roşu (@Emishor) April 9, 2021
Sovre called the Playsport journalist and requested that he take the story offline. But Playsport declined, as the interview had already spread throughout the Romanian media.
Sovre faces UEFA suspension, too
Sovre's "autograph incident," followed by his interviews, couldn't have come on a worse moment. Just as the Romanian referee opened up to the press on Wednesday, Sky Sports News reported that UEFA's Chief Refereeing Officer Roberto Rosetti sent an email to all European officials that asking for autographs or shirts from players "is simply unacceptable," suggesting that such signs of fandom are below the dignity of a UEFA referee.
The legendary Italian official also pointed out strict guidelines when it comes to handling the media, players, and coaches:
"You don't need to explain anything to the players or coaches after the match, even if you realize you made a mistake on the pitch," Rosetti wrote. "Admit the mistake to your team and the referee observer. Contact me about it if you wish but do not ask to see the coach after the match to explain or apologize for your mistake … Don't talk to journalists about matches you have just officiated at. Remember what one of the former UEFA referee Committee chairmen once told us — the best media interview is the one you do not give."
Sovre is now waiting for a decision from UEFA, which is also expected to sanction him. He will probably not be involved in any European football game before the end of the season but is expected to be forgiven at the national level. Sovre is supposed to officiate in Ovidiu Hategan's refs' team at the Euro finals this summer as well.
Octavian Sovre is 47 and has been an international referee for 17 years.