As the 2020 US election awaits certification, most (but not all) oddsmakers and sportsbooks are paying out Joe Biden as the winner. Looking back, it was the betting world, not traditional pollsters, that called the election more accurately.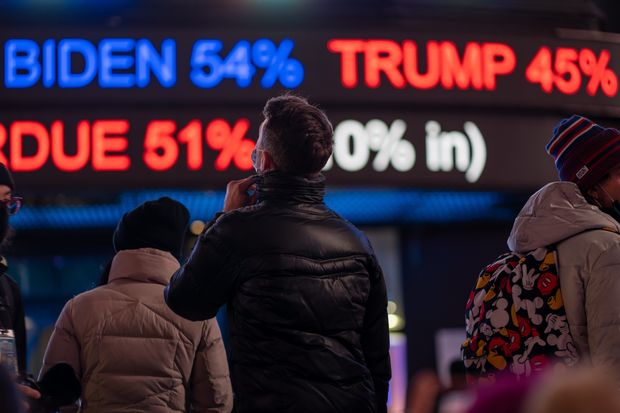 More money changed hands on the 2020 election than any event in history, and if you ask some oddsmakers, the single biggest betting event of all time. Matthew Shaddick, head of political betting at Ladbrokes Coral Group, said the industry's final tally is between £1-£2bn ($1.3-$2.3bn)
"Betfair's Next President market is now the biggest betting event of any kind in history, including sports," Betfair said the day before the election in a statement. "Based on current and past trends, the total may well go beyond £400 million."
Betfair reported its biggest political bet of all time when one bettor wagered £1m ($1.3m) in favor of Joe Biden. That player is due a payout of £1.54m ($1.9m). In the run up to Election Day in the US (Nov. 3), international houses reported taking more wagers than their systems could handle, with sites like PredictIt crashing entirely.
"Wagering on this year's election is five times higher than 2016," Bovada political oddsmaker Pat Morrow told Forbes, "which was also record-breaking for us."
But was it the oddsmakers that really had the edge over what pollsters were saying? Let's take a look.
Pollsters vs. Oddsmakers
Though the final results weren't close from a bird's eye view — President-elect Joe Biden garnered 306 electoral votes and a 5.5 million vote lead in the popular vote as states continue to count the final mail-in ballots. In the weekend leading up to the election, when poll aggregators like Nate Silver's FiveThirtyEight were trending Trump down to a 9% or 10% chance of re-election, bettors were backing the incumbent.
The weekend leading to the election, bettors on the British exchange Smarkets gave Biden a more narrow 65% chance of winning, while Trump's numbers bumped up to 35% on the eve of Election Day. PredictIt released similar odds just before it crashed. (It's important to note that betting on elections only occurs outside the US, as betting on politics is not licensed in America.)
Betfair said it also trended Trump's odds improving by a percent or two before Americans took to the voting booth. Bovada had the incumbent's odds trending up to 39% just before the election.
Florida a Good Case Study in Polling Flaws
While FiveThirtyEight had Biden taking Florida by a margin of 3.3 to 3.5 points on the eve of the election, oddsmakers had the opposite, with Biden down by as much as four points. It turns out, the gambling markets had it nailed.
"Florida is one [place] where the polls suggest Biden is the more likely winner, but the markets have Trump as favorite," Shaddick said. "The GOP has tended to over-perform the polls quite regularly in that state."
Indeed, Trump, who visited Florida at least 16 times before the election, took the state 51.2% to 47.9% — almost spot on to what bettors predicted.
States Biden flipped from the previous election, such as Arizona and Georgia, were expected to go in Trump's favor, according to pollsters. Critical battleground states like Michigan, Wisconsin, and Pennsylvania, which were eventually won by Biden, were also way off, according to pollsters. For example, FiveThirtyEight's models projected that Biden would win Wisconsin by 8.3 points; with all votes tallied, he took the Badger state by 0.63%.
Is the Polling System Outdated?
An argument can be made that oddsmakers or even social media sites, the latter of which are unregulated and can be heavily manipulated by lies or conspiracy theories, might be a better barometer than traditional polling.
The modern polling we refer to started in the late-nineties when up to 9,000 random phone calls tried to capture a total of about 800 respondents, asking them a series of questions. Eight hundred is a big enough cohort to weed out randomness or a cluster of people living in one area that leans a certain way.
An analysis of both the 2016 election (waaaaaay off) and the 2020 election (off in most cases) shows that polling needs to change because the people who now answer polls are probably of a specific demographic: Older, less busy and, in some cases, strange. Some analysts even go so far to say that those who take the time to answer polls aren't generally in touch with the political or popular zeitgeist, which means pollsters are likely sampling a cohort of outliers.
Betting Markets Easily Manipulated?
Historians Paul Rhode and Koleman Strumpf wrote a paper entitled "The Long History of Political Betting Markets," where they posited that odds markets can also be wildly manipulated, and that can affect outcomes as well. In their analysis, they discuss 2013, when a single whale bet between $4-$7 million on Mitt Romney to defeat President Barack Obama in 2012, which accounted for a third of the total handle.
The Romney bet skewed the odds to a point where the eventual Obama victory looked a lot less like a foregone conclusion to oddsmakers than it did to pollsters.
Then, 2016 came along and, with Donald Trump polling at less than an 8% chance to be victorious, bettors climbed on for an upset and were handsomely rewarded. PredictIt and OddsShark outperformed the polls by wide margins. Like Irish online gambling giant Paddy Power, some ended up paying out Hillary Clinton before results were called and took a £4m hit.
With the polls and the betting markets showing Joe Biden can beat Donald Trump in November's presidential election, some money managers are buying European assets in anticipation https://t.co/paJroNISXR

— Bloomberg (@business) August 8, 2020
In the end, it seems polls are flawed and outdated, but markets are still heavily influenced by one rogue influencer. That's why—to tweak a phrase, we go to the polls …and the window.