What are the odds that a Division One team will finish the regular season undefeated? For most teams, the answer is slim to none. But for a few teams, like Clemson and Alabama, they can see a path. Two weeks in, there are only 14 teams with at least a mathematical chance at being undefeated when the final regular season whistle blows.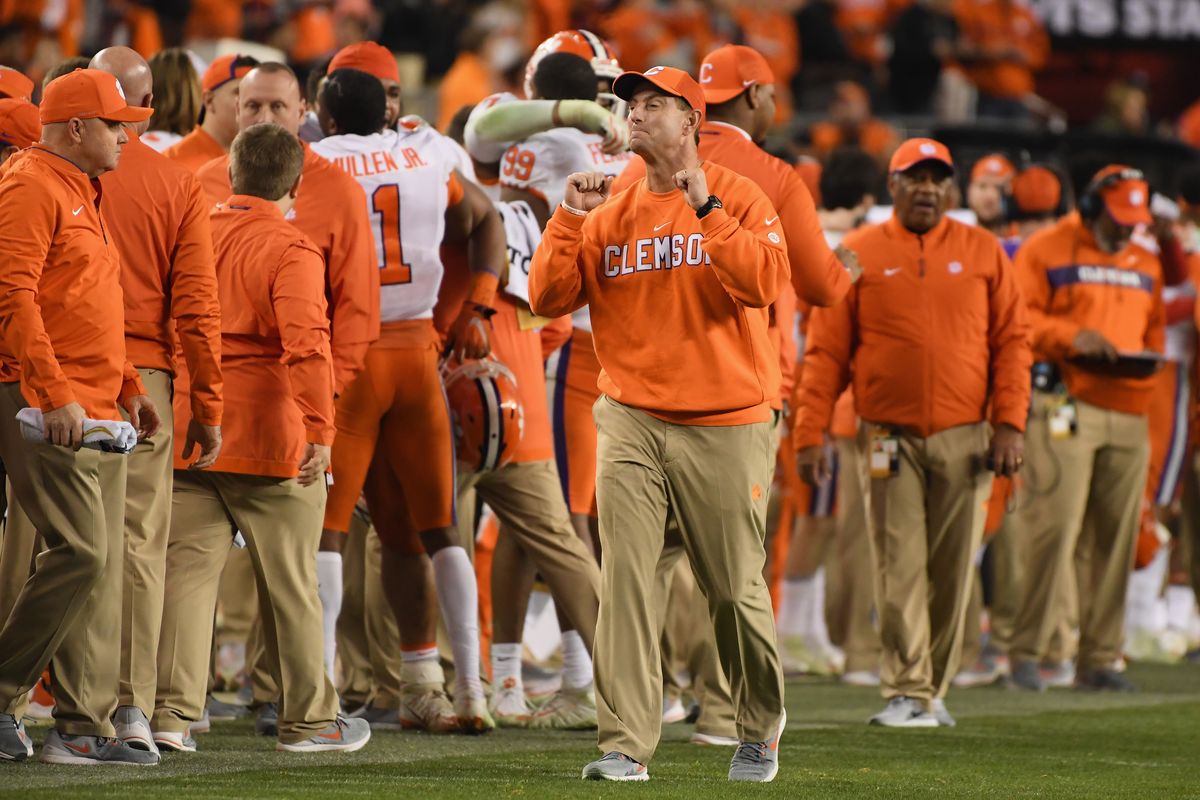 Considering the strength of their schedules and their performance through Week 2, which teams still statistically have a shot at an undefeated season? According to the ESPN power index of the 130 eligible programs in Division I, only 17 were rated as having at least a 1 percent chance of running the table to a zero-loss regular season.
The odds include league championship games, but not bowl games, and are adjusted weekly. UCF made the biggest jump in the first two weeks of the season. Boise State's odds tumbled, but not as low as Michigan. The Wolverines barely register anymore at 0.1 percent. Ohio State and Wisconsin didn't make the 1 percent threshold preseason, but have edged their way into the field of the potential undefeateds.
Current Odds for Undefeated Season
---
(Preseason odds in parenthesis)
Clemson (49.8 percent) 57.2 percent after week two
Alabama (20 percent)  22.2 percent
UCF (5.5 percent)  19.8 percent
Oklahoma (8.1 percent)  10 percent
Notre Dame (2.9 percent)  6.8 percent
Boise State (13 percent)  6.7 percent
LSU (4.9 percent)  6.2 percent
Ohio State (0.6 percent)  3.4 percent
Georgia (4.8 percent)  2.6 percent
Wisconsin  ( 0.0 percent)  2.2 percent
Penn State (7.4 percent)  2.1 percent
Utah (1.5 percent)  1.5 percent

Memphis (1.0  percent)  0.4 percent
Michigan (1.9 percent)  0.1 percent
Washington (2.9 percent)  lost to Cal. in week two
Cincinnati (1.1 percent) lost to Ohio State in week two
Oregon (2.3 percent) lost to Stanford in week one
---
Really Good ≠ Undefeated
An interesting statistical quirk in the odds came in Week 2, with Cincinnati listed as having a 1.1 percent chance of going undefeated, despite playing #5 ranked Ohio State. Cincinnati entered the game a 16.5-point underdog, and favorite Ohio State was given only a 0.6 percent chance to finish the season undefeated. An undefeated season and winning last weekend didn't correlate because Ohio State crushed Cincinnati 42-0.
The undefeated odds say as much about schedules as they do about team skill and strength. Clemson made it through Texas A&M last week and will face the now 1-1 Syracuse Orange in Week 3. Barring a resurgence next week for Syracuse after their 63-20 loss to Maryland, Clemson should be on cruise control to the end of the regular season.
Expect the odds for Clemson to go much higher each week as the Tigers take aim at an undefeated season.
There are no head-to-head matchups between teams still on the potential undefeated list this coming week, but week-over-week, expect one or more teams to lose their shot at a perfect season. Oregon did in Week 1. Cincinnati and Washington fell in Week 2. On the watch list this week; UCF a 3-point favorite over Stanford.
---
Week 3 Schedule for Potential Undefeated Teams
Clemson -24 at Syracuse
Alabama -21 at South Carolina
Boise State -32 vs. Portland State
Oklahoma -17 at UCLA
Penn State -17.5 vs. Pittsburgh
UCF -3 vs. Stanford
LSU -56 vs. NW State
Georgia -31.5 vs. Arkansas State
Notre Dame -38.5 vs. New Mexico
Memphis -20 vs. South Alabama
Utah -35 vs. Idaho State
Ohio State -15 vs. Indiana
Wisconsin  off
Michigan  off