Canadians are almost always favored to win international curling competitions, so it's no surprise to see them at the top of the list when it comes to mixed doubles at the Winter Olympics. But in the newest of curling formats, few know what to expect, and several teams could legitimately feel like they have a shot at taking home gold.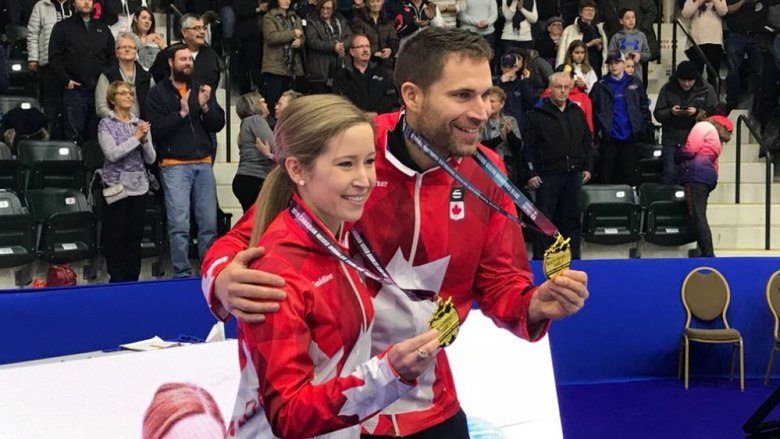 Kaitlyn Lawes and John Morris emerged as the Canadian mixed doubles team following a stacked national trials that included many of the world's best curlers. Both already own gold medals in women's and men's curling, respectively, and are looking to translate that success to the two-player format, which is making its Olympic debut in PyeongChang.
"Everyone is new to mixed doubles at the Olympics," Lawes said at a press conference. "Yes, both of us have that gold medal back home, but right now we're focusing on this week and it's a clean slate."
Mixed Doubles Favorites
Given their pedigree, Canada has been made the clear favorite to win the first ever mixed doubles gold medal. At online betting house Bwin, the Lawes/Morris team is a +125 pick to win the event, well ahead of anyone else in the field.
But Canada has never won a World Mixed Doubles Curling Championship, medaling only twice in the 10 years the event has been contested. The Canadians came close last year when they sent another world class team (Joanne Courtney and Reid Carruthers), but lost to Switzerland in the finals.
That same Swiss team of Jenny Perret and Martin Rios is back to try to win gold in Korea. Switzerland (+400) is among the favorites to take home a medal, having won six World Championships in mixed doubles. China (+400) is also expected to be a serious threat, as they have finished on the podium in each of the last two World Championships.
Another Miracle on Ice?
The Russian team of Anastasia Bryzgalova and Alexander Krushelnitskiy was approved to play under the Olympic Athletes from Russia designation, and will certainly be regarded as one of the top contenders. Their +500 odds may look attractive considering they won the 2016 World Championship, though they finished a disappointing ninth last year.
But with rules that promote a lot of scoring, and a cadre of top teams that have historically been highly competitive with each other, some of the teams further down the board might be attractive to bettors.
For instance, the American team of Becca and Matt Hamilton (+1200) could easily find themselves in contention. The siblings – who are also playing on the US women's and men's teams at the Olympics, respectively – went undefeated in pool play at last year's World Championships, which included a win over Canada before being upset by Finland in the knockout rounds and ultimately finishing in 10th place.
Mixed Doubles Curling Odds
Canada +125
China +400
Switzerland +400
Olympic Athletes from Russia +500
Norway +1000
United States +1200
South Korea +2000
Finland +2500
source: Bwin
The Hamiltons believe that their familial relationship gives them an edge over some of their competitors.
"We both are a little less timid around each other," Matt told USA Today. "If she misses a shot or if I miss a shot, we can be very blunt on why you did it because I've known you forever."
The mixed doubles curling competition begins at 9:05 Seoul Time on Thursday. Eight teams will compete in a round-robin format before the semifinals are played Monday, with the medal games being contested on Tuesday.