New jockey restrictions put in place by Oaklawn and Gulfstream Park sent the rider colonies at those two parks – and elsewhere — into a scramble of altered plans, missed racing days, and enforced quarantines.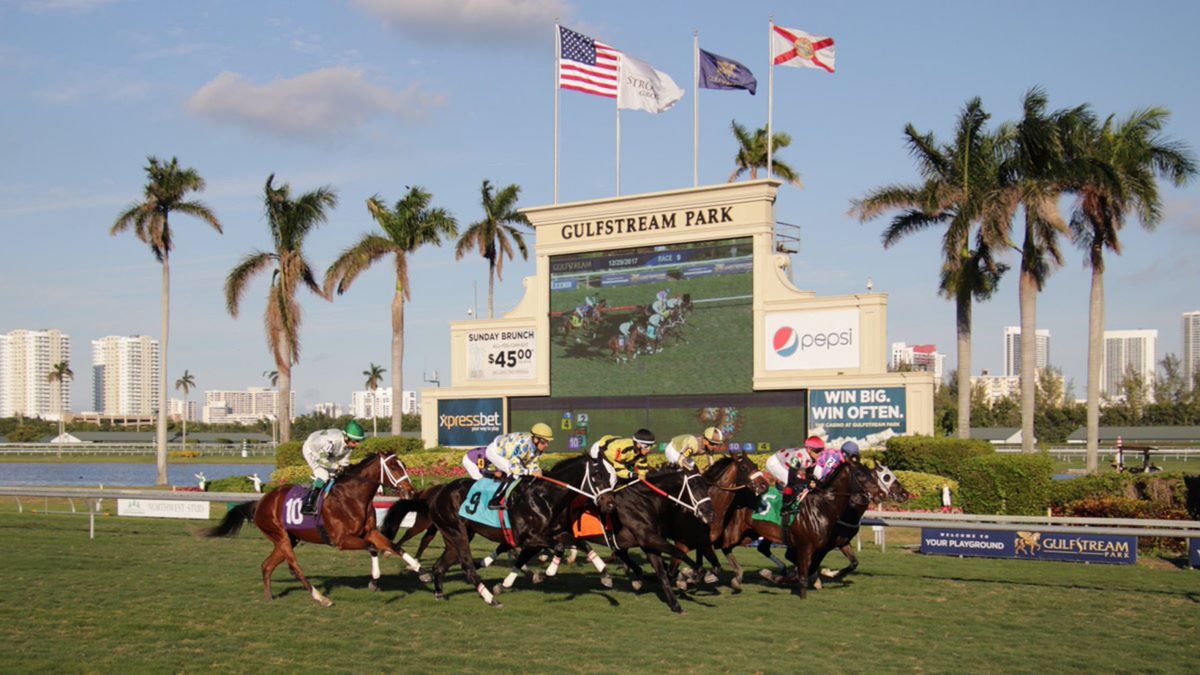 The new regulations, placed in response to the COVID-19 pandemic, have jockeys and their agents puzzled as they attempt to navigate a suddenly byzantine path of dos and don'ts implemented by two of the few racetracks still featuring live racing.
Riders Face Travel Ban And Quarantines
Oaklawn in Arkansas sent jockeys a letter last week detailing some of the new regulations. The letter stated that any rider who traveled to the Fair Grounds in New Orleans would face a mandatory 12-day quarantine before returning to the jockey's room at Oaklawn. In addition, those riders would be "subject to increased medical protocols," which weren't specified in the letter.
Florent Geroux, who rode Wells Bayou to a gate-to-wire victory in the Louisiana Derby at Fair Grounds, posted the letter on Twitter.
I'm not sure who came up with this letter @OaklawnRacing but it doesn't make any sense at all 🙄 pic.twitter.com/74R1tnRqJ2

— Florent Geroux (@flothejock) March 20, 2020
Ricardo Santana Jr. rode at Fair Grounds on Saturday and was informed he'd have to miss Oaklawn's races for the next 12 days. Oaklawn-based Chel-c Bailey took herself off her mounts at Will Rogers Downs Monday when Oaklawn officials warned her she was subject to the same quarantine. That's due to fellow jockey Ty Kennedy, who rode at Fair Grounds on Saturday and could have had contact with Bailey in the Will Rogers Downs jockey's quarters.
After Saturday's Louisiana Derby card at Fair Grounds, track officials canceled the final week of the meet to comply with New Orleans Mayor LaToya Cantrell's order to avoid large gatherings and stay home.
Gulfstream Instituted Its Own Restrictions
Meanwhile, Gulfstream didn't institute any regulations or restrictions on jockeys traveling from Fair Grounds to the Florida track. Three jockeys: Julien Leparoux, Joe Bravo, and Joel Rosario all rode at Fair Grounds on Saturday and at Gulfstream on Sunday.
The track did institute a rule, however, requiring jockeys to arrive in Florida by Sunday night in order to ride this week's cards, according to drf.com. This week's cards include Saturday's Florida Derby, one of the top Kentucky Derby prep races in the country.
Three jockeys — Javier Castellano, Manny Franco, and John Velasquez — who planned on riding at Gulfstream this week arrived in Florida before the Sunday deadline, but Junior Alvarado wasn't as fortunate. He rode at Fair Grounds on Saturday and didn't arrive at Gulfstream until Monday.
"That caught us off-guard," Alvarado's agent, Mike Sellitto told drf.com. "We were originally told we had to be there Tuesday night. At the last minute, they told us Sunday night."
Australian Jockeys Under Bigger Microscope
While American jockeys cope with these restrictions, their international brethren face far more scrutiny. In Australia, jockeys are only allowed to travel from state to state or internationally via private vehicle or chartered flight. At each track, they face mandatory temperature checks and are forbidden from racing if their temperature is above 37.6 degrees Celcius (99.7 Fahrenheit).
In addition, racing officials in New South Wales announced plans on Tuesday that ban interstate riders and trainers, segregate jockeys, and impose restrictions on how horses arrive in the state. This move affects who can and cannot ride in Sydney's lucrative Autumn Carnival meet.
Among the regulations, jockeys who were not in New South Wales by 5 p.m. Monday are prohibited from attending or riding at any NSW racecourse. The same applies to any NSW-based jockey who leaves the state, then returns. Trainers are subject to the same rules.
The jockey segregation plan breaks the NSW jockey colony into three zones: metropolitan, north and south/west. Jockeys must decide which zone they will ride from, and then cannot accept any race-day rides from any other zone.
These rules go into place beginning with Friday's races.