The New York Knicks added Kemba Walker in free agency, but he's struggled since his arrival — as have the Knicks — so head coach Tom Thibodeau benched him to revitalize the stagnant team.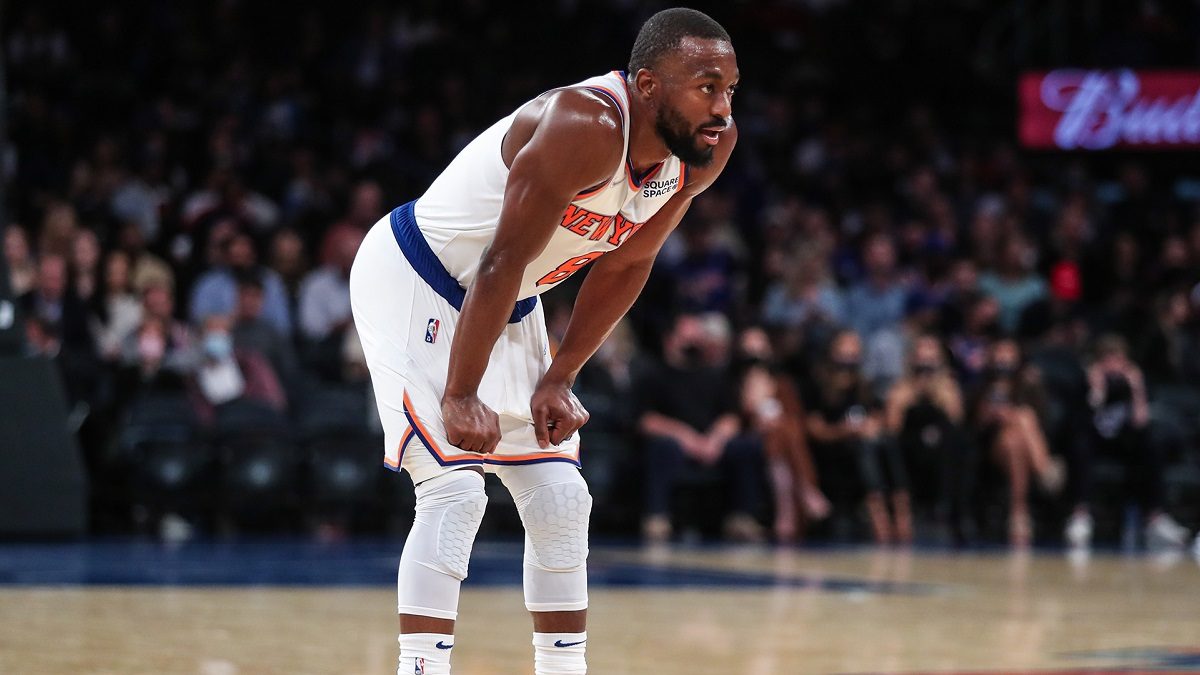 The Knicks secured the #4 seed in the Eastern Conference playoffs last season, but after the first quarter of the current season, they occupy the #7 seed and are clustered with five other teams that are trying to stay above .500.
Not only did Walker lose his starting job, but he fell out of Thibodeau's playing rotation. Thibs is a defense-first coach, but he would have made a compromise if Walker had been lighting it up on offense. Walker and his bum knees were an obvious defensive liability, but out of respect for the veteran, Thibs gave him 20 or so games to turn around his poor start.
"It's a tough decision to make, but you always have to do what's best for the team," said Thibodeau. "I view Kemba as a starter and so it would be tough to play three small guards together. I've got great respect for Kemba and all that he's accomplished in this league. But, I have to do what's best for the team."
Walker averaged over 20 points per game as a pro, but he's averaged only 11.7 ppg in 18 games with the Knicks as a secondary scoring option behind Julius Randle. In reality, he was only fifth in scoring for the Knicks behind Randle (19.4 ppg), RJ Barrett (14 ppg), Evan Fournier (13.1 ppg), and Derrick Rose (12.2 ppg).
Bad-knees Kemba, terrible D
The Knicks always fall behind in the first quarter, but their second unit often made up the deficit. The slow starts spilled over into the third quarter, and the Knicks' bench was tasked with making up the difference in the second half.
"Don't like the way we've been trending, the inconsistency of our team," said Thibodeau said. "I want to get bigger. I want our defense to get bigger at the point of the attack. So, basically that's it. You got to do something different."
The Knicks are bloody awful with Walker on the floor, with a 116.3 defensive rating, which would be the worst in the league as a standalone stat. When Walker isn't on the court, the Knicks have a stellar defensive rating (99.0). The 16.3-point difference is impossible to ignore.
The Knicks are ranked #9 in offensive efficiency without Walker, but they're ranked #27 out of 30 with him on the floor. Walker and his cranky knees are too slow to switch on screens, while Alec Burks is much taller and quicker, which makes it harder for opponents to get wide-open looks on 3-point shots.
"When you have that type of size, it allows you to do more switching," said Thibodeau. "It helps with the rebounding. It helps with control of the ball."
When Walker plays, the Knicks have a -13.3 net rating. Without him, the Knicks are +11.2. When you glance at the numbers, it's obvious why the Knicks benched Walker.
Kemba trade rumors
Walker, who grew up in the Bronx as a Knicks fan, spent eight seasons in Charlotte with the Hornets. When Michael Jordan refused to offer him a super-max contract extension, Walker bolted to the Boston Celtics in free agency. However, injuries got the best of Walker during his two seasons in Boston.
When Brad Stevens ended his stint as head coach of the Celtics and joined the front office as their new general manager, he involved Walker in one of his first major moves. Stevens traded Walker to the Oklahoma City Thunder in a lopsided package for Al Horford that also included a first-round draft pick.
The Thunder and Walker agreed on a contract buy-out, which opened the door for a return to New York City and the chance to play for his hometown team. The Knicks signed Walker to a two-year deal worth $18 million.
The Knicks don't want to impulsively dump Walker on the trade market. They will most likely wait until the trade deadline in February and find a team that's decimated with injuries or desperate for a former All-Star and elite scorer who's lost a step (or two).