Novak Djokovic retired from his fourth-round match against Stan Wawrinka at the US Open on Sunday, ending his bid to win back-to-back titles and 17th overall Grand Slam title.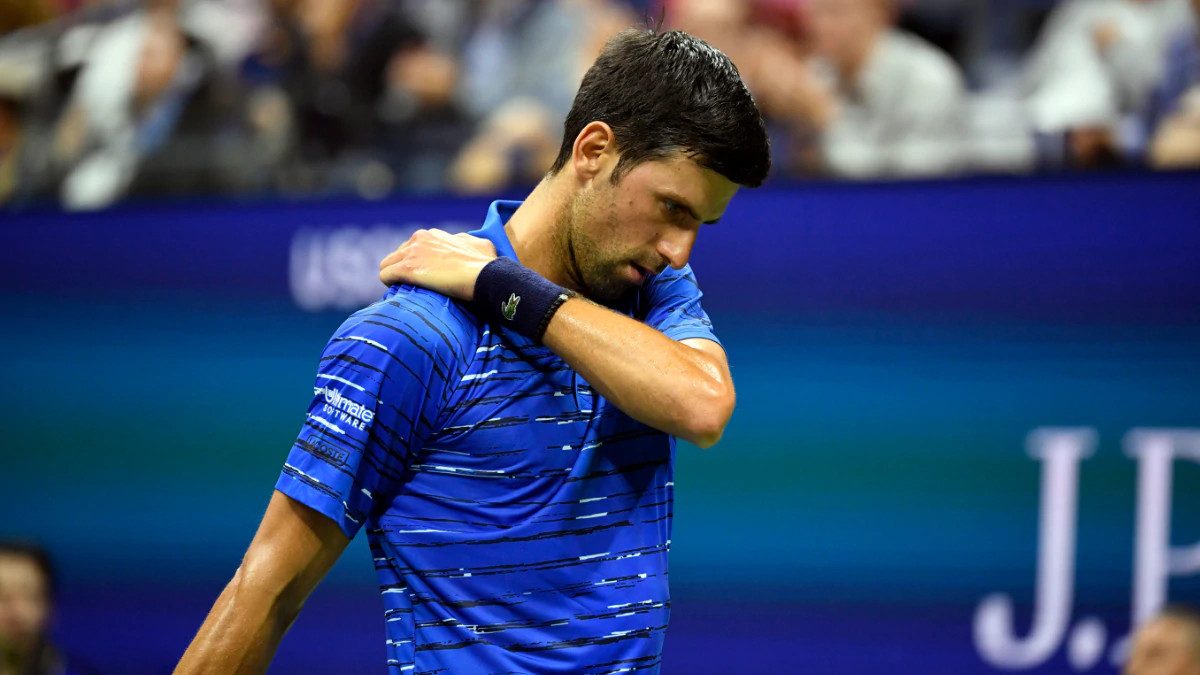 Djokovic made the decision to retire due to a shoulder injury that has been bothering him for the last few weeks on tour.
Djokovic Bows Out Due to Pain, Deficit
Had the circumstances been different, it's possible the world No. 1 could have fought through the pain and continued plying. Wawrinka and Djokovic played an outstanding first set, and Djokovic looked to be in control of the second set early before Wawrinka broke back.
But late in the second set and early in the third, it was clear Djokovic was struggling. When Wawrinka broke again in the third, Djokovic was now down 6-4, 7-5, 2-1. Between the two-set deficit and his physical condition, the 32-year-old Serb simply didn't see a way to win the match, and retired.
The decision led to boos from some in the US Open crowd, a reaction that Djokovic understood.
"I'm sorry for the crowd," Djokovic said in a post-match press conference. "Obviously, they came to see a full match, and just wasn't to be. I mean, a lot of people didn't know what's happening, so you cannot blame them."
Djokovic said that he doesn't think the injury will have a long-term impact on his epic career race with Roger Federer and Rafa Nadal.
"Look, it's no secret that I have, of course, desire and a goal to reach the most Slams, and reach Roger's record," Djokovic said. "But at the same time, it's a long road ahead hopefully for me I hope I can play for many more years. I'm planning to."
Federer Rolls, Medvedev Roils Crowd
Speaking of Federer, he continued his dominant play in the fourth round, blitzing past No. 15 seed David Goffin 6-2, 6-2, 6-0 in just 79 minutes. Federer has only lost nine games combined in his last two matches after getting off to slow starts and losing the first set in each of his first two rounds.
"Sometimes these scores just happen," Federer said after the match. "I found my groove after a while and was able to roll really. Never looked back."
Also advancing was No. 5 seed Daniil Medvedev, who defeated German qualified Dominik Koepfer 3-6, 6-3, 6-2, 7-6. Medvedev – who has racked up $19,000 in fines for conduct violations at the US Open this year – has embraced the role of old school wrestling heel at the tournament, goading on the New York crowds in each of the past two rounds.
Daniil Medvedev has gone full villain 😈

After advancing at the US Open, Medvedev openly basked in boos from the New York crowd. pic.twitter.com/hGBKfSXdlW

— ESPN (@espn) September 2, 2019
"What I need to say again is that today I was losing 6-3, 2-0," Medvedev said in his on-court interview. "And you guys, being against me gave me so much energy to win. Thank you."
Upsets Leave Serena Standing Tall
The women's draw at the US Open opened up significantly on Sunday, as both second-seeded Ashleigh Barty and No. 3 Karolina Pliskova lost on Louis Armstrong Stadium.
That was great news for Serena Williams, who defeated No. 22 Petra Martic 6-3, 6-4 to advance to the quarterfinals. There was only one scary moment in the match for Williams, as she rolled an ankle while coming to the net to play a ball early in the second set.
"I was volleying, and it just went over," Williams said afterwards. "It affected me a little mentally because I had a rough year with injuries. I was like, oh my god, not again."
Also going through to the quarterfinals was No. 5 seed Elina Svitolina, who eliminated No. 10 Madison Keys 7-5, 6-4.
---
US Open Odds for Key Monday Matches (Via FanDuel Sportsbook)
No. 1 Naomi Osaka (-230) vs. No. 13 Belinda Bencic (+190)
No. 6 Alexander Zverev (-114) vs. No. 20 Diego Schwartzman (-102)
No. 2 Rafael Nadal (-1200) vs. No. 22 Marin Cilic (+820)
No. 15 Bianca Andreescu (-420) vs. Taylor Townsend (+330)
No. 25 Elise Mertens (-360) vs. Kristie Ahn (+290)
---
Monday will see the other half of the fourth-round matches play out. No. 1 seed Naomi Osaka (-230, via FanDuel Sportsbook) will take on Belinda Bencic (+190), while Rafael Nadal (-1200) will face 2014 US Open champion Marin Cilic (+820). The premier match on Monday night might be the clash between American qualifier Taylor Townsend (+330) and No. 15 Bianca Andreescu (-420), the Canadian teenager who has established herself of a Grand Slam contender.