Two top 10 teams that have been spotty against the spread, managed to disappoint bettors again in Week 9 of the college football season. No. 5 Notre Dame won its game against Navy, but failed to cover the 23.5 points, while No. 6 Texas lost outright to unranked Oklahoma State.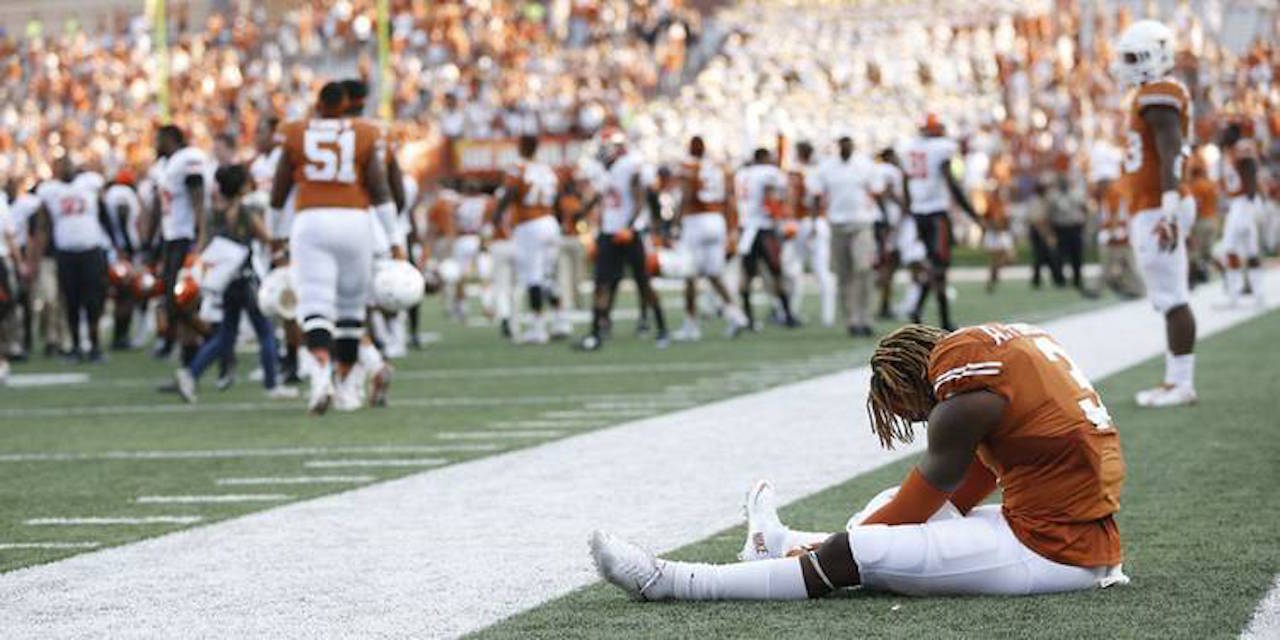 Fortunately for those who placed wagers on the other three top-10 teams, they covered rather easily. Clemson, who was giving away 18 points to Florida State, blasted the Seminoles, 59-10. The Tigers seems to be righting the ship as far as bettors are concerned, winning their third consecutive game ATS, and now have a .500 record after failing to cover the first three games of the season.
The No. 7 Georgia Bulldogs were a 6.5-point favorite against No. 9 Florida and blew out the Gators, 36-17.†The other team that managed to give bettors an easy win was Oklahoma. The Sooners reached a 4-4 record ATS with a 51-14 victory over Kansas State, who was getting 24 points.
Fighting Irish Trending Down
Notre Dame had been on a three-game winning streak ATS, but have lost their last two. On Saturday they led 27-0 at halftime, but let the Midshipmen back in the game. Navy got as close as two scores early in the fourth quarter, before the Fighting Irish pulled away for the 44-22 win.
That was of little solace to those who took the No. 5 team in the country. The line opened at 24 and was bet down as low as 22.5 in some sportsbooks, but it still wasnít enough.
Utah State Rights the Ship
The Aggies had been undefeated ATS, but were handed its first loss when they failed to cover in their 24-16 win over Wyoming last week. Saturday, they faced New Mexico, and for the second time this year were a favorite of 20 or more points.
The Lobos needed more than the 20 points they were getting, as Utah State creamed them 61-19. In Week 2 they were 21.5-point picks over New Mexico State, and won easily, 60-13. Itís too bad there arenít any other teams in the Land of Enchantment that they can play. As of now the New Mexico Institute of Mining and Technology has no plans to start a football program.
Washington State Continues Streak
The lone major college team that has won all of its games ATS did it again over the weekend. Washington State went to a perfect 8-0 when as a three-point underdog defeated Stanford straight up, 41-38.
The Cougars got points for the third time this year, and for the second time, didnít need them. They also were a 1.5-point underdog against Utah, and won 28-24.
They are hosting Cal this weekend and the opening line was 11, but has moved to 10.5.
Bad Beat of the Week
Against Missouri, Kentucky was getting anywhere from 3.5 to 7.5 points, depending on when gamblers bet them. The Tigers took a 14-3 lead into the fourth quarter and then melted down, ruining everyoneís day who backed them.
The No. 12 Wildcats scored on a 57-yard punt return to ruin the cards of those who gave away the 7.5 points, but others still had a chance to salvage their -3.5-point cards with the score 14-9.
http://www.espn.com/video/clip?id=25101224
That is until a pass interference call on the 2-yard line with time expired gave Kentucky one final play. Quarterback Terry Wilson hit C.J. Conrad for the go ahead touchdown, 15-14.