Notre Dame coach Brian Kelly knows that Louisville is capable of an upset Monday. He just wants his team to realize it. The No. 9 Fighting Irish are traveling to the Cardinals for their debut game of the 2019 season as an 18-point favorite.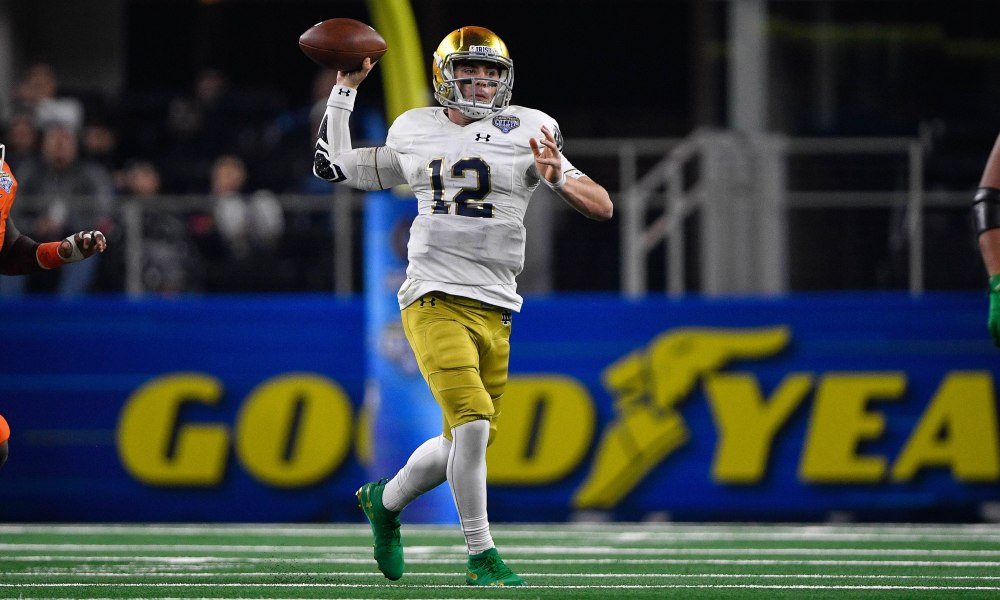 There is motivation for the team. They went 12-0 and made the College Football Playoffs in 2018, only to get blown out by eventual National Champion Clemson, 30-3. Wide receiver Chris Finke said they are ready.
"We've been waiting since that Cotton Bowl ended," Finke said. "We've been itching to get back on the field. It's been a long time preparing in the weight room and on the practice field. Starting strong is always a good feeling. That's the goal and that's the focus."
Good Team, Bad Bet
While Notre Dame was undefeated last year, they were only 6-6-1 against the spread last year. Of the true road games they played they were 2-2 ATS.
New Louisville coach Scott Satterfield is used to playing big name opponents close. The former head coach at Appalachian State went to Penn State as a big underdog, and nearly shocked the Nittany Lions. App State had the lead with less than two minutes remaining before PSU scored and won in overtime.
Satterfield did the same thing two years before that, traveling to Tennessee and losing 20-13. He credited preparing his teams for how well they played against Power 5 conference programs.
"That's where you win or lose games," Satterfield said. "It's not that day, not on Monday night. It's all the other stuff leading up to that and we have to get there."
Kelly Taken Notice
Satterfield's methods have certainly caught the attention of Kelly. In meeting with the media for Monday's game he pointed out the talent on the Cardinals team.
"There are a number of players that really jumped out at film and I think it starts on the offensive line with their left tackle (Mekhi) Becton, I think he's going to be a high draft pick," Kelly said. "Somebody that I think, when we watch film, we've been very impressed with his ability. We've got some outstanding pass rushers and I think they'll be challenged in this ballgame. He really is a is a player that jumped out at us."
Kelly was also impressed with Louisville's receivers.
"I think the receiving core is as good as there is in the ACC," Kelly said. "Clemson maybe has a better core but I think when you look at Patrick and certainly Dawkins, Atwell, this is a is a very talented group of wide receivers at the highest end in the ACC."
As far as his team, Notre Dame returns quarterback Ian Book, who said the team is looking to build on last year.
"We want to totally dominate, but there's more that we want to do," Book said. "We want to totally dominate all four quarters."