Fabiano Caruana and Alireza Firouzja both won classical games with Black in the first round to take the early lead in the Altibox Norway Chess tournament on Monday.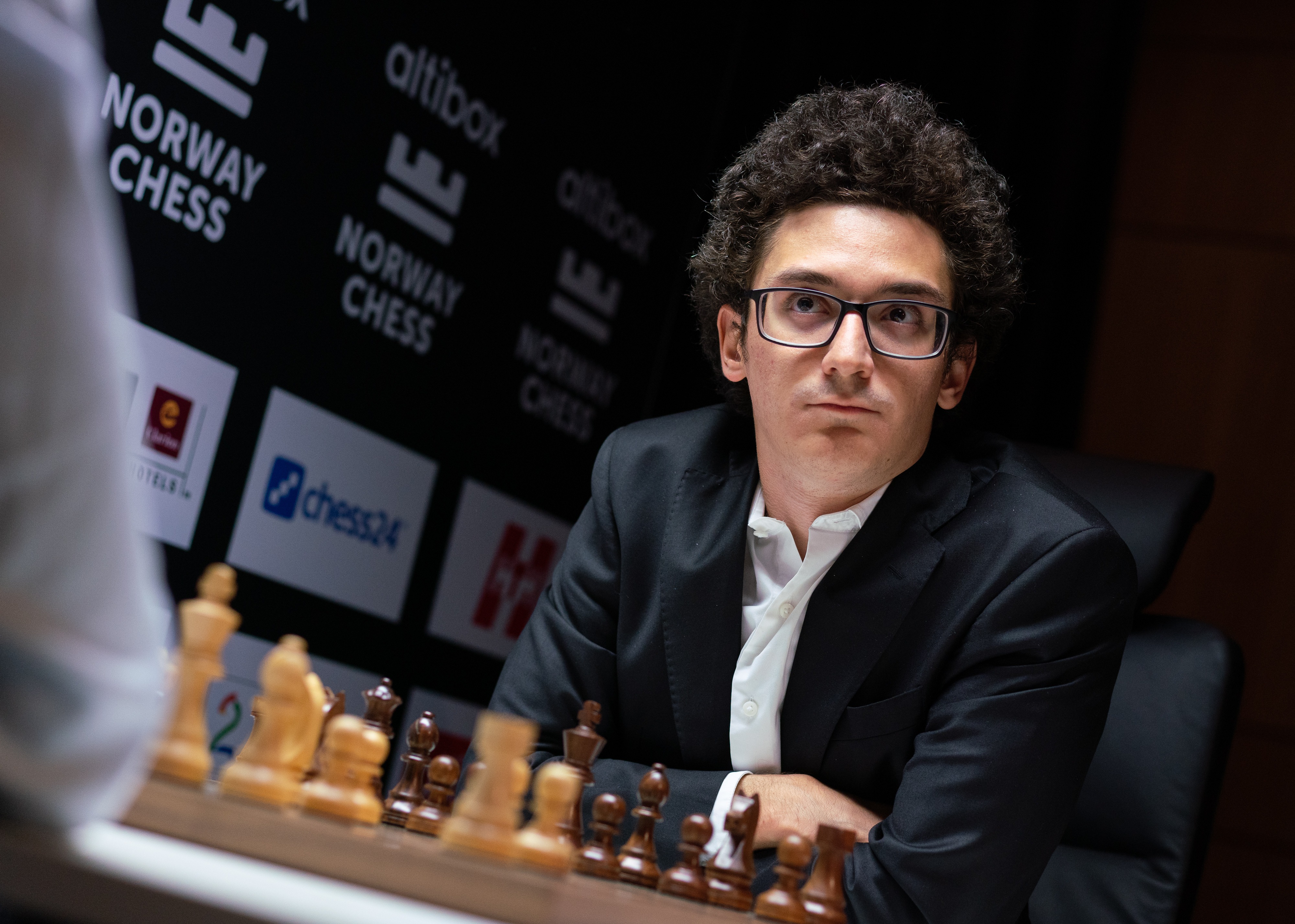 World Champion Magnus Carlsen also picked up a victory with Black, but needed an Armageddon game to get past Levon Aronian after they fought to a draw.
Caruana Still Undervalued After Opening Win
That puts Caruana and Firouzja in first place with three points each, while Carlsen has 1.5 for a clear third.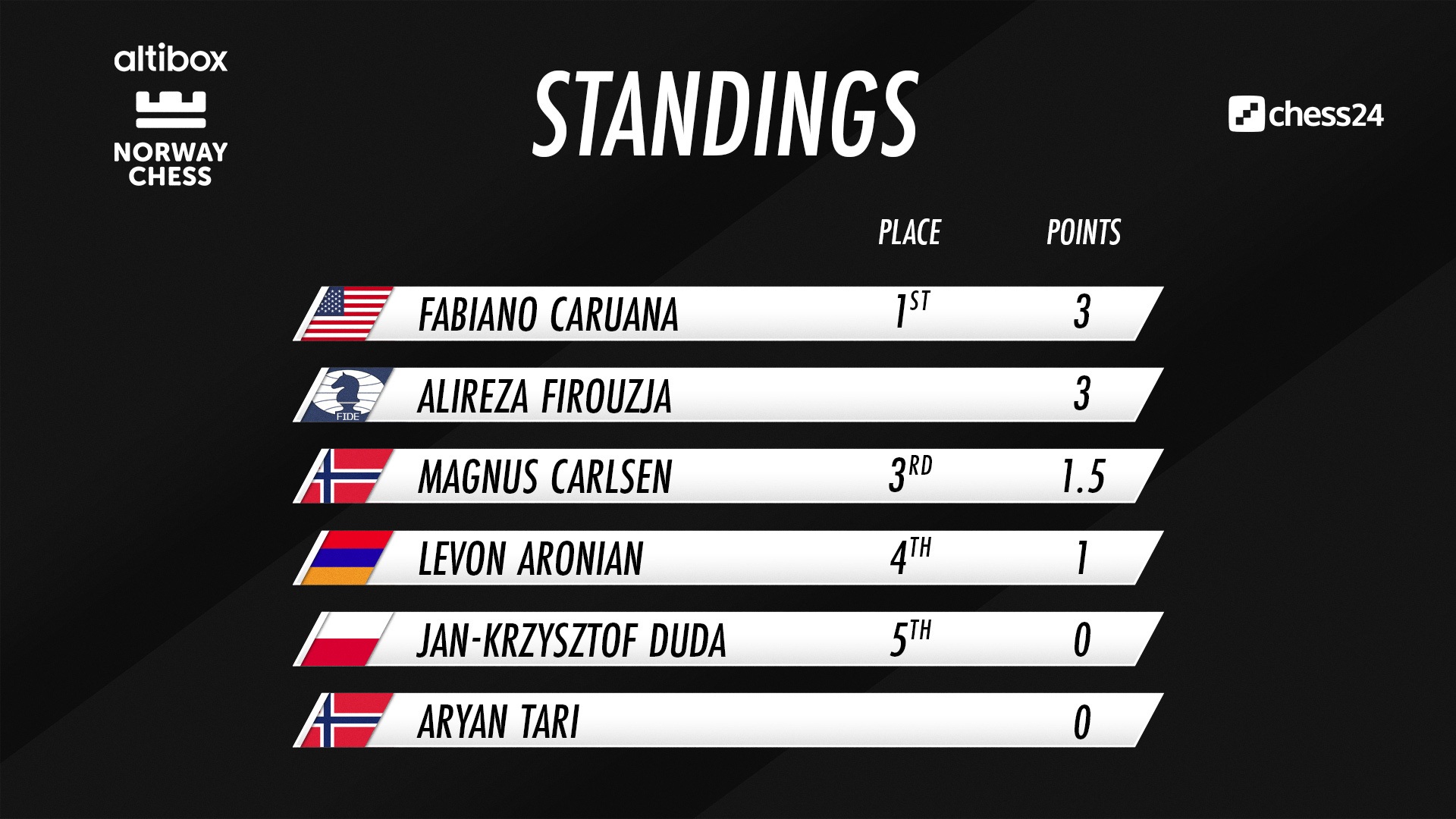 For those who missed my last Chess Bets column, I backed Caruana to win Norway Chess at +500 odds. That bet looks like it has a lot of value after Round 1, and sportsbooks haven't adjusted their numbers much after Caruana's first win. If you haven't backed him yet, you can still get the American to win the tournament at +400 on either Bwin or Unibet. Those odds still seem far too long and should represent a value play for bettors.
After I posted my first Chess Bets for Norway Chess, bookmakers started listing odds on individual games. That should give us plenty of opportunities throughout the tournament.
---
Norway Chess Odds: Round 2 (Classical Games Only, Odds via Unibet)
White
Draw
Black
Levon Aronian: +115
-118
Aryan Tari (+1400)
Magnus Carlsen: -125
+125
Alireza Firouzja (+1300)
Fabiano Caruana: +165
-167
Jan-Krzysztof Duda (+1300)
---
Betting sites are offering two markets on each game. Bettors can wager on a three-way market on the classical game only, or bet on who will get the win, whether that comes in the classical or Armageddon game. Remember, if the Armageddon game ends in a draw, Black earns a win in the standings.
When it comes to the classical-only markets, I'm targeting Aryan Tari when the odds look reasonable. Tari ranks as the weakest player in the field by far, and while he's strong enough to be competitive, he figures to lose several games in regulation.
When he's playing one of the strongest players in the field as Black, a loss seems likely. On Tuesday, he'll take Black against Aronian. Unibet is offering +115 on Aronian to win the game – enough of a premium for me to back him with White against Tari.
Norway Chess Armageddon Rules Create Opportunities
When it comes to the "including Armageddon" markets, I feel it's important to realize than an individual Armageddon game will be closer to a tossup than many people want to admit. If anything, Black will have an increased advantage in Norway Chess: they're using a longer time control than usual, and giving an increment – albeit only one second per move – after move 40, which should make it harder for White to win via flagging, despite its time edge.
Round 1 of #NorwayChess was a good day for Black! https://t.co/L0L2WIkQmt #c24live pic.twitter.com/VZLEKj2vRy

— chess24.com (@chess24com) October 5, 2020
Whether that's true or not, I definitely want to target situations where players seem underpriced to win in Armageddon. That'll be true when a draw in the classical game seems like a reasonable result, and the underdog has shown good results in blitz and Armageddon play in the past, especially if they have Black.
All those factors come together in the Carlsen vs. Firouzja game. Carlsen could certainly win in regulation, but a draw seems equally likely as the rapidly improving Firouzja has shown he can put up stiff resistance against the world champion. That's especially true in blitz play where Firouzja has already beaten Carlsen in a 16-game match. Unibet is offered Firouzja at +300 to win, including Armageddon, a price too good for me to pass up when he only needs to draw twice to cash.
The Picks: Aronian to beat Tari (+115), Firouzja to beat Carlsen including Armageddon (+300)