In one of the closest votes in the history of the AP College Football Top-25 Poll, LSU edged out Alabama for the top spot. The Tigers moved from the second spot into No. 1 by two votes over previous No. 1, Alabama.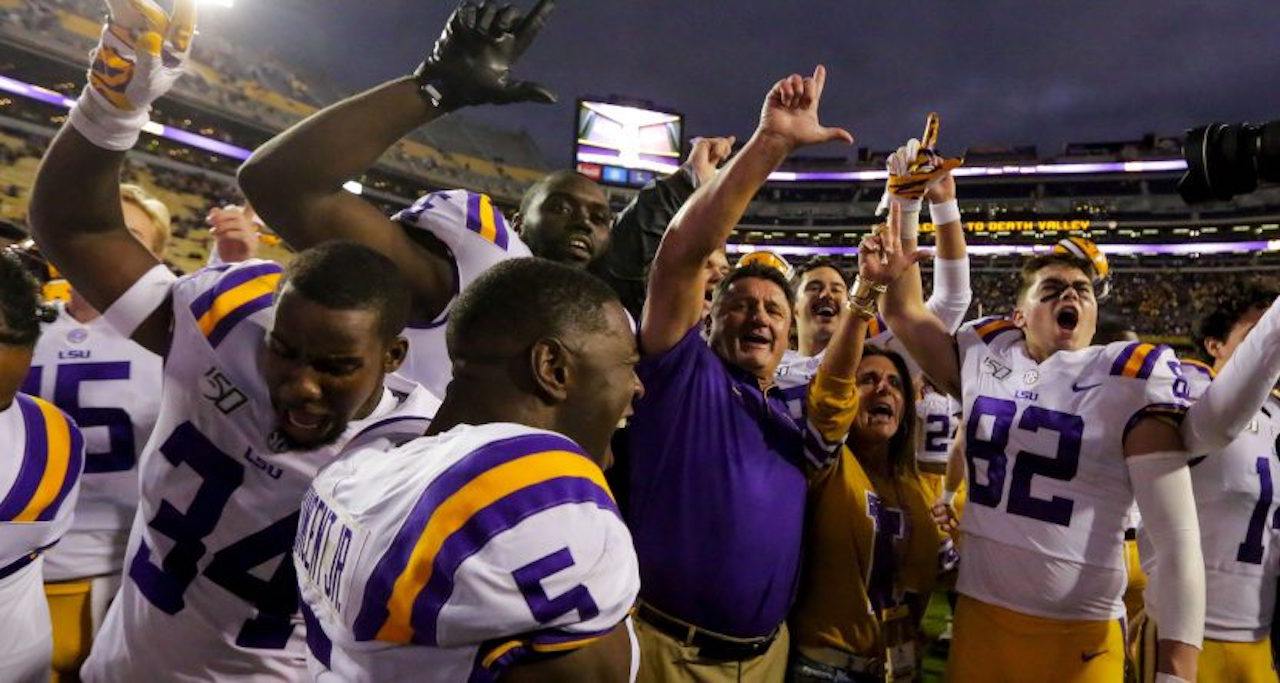 Apparently, voters weren't impressed by the Crimson Tide's 48-7 dismantling of Arkansas. Alabama was a 35-point favorite, and covered for the fourth time in eight games.
Alabama coach Nick Saban was once famously quoted as saying, "It doesn't matter what you're ranked until the end."
The Crimson Tide was No. 2 for the first five weeks of the season, then supplanted Clemson at No. 1. The Tigers, who are undefeated, have been slipping down the poll, and are No. 4 this week.
Orgeron Not Saying LSU No. 1
After LSU defeated No. 9 Auburn on Saturday, a reporter asked Tigers' coach Ed Orgeron if LSU should be the new No. 1. Orgeron, who was at 14/1 to be the first coach fired before the season began, didn't want to speculate.
"Man, I just know we're 8-0," Orgeron said. "We won a football game. That's out of our hands."
LSU became the new No. 1 on Sunday. Voters gave them 1,476 points, just two more than the 1,474 they gave Alabama. The Crimson Tide, however, received more first-place votes, picking up 21 to LSU's 17.
Ohio State, who stayed at No. 3 after a 38-7 beating of Wisconsin, received 17 first-place votes. Clemson got the other seven.
Oklahoma, Notre Dame Fall Hard
For the third consecutive week, there was a shocking upset involving a team in the top 10 when Oklahoma fell on Saturday. The Sooners came into their game with Kansas State at No. 5, but a 48-41 defeat by the Wildcats knocked Oklahoma down to No. 10.
Sooners coach Lincoln Riley told reporters he was stunned his team was outplayed.
"Incredibly disappointed, didn't play very good against a good football team in a hostile road environment," Riley said." When you play like we did, it's going to get down to a coin flip play at the end, and it didn't go our way. It's good that we fought back, just disappointed in how out-physicaled we were across the board. We just didn't do the things well that we've done as we won all of our games coming into this one, really on all sides."
Notre Dame slipped from No. 8 to No. 16 after its stunning 45-14 defeat to Michigan. The victory gave the Wolverines the biggest jump in the poll, from No. 19 to No. 14.
Bye Bye Texas
The biggest fall this week is owned by Texas. The Longhorns fell completely out of the top 25 when they lost to TCU, 37-27. Texas was at No. 15. TCU was led by freshman quarterback Max Duggan, and Texas coach Tom Herman credited his performance.
"Obviously not the outcome that we had expected or prepared for," Herman said. "Felt good about where we were in the first half. I thought our guys were flying around. They made a bunch of plays. I thought our defense was doing what was necessary. In the second half, their quarterback had a great game, made a lot of plays. Game went a bit differently than we had thought. We thought they'd try to protect him a little bit and run the ball. (He) made some unbelievable throws, hats off."