In the fifth and final game of the best-of-five NLDS, we'll see a rematch of Game 2's pitching duel between Mike Foltynewicz (Atlanta Braves) and Jack Flaherty (St. Louis Cardinals). The Braves won Game 2 with Foltynewicz, one of the hottest pitchers in baseball, and they'll start him once again in Atlanta against Cy Young-candidate, Jack Flaherty.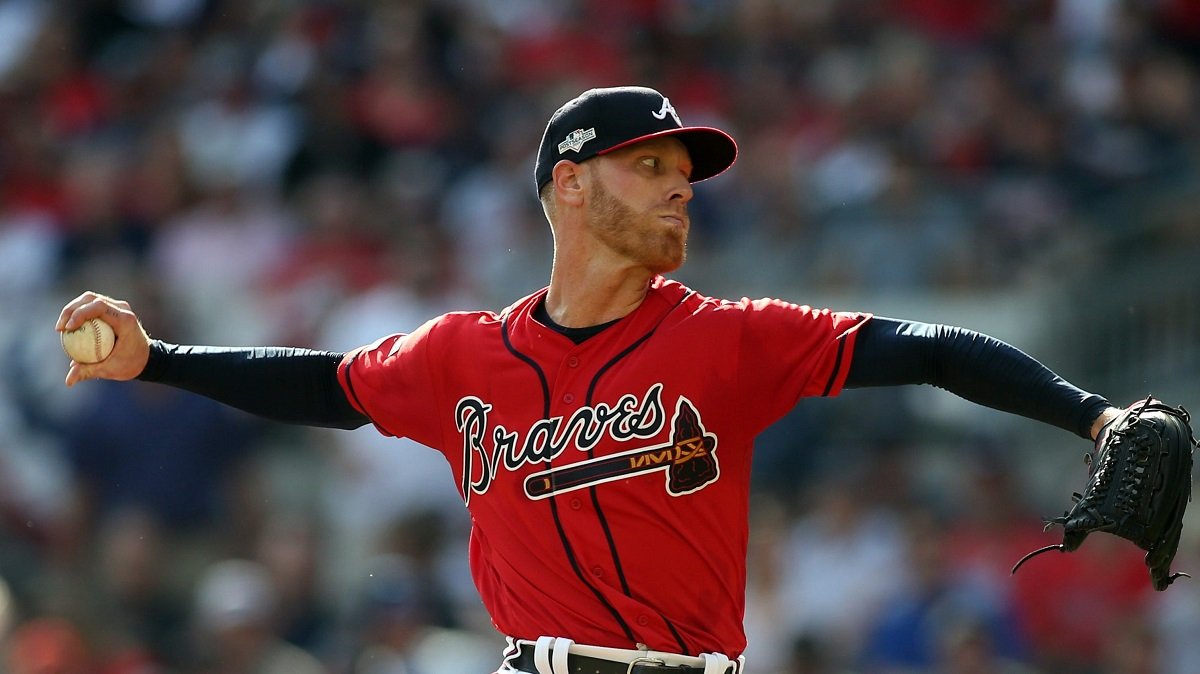 The St. Louis Cardinals won NLDS Game 4 in extra innings, 5-4, thanks to heroics from catcher Yadier Molina, forcing a fifth and final elimination game in the 2019 NLDS. The Braves blew an 8th inning lead, and were unable to put the Cardinals away in Game 4. The series shifts back to Atlanta for Game 5.
This is the closest of the four divisions series. The Braves outscored the Cardinals 16-13 thus far in the NLDS.
"This has been an unbelievable series," said Atlanta Braves manager Brian Snitker. "My God, both teams just banging at each other and the close games and the late-inning heroics. It's been something."
NLDS Game 5: St. Louis Cardinals (91-71) at Atlanta Braves (97-65)
Start: 2:02pm PT
Location: SunTrust Park, Atlanta, GA
Starters: Jack Flaherty (11-8, 2.75 ERA) vs. Mike Foltynewicz (8-6, 4.54 ERA)
Money Line: STL -115 / ATL +105
Run Line: STL -1.5
The Braves won 50 games in Atlanta this season, while the Cardinals were barely a break-even team with a 41-40 road record.
According to William Hill, the Braves are 10/1 odds to win the World Series. The Cardinals are 11/1 odds to win the title.
Flaherty and Foltynewicz Reprise
This pitching matchup will be a reprise of Game 2's duel with Jack Flaherty up against Mike Foltynewicz. Folty threw seven scoreless innings to put the Braves in a position to win Game 2 and avoid an 0-2 hole.
"We've played these guys, we've saw them a lot already," said Mike Foltynewicz "So, now it's a chess game and go from there."
Foltynewicz went 7-1 with a 2.37 ERA in the second half of the summer after a stint in AAA. The demotion worked, and he returned to the Braves as a different pitcher. Foltynewicz has been lights out with a 1.48 ERA over his last eight starts.
If by chance, Flaherty isn't up to snuff for St. Louis, Adam Wainwright will be waiting on only two day's rest. Justin Verlander tried to pitch on short rest in the ALDS and the move backfired when the Tampa Rays tagged him in the first inning.
"I would expect Waino to be available," said St. Louis manager Mike Shildt. "Dakota Hudson may be a little different scenario. Listen, we've got guys we have a lot of confidence in. You never say never. Extenuating circumstances."
Flaherty asked Shildt to pitch in Game 4, but the manager opted to keep Flaherty in reserve for the elimination game.
Meanwhile, Max Fried (17-6, 4.02 ERA) has become a valuable weapon for Braves manager Brian Snitker. Fried saw action in the first three games and even pinch ran in Game 4. Fried will be ready to roll if Foltynewicz gets tired.
"Max'll definitely be available for that now, having two days off," said Snitker. "And multi-innings in the National League gets you the next at-bat, depending on where that falls."
Wake Up the Hotlanta Bats
In the two Atlanta victories in the NLDS, the Braves pitching staff shut down the Cardinals bats. The Braves outscored the Cards 6-1 in Game 2 and Game 3.
In Game 3, Mike Soroka and Wainwright were ensconced in an old-fashioned, October duel. The Braves were down 1-0 heading into the ninth when they worked their comeback magic to win 3-1, courtesy of late-game heroics by Adam Duvall.
Braves fans are hoping for another classic clampdown with the revamped Foltynewicz getting the ball in the elimination game. But they'll need to score four or five runs to win this do-or-die game.
"I don't think this team's confidence ever wavers," said SS Dansby Swanson said. "No matter who's up to hit, pitch, it doesn't matter. We've got faith in every guy on this team, and we're really confident moving forward."
The Braves struggled with runners on base, hitting just .117 with runners in scoring position.
"Obviously, we haven't done what we're capable of offensively," said Braves RF Matt Joyce. "You've got to tip your cap to their starting staff. They've come out and done a great job of not really opening the door to a lot of chances."