Two of the top contenders for the 2021 Stanley Cup are in action on Wednesday night, with both the Tampa Bay Lightning and the Colorado Avalanche beginning their seasons at home on NHL Opening Day.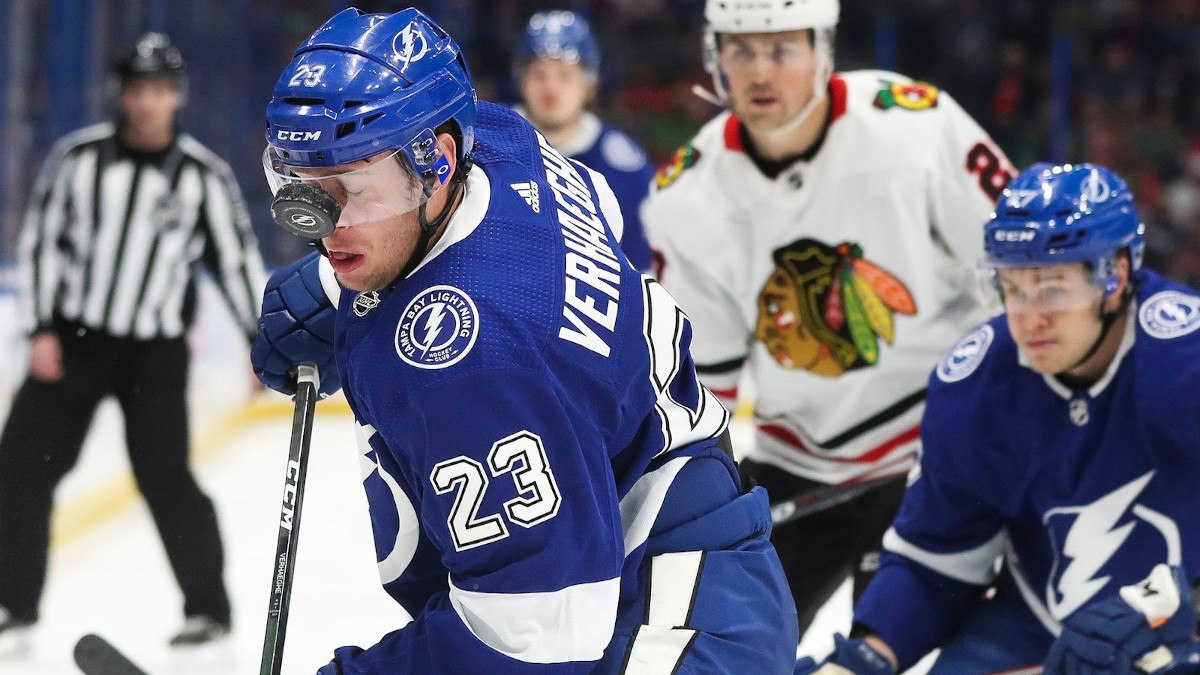 The Lightning will play host to the Chicago Blackhawks, while the Avalanche will battle the St. Louis Blues.
Tampa Bay Celebrates Title Without Fans
Tampa Bay comes into their home opener as a -250 favorite against the Blackhawks (+220), according to FanDuel Sportsbook. The Lightning will raise their championship banner on Wednesday, but they'll do so during a pregame ceremony without fans in attendance due to the COVID-19 pandemic. That decision came just last week, as officials had hoped to allow up to 4,000 fans inside the arena if possible.
But even without an audience, the Lightning remain hungry to start their title defense.
"Once you taste champagne out of the Stanley Cup, you want to do it again," Lightning head coach Jon Cooper told reporters.
The Blackhawks come into the season fresh off signing a two-year contract extension with head coach Jeremy Colliton. While expectations are low in Chicago, the franchise believes Colliton can turn things around.
"With the direction we're heading, Jeremy's a big part of that and someone I'm excited to work with," Blackhawks general manager Stan Bowman said, via NHL.com. "Jeremy's strength as a coach is his communication and relationship with younger players, and that's something we'll need as we go forward. We'll need those young players to take a step in their career."
Five Games on NHL Opening Day Slate
While Tampa Bay may be the defending champion, Colorado comes in as the consensus favorite to win the 2021 Stanley Cup. Most experts see the Avalanche as the class of a loaded West Division, which also include the 2019 champion Blues and the Vegas Golden Knights.
---
NHL Opening Day Odds (via FanDuel Sportsbook)
Pittsburgh Penguins: -105
Philadelphia Flyers: -115
Montreal Canadians: +125
Toronto Maple Leafs: -145
Chicago Blackhawks: +220
Tampa Bay Lightning: -250
Vancouver Canucks: +115
Edmonton Oilers: -135
St. Louis Blues: +125
Colorado Avalanche: -150
---
Colorado enters its NHL Opening Day matchup as a -150 favorite over St. Louis (+125), with both teams looking to make an early statement in what will be a 56-game season.
"It will be better than the bubble," Avalanche Star Nathan MacKinnon told reporters. "We might actually get to see some grass, so that will be good. We're ready to play."
The Blues actually finished two points ahead of the Avalanche in last year's regular season, though St. Louis will struggle to repeat that accomplishment. This year's Colorado team added depth and talent to solidify it as a clear Stanley Cup contender.
A total of 10 teams will start their seasons on NHL Opening Day. The season begins with a matchup between the Philadelphia Flyers (-115) and the Pittsburgh Penguins (-105). The all-Canadian North Division will also get off the ground on Wednesday, as the Toronto Maple Leafs (-145) host the Montreal Canadians (+125), and the Vancouver Canucks (+115) will visit the Edmonton Oilers (-135).