There are 11 winless teams going into Week 3 of the NFL season. Some are surprises, such as Carolina and Pittsburgh, while others, like Miami and Denver, are as futile as predicted.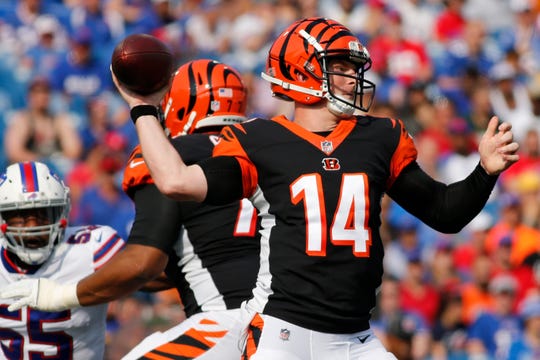 Before the season began, Fan Duel put the odds on a team going winless at +1600 yes, and -4000 no. The odds have come down somewhat. Bookmaker.eu now has the yes at +874.
Of the winless teams remaining, you have to throw out Arizona and Detroit, who tied each other in Week 1, and don't qualify for the prop bet. Jacksonville got off the winless train by defeating Tennessee on Thursday.
That leaves eight squads without a victory. Here's who looks like they can get a victory this weekend.
NFL Winless Teams with Good Odds to Win
Cincinnati Bengals
If the Bengals were at home against the Buffalo Bills, we would be a lot more bullish on them. Still, this is a game the Bills love to lose. Buffalo's two victories came against the New York Giants and Jets, both of whom remain winless. The Bills are giving away six points, but don't be surprised if the Bengals pull off the upset.
Chances of winning: 60 percent
Pittsburgh Steelers
The Steelers were dealt a blow when starting quarterback Ben Roethlisberger was knocked out for the season with an elbow injury. Backup Mason Rudolph played well in relief, and now gets to face a tough San Francisco team. The Steelers are 6.5-point underdogs but, if the defense can slow down the 49ers, they have a chance.
Chances of winning: 55 percent
New York Giants
The Giants made a much-needed change at quarterback, and now we get to see what Daniel Jones can do. Was he worth the sixth pick in the NFL draft? Probably, but his debut might not be a success since the team is in Tampa this week. The Bucs are giving away 6.5 points, and with Jameis Winston at QB, anything is possible.
Chances of winning: 65 percent
Carolina Panthers
This game all depends on whether Cam Newton is ready to play on Sunday. If he is, the Panthers should handle Arizona. If he isn't, I defy you to name Carolina's backup quarterback. Hint: It's Kyle Allen. Bonus points if you know what college he went to.
Point is, the Panthers need Newton. Oddsmakers don't think Newton is playing. The line went from three points in their favor to 2.5 in Arizona's.
Chances of winning: 75 percent if Newton plays, 25 percent if he doesn't.
NFL Winless Teams With Good Odds to Lose
Miami Dolphins
The Dolphins have already won the distinction of the worst team in the league, and this weekend shouldn't change that perception. They're at Dallas, and are 21-point underdogs. Miami has been outscored 102-10 so far this season.
Chances of winning: 10 percent
New York Jets
The Jets lost their quarterback Sam Darnold to mono, then lost backup Trevor Siemian to an ankle injury. They are going with Luke Falk when they visit New England. The Patriots are favored by 23 points, and that might not even be enough.
Chances of winning: 5 percent
Denver Broncos
The Broncos aren't quite as bad as their record indicates, but they have to go to Lambeau Field and face a red-hot Packers team. They lost a tough game at home against Chicago, 16-14. Good news is this game shouldn't be that close. The best they can hope for is to cover the with the eight points they are getting.
Chances of winning: 20 percent
Washington Redskins
Washington has been hampered by injuries, especially at running back. Adrian Peterson is trying to fill in for Darrius Guice, but has struggled. Quarterback Case Keenum isn't the answer, but apparently the backups aren't getting any confidence from coach Jay Gruden. The Redskins host Chicago on Monday, and are getting four points. They might need more than that.
Changes of winning: 30 percent