The Baltimore Ravens defeated the San Francisco 49ers in a potential preview of the 2020 Super Bowl, but the Miami Dolphins stole the show in Week 13 by scoring a touchdown on fake field goal utilizing one of the most creative trick plays in the NFL in a very long time.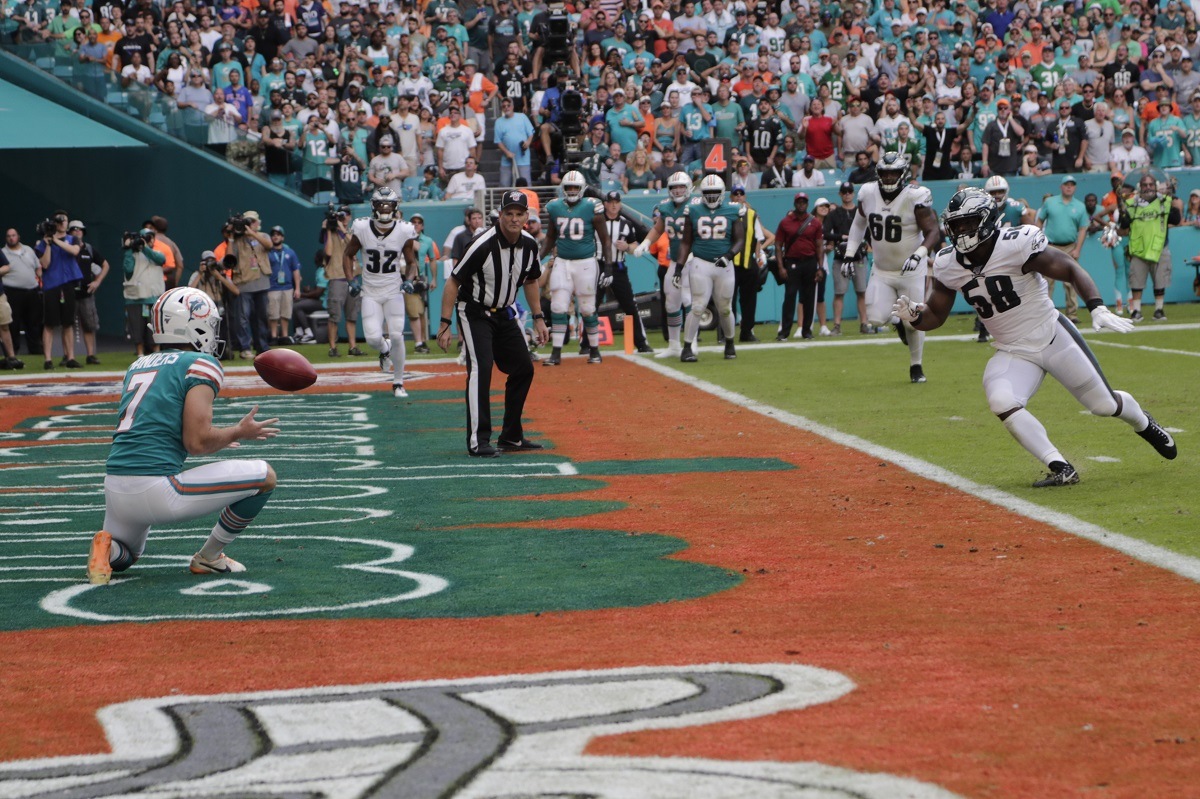 Meanwhile, the Cincinnati Bengals ended the Monday Night Football black cat jinx in which all of the NFL's cat teams were a combined 0-12 since the cat ran onto the field at MetLife Stadium during a Dallas Cowboys game against the New York Giants.
The New England Patriots looked sluggish during their second loss of the season in a Sunday Night Football matchup against the Houston Texans. DeShaun Watson rose to the occasion and accounted for four touchdowns.
With no more bye weeks, Week 13 featured a full slate of 16 NFL games, including three Thanksgiving holiday games. The Detroit Lions and Dallas Cowboys hosted their annual games, but both home teams were defeated.
In the end though, everyone is still talking about the Dolphins fake field goal and trick play.
2020 Super Bowl Preview?
Baltimore Ravens 20, San Francisco 49ers 17… The Ravens (10-2) picked off the Niners (10-2) in a bad weather game thanks to a 49-yard field goal from Justin Tucker as time expired. The Niners lost their first road game of the season, while the Ravens won their eighth in a row, despite one of the worst games of Lamar Jackson's young career. He still rushed for 100-plus yards and accounted for two touchdowns At least we'll know who should be favored if these two teams meet in the Super Bowl.
Snow Day
Green Bay Packers 31, New York Giants 13… The Packers (9-3) played in Lambeau Field conditions during a road game against the Giants (2-10) at the Meadowlands. Another four touchdowns from Aaron Rodgers, who is just fun to watch play in the snow. The Giants' skid reached eight in a row.
❄️ 243 yards
❄️ 4 touchdowns
❄️ 125.4 passer rating

RETWEET to #ProBowlVote for @AaronRodgers12! #GoPackGo pic.twitter.com/eAQz2Yi1YA

— Green Bay Packers (@packers) December 2, 2019
Old Man Brady and the New England Sniffles
Houston Texans 28, New England Patriots 22… DeShaun Watson threw three touchdowns and caught another as the Texans (8-4) edged out the visiting Patriots (10-2). The flu bug ravished the Pats locker room this past week, but flu or no flu, the offensive has been stagnant the last few weeks. Talk radio and New England sports Twitter is going to be lit up with a lot of Tom Brady bashing, even though he threw three touchdowns this week.
KC Smokes Chucky
Kansas City Chiefs 40, Oakland Raiders 9… The Chiefs (8-4) didn't have a great game, and they still smoked the Raiders (6-6), who sunk to 1-5 on the road this season. Patrick Mahomes threw one touchdown and rushed for another, but the KC defense tormented Derek Carr all game.
Dolphins Sick Trick Play: Punter > Kicker TD
Miami Dolphins 37, Philadelphia Eagles 31… The Eagles (5-7) thought they could backdoor a playoff berth by sneaking up on the Dallas Cowboys to win the NFC East, but they couldn't even beat the Dolphins (3-9). FitzMagic unleashed three touchdowns. The Dolphins pulled off one of the coolest trick plays of the season during a fake field goal when their holder/punter threw a touchdown pass to their kicker.
THE GOAT FAKE FIELD GOAL#PHIvsMIA #FinsUp pic.twitter.com/dAZJuTxUmQ

— Miami Dolphins (@MiamiDolphins) December 1, 2019
Tannenhill 5-1 for Titans
Tennessee Titans 31, Indianapolis Colts 17… The Titans (7-5) are now 5-1 since Ryan Tannenhill took over at quarterback. Tannenhill tossed two touchdowns and zero picks. Derrick Henry continued his beastly ways with 149 rushing yards and a touchdown. The Colts (6-6) dropped four out of their last five games after starting the season 5-2.
Rams Throwback to 2018
LA Rams 34, Arizona Cardinals 7… The 2019 Rams looked like the 2018 Rams (7-5) for the first time this season, especially Jared Goff (424 yards, 2 TD, 0 INT) and Todd Gurley (115 combined yards, 1 TD). Robert Woods also exploded for 13 receptions and 172 yards. The Cardinals (3-8-1) were blanked at home until they scored a garbage-time touchdown.
Smash-Mouth Brawl II
Pittsburgh Steelers 20, Cleveland Browns 13… Backup, Duck Devlin led the Steelers (7-5) to an intense AFC North smash-mouth battle. Mike Tomlin should win Coach of the Year if the Steelers can secure a playoff spot, because he's winning despite a slew of injuries. The Browns (5-7) saw their three-game wining streak come to a bitter end.
LOLChargers
Denver Broncos 23, LA Chargers 20… The Chargers (4-8) choked once again. Rookie QB, Drew Lock secured his first win for the Broncos (4-8). Lock threw two touchdowns to Courtland Sutton, who also drew a key pass interference call late in the fourth quarter to set up a game-winning, 53-yard field goal from Brandon McManus. All eight of the Chargers losses this season were by a margin of one score or less.
Turkey Day: Dallas Upset, NOLA Clinch
Chicago Bears 24, Detroit Lions 20… Da Bears (24-20) won the first Turkey Day game on a late TD pass from Mitch Trubisky. The Lions (3-8-1) were down to a third-stringer at QB, and still managed to keep the game close.
Buffalo Bills 26, Dallas Cowboys 15… The Cowboys (6-6) jumped on the scoreboard first, and then the Bills (9-3) scored 26 unanswered points to ruin Jerry Jones' Thanksgiving. Bills WR, Cole Beasley caught six passes for 110 yards and a touchdown against his old team. Josh Allen threw a touchdown and ran for another in the victory.
New Orleans Saints 26, Atlanta Falcons 18… The Saints (10-2) locked up another NFC South title, and avenged an earlier loss to the Falcons (3-9). Taysom Hill stole the show on Turkey Day when he scored two touchdowns, and excelled on special teams with a blocked punt.
Cats Teams 1-3
Teams with cat mascots were 0-12 heading into Sunday after a black cat appeared on the field on a Monday Night Football game in early November. The Lions lost on Thanksgiving, but the winless Bengals finally ended their losing streak.
Cincinnati Bengals 22, NY Jets 6... The LOLJets were at it again. Just when you thought they might turn around their season, the Jets lost to the 0-11 Bengals. Of course, it's the LOLJets that helped cat teams break their MNF black cat jinx.
Washington Redskins 29, Carolina Panthers 21… Derrius Guice rushed for 129 yards and two touchdowns, and the Skins (3-9) stormed back to beat the Panthers (5-7), who couldn't punch the ball in the end zone from the 1-yard line. The Panthers lost four in a row, while rookie QB, Dwyane Haskins won two games in a row.
Tampa Bay Buccaneers 28, Jacksonville Jaguars 11… The Bucs (5-7) jumped out to a 25-0 lead before the Jags (4-8) pulled Nick Foles in favor of backup Gardner Minshew, but it was too little and too late. The Jags dropped four straight. The Bucs won back-to-back games for the first time this season. They also won three out of their last four games.