In Week 1 of the NFL injury report, two notable starts were knocked out in the same game. Quarterback Nick Foles broke his clavicle in his debut with the Jacksonville Jaguars, while Kansas City Chiefs speedster Tyreek Hill suffered a shoulder and clavicle injurey in the same game.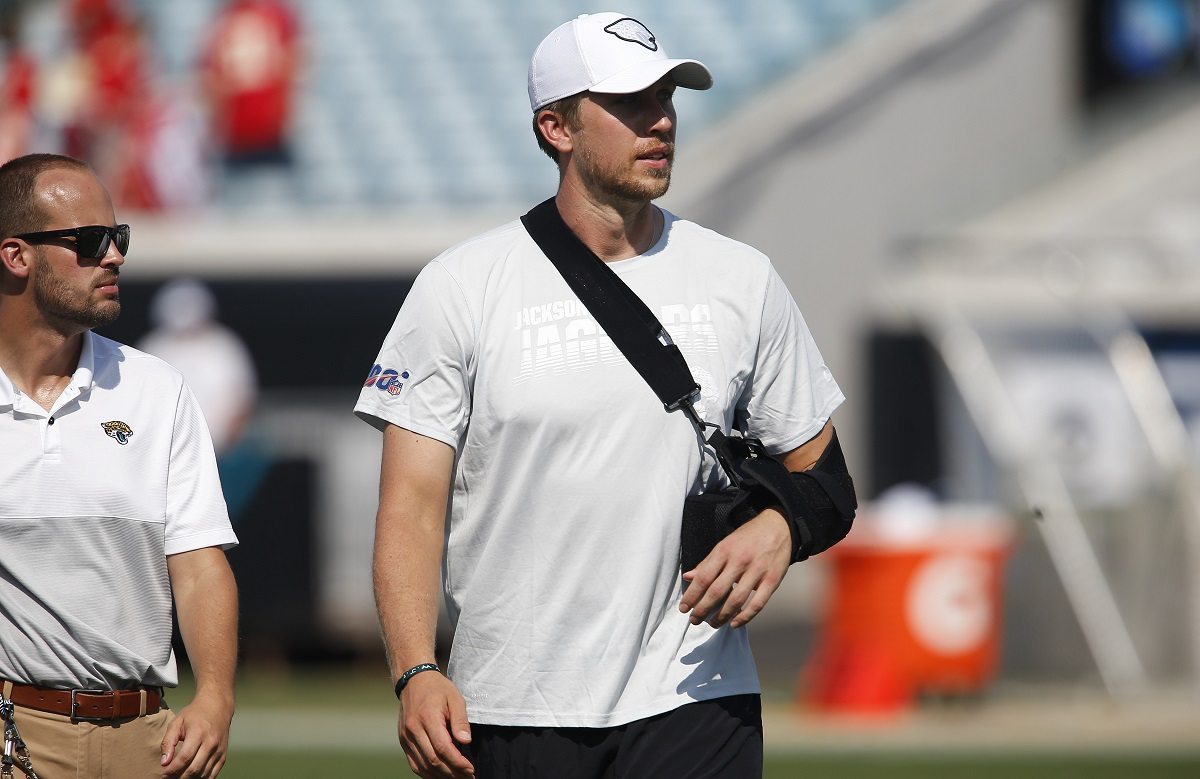 The Kansas City Chiefs won 40-26 in a game in which QB Patrick Mahomes also went down with a foot injury. Mahomes quickly returned to the game after the training staff taped up his foot. He's not expected to miss any time.
Foles will miss up to 8 weeks, while Hill will be out a couple of weeks.
Foles' Magic Crushed in Week 1
The NFL is a true war of attrition, which is not surprising to learn of the rash of injuries in Week 1. Nick Foles signed an $88 million contract to become the Jacksonville Jaguars quarterback. He played less than a quarter before he went down with an injury.
Foles went 5-for-8 for 75 yards and a touchdown strike to DJ Clark before he left the game. Foles injured himself on the touchdown.
"I knew right when I hit the ground that something was wrong," said Foles. "I felt it. All I saw was two red jerseys in my face, I hit the ground and heard a crack."
The Jags reported that Foles underwent successful surgery. He will be out until at least November. Quarterbacks with broken clavicles are typically sidelined for 8-10 weeks.
Backup QB, rookie Gardner Minshew II, looked good in his debut completing 22-for-25 passes for 275 yards and 2 touchdowns. The Jags drafted Minshew out of Washington State in the sixth round this year.
FOLES JUST DROPPED IT RIGHT IN THE BUCKET 🔥🔥 pic.twitter.com/A4YKGAwnCg

— The Checkdown (@thecheckdown) September 8, 2019
Cheetah Down
According to Kansas City's medical staff, Tyreek Hill suffered a sternoclavicular joint injury, which is where the sternum meets the clavicle.
Hill's Week 1 injury did not affect the Chiefs offense. The highest-scoring team in the NFL least season put up 40 points on the road against a decent Jaguars defense. Hill had caught two passes for 16 yards before he left the game.
Sammy Watkins, who is probably the third-best target on Mahomes' radar behind Hill and Travis Kelce, caught nine passes including three touchdown strikes. Watkins finished with 198 passing yards.
Damien Williams caught six balls out of the backfield for the Chiefs.
Rookie WR Mecole Hardman made his NFL debut. However, he did not record a reception. The super-fast Hardman is expected to move up on the depth chart while Hill is out of action.