Two more starting quarterbacks went down with injuries in Week 4 when the Bears lost Mitch Trubisky in a victory against the Minnesota Vikings, and the Buffalo Bills lost Josh Allen after a huge helmet-to-helmet hit that gave him a concussion in a loss to the New England Patriots.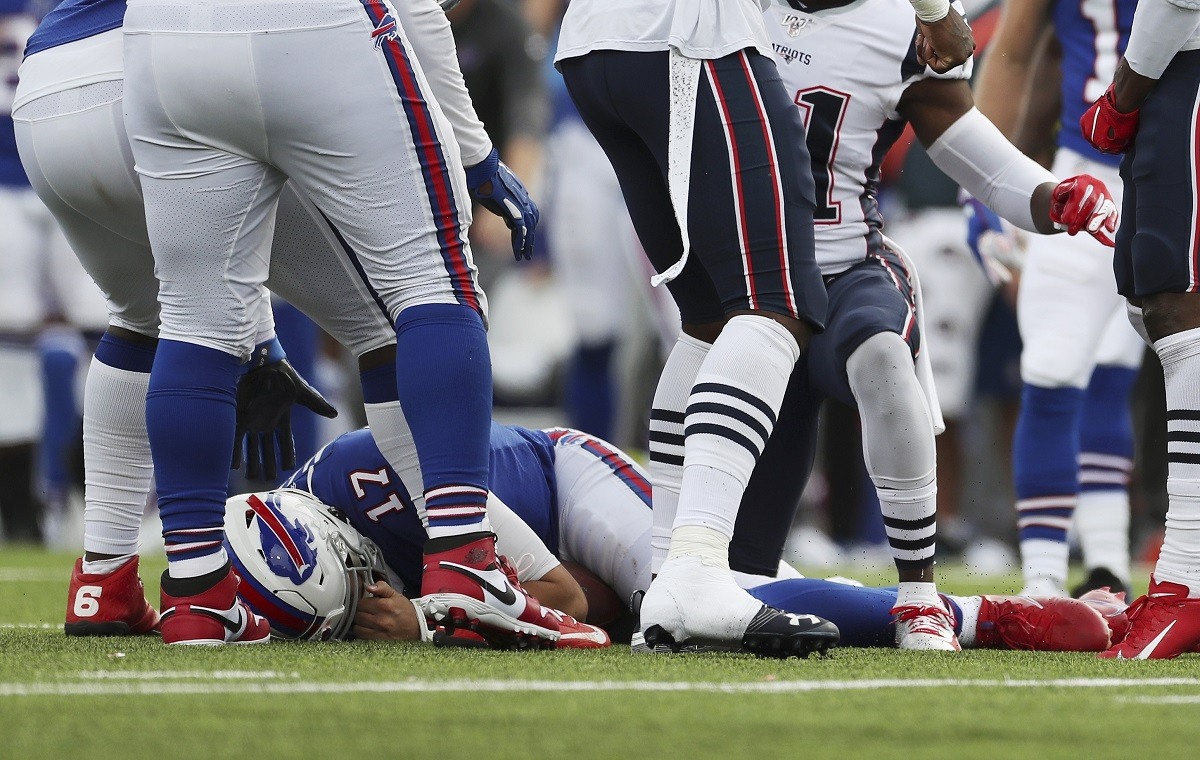 Mitch Trubisky went down in early the first quarter after Danielle Hunter sacked him. Chase Daniel sprang into action. He's had a decade of experience as a backup QB, and seamlessly took over for Trubisky. The Bears beat their division rival, and won 16-6.
2019 STARTING QBs INJURED:
Drew Brees (New Orleans)
Ben Roethlisberger (Pittsburgh)
Cam Newton (Carolina)
Nick Foles (Jacksonville)
Sam Darnold (NY Jets)
Mitch Trubisky (Chicago)
Josh Allen (Buffalo)
Andrew Luck (Indianapolis) **
** Retired due to injuries
In Buffalo, the Bills lost an ugly 16-10 game to the visiting New England Patriots. The Bills put up a heck of a fight, despite the numerous turnovers with four interceptions and two fumbles. The Bills defense came to play, and kept Brady and company in check. A blocked punt that led to a touchdown ended up being a crucial play for the Bills.
The Bills, especially head coach Sean McDermott, thought Jonathan Jones should have been ejected for a helmet-to-helmet hit on Josh Allen, who tried to scramble for a first down. After several minutes on the ground, Allen walked off the field under his own power. Allen missed the remainder of the contest while under a concussion protocol.
"There's no room in football for that," said an irked coach McDermott.
The Bills lost their first game of the season, falling to 3-1.
Josh Allen May have been knocked completely out with that cheap shot #Bills #GoBills #BillsMafia #NEvsBUF pic.twitter.com/detn8tr4Y9

— MeRk (@Merk256) September 29, 2019
Trubisky Down, Daniel Up
If you ask snarky Bears fans, they'll say that Chase Daniel might be a better fit for them than Mitch Trubisky, who struggled in the first two weeks of the season.
Trubisky dislocated his shoulder, which got popped back in, but the team held him out the rest of the game. During an MRI on Monday, tests revealed Trubisky also suffered a minor tear in his labrum (on his left shoulder). The labrum injury will not require surgery.
"I do not think the injury is season ending," said head coach Matt Nagy. "It's his left shoulder, and we'll be monitoring it."
Daniel will get the start when the Bears head to London for a Week 5 game against the Oakland Raiders.
Haskins Debut, Keenum Benched
Although Case Keenum wasn't injured during Week 4's game against the New York Giants, head coach Jay Gruden benched Keenum in favor of rookie QB Dwyane Haskins. Haskins struggled in his NFL debut, as the Washington Reskins fell to 0-4 after a 24-3 loss to Daniel Jones and the NY Giants.
2019 STARTING QBs BENCHED:
Eli Manning (NY Giants)
Ryan Fitzpatrick (Miami)
Case Keenum (Washington)
Haskins became the third backup and second rookie to spring into action after the starter got benched. Haskins struggled, with only 107 yards and three interceptions.
Daniel Jones made an auspicious debut when he started in place of Eli Manning in Week 3. Since the Manning's benching, the Giants won two games in a row, and improved to 2-2.
Down in Miami, head coach Brian Flores gave up on FitzMagic in favor of young Josh Rosen. Rosen looked good, all things considered, for a Dolphins team in full-blown tanking mode.