The New York Yankees already had one of the top bullpens in baseball, but it got even stronger with the addition of right-handed reliever Adam Ottavino, who excelled for the Colorado Rockies last season with 112 strikeouts in 77.2 innings.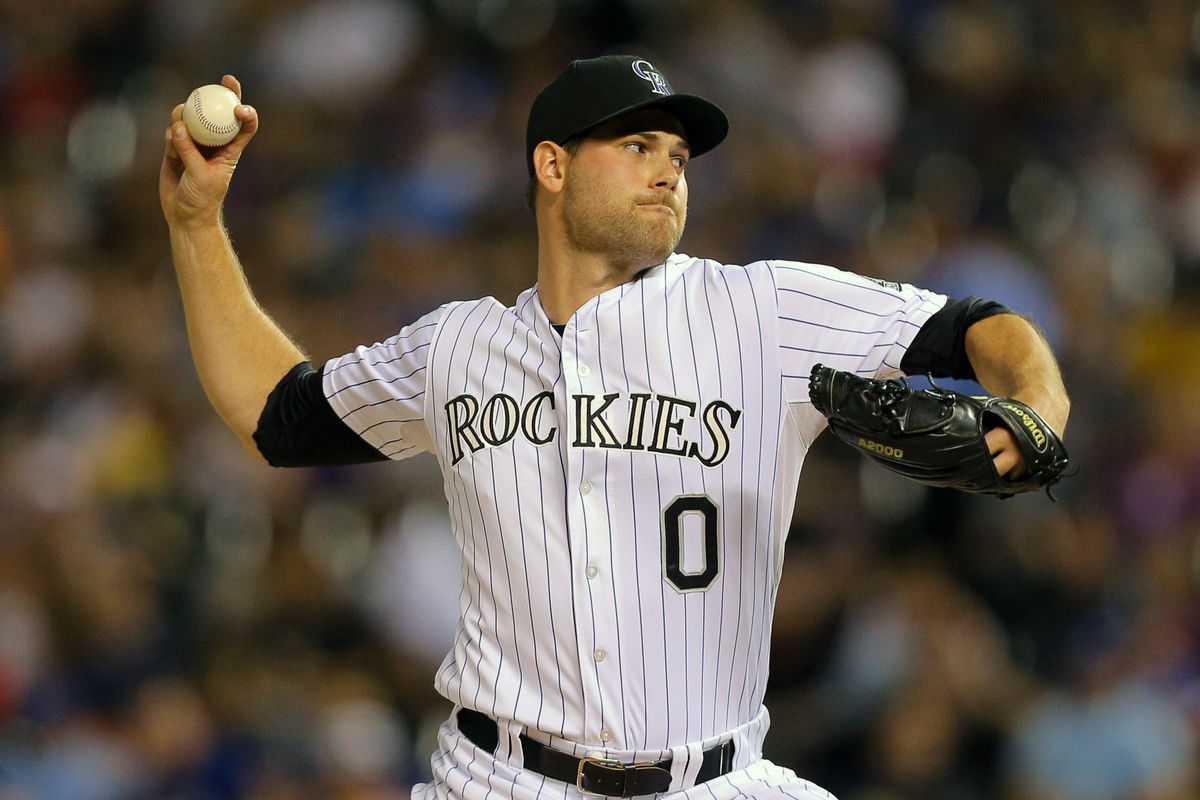 The Yankees offered Ottavino, 33, a three-year contract worth $27 million, or $9 million per season. Last year with the Rockies, Ottavino posted a 2.43 ERA and 0.99 WHIP as a set-up man with 34 holds. His strikeout rate is 36.3 percent and he added six saves for the NL Wild Card team.
Despite playing in the hitter-friendly Coors Field in Denver, Ottavino coughed up only five home runs. Opposing batters hit just .158 against him during in 2018.
Native New Yorker
Ottavino could have earned more money with other teams, but he accepted a lower salary to live out a childhood dream by playing for his hometown team.
The Yankees have a homegrown player on their roster. Ottavino was born in Manhattan and raised in Brooklyn. His mother taught elementary school at P.S. 39 in Brooklyn. His father, John, is an actor who appeared on Broadway and had cameos on Law & Order. He played collegiate ball at Northeastern University in Boston.
The St. Louis Cardinals drafted him at the end of the first round in the 2006 MLB Draft. In 2010, he finally made it to "The Show" and made his MLB debut. After struggling to stay in the majors, the Colorado Rockies claimed him off waivers. They converted him to a relief pitcher and the rest is history.
In May 2015, Ottavino underwent Tommy John surgery to repair ligament damage in his right elbow.
Stacked Pen
The Yankees signed Zach Britton a couple of weeks earlier to bolster their pen after the departure of David Robertson. While slugger Aaron Judge and the Baby Bronx Bombers have been getting all the love because of their home run prowess, the Yankees assembled one of the deadliest bullpens in recent memory.
2019 NY Yankees Bullpen
Closer: Aroldis Chapman
Set-Up: Dellin Bettances
Fireman: Adam Ottavino
Middle-Relief: Chad Green, Zach Britton
The Yankees have two closers. Aroldis Chapman is one of the best in the majors, while Dellin Bettances could be the closer on more than half the teams in baseball. Manager Aaron Boone has a situation where he could easily turn to the bullpen after the fifth inning.
Whiffing the Whammer
Ottavino drew some criticism with his off-the-cuff remark that he'd easily strike out the legendary Babe Ruth.
"I had an argument with a coach in Triple-A about Babe Ruth's effectiveness in today's game," Ottavino said during an appearance on the MLB Statscast podcast. "I said, 'Babe Ruth, with that swing, swinging that bat, I got him hitting .140 with eight homers.' He was like, 'Are you nuts? Babe Ruth would hit .370 with 60 homers,' and I'm like, 'I would strike Babe Ruth out every time.' I'm not trying to disrespect him, you know, rest in peace, you know, shoutout to Babe Ruth. But it was a different game. I mean, the guy ate hot dogs and drank beer and did whatever he did. It was just a different game."
Ottavino backed up his assertion by citing the Ruth's poor diet and incorrigible vices. The modern era is vastly different with pro ball players in shape all-year round. Plus, there's the addition of technology and metrics that help players achieve peak optimization.
Secret Training Spot
Ottavino is only a few years removed from Tommy John surgery. He struggled in 2017 and couldn't find the strike zone. A diligent Ottavino bounced back in 2018 due to his offseason workout regime in New York City.
Ottavino developed a cutter at a secret facility located in Harlem. Instead of losing valuable time commuting from the city to a facility in the NYC suburbs on Long Island, Ottavino found something closer to home. Ottavino's father-in-law, a realtor in New York, arranged for him to workout in an empty storefront.
In a space located next to a Chuck E. Cheese in a former shoe store in the heart of Harlem off 125th Street, Ottavino went to work. He blacked out the windows and set up a mound. He recorded his workouts with high-end and high-speed cameras so he could study spin rates. The cameras accelerate the learning curve on his pitches.
"Sometimes what your brain is telling you is happening is not really happening," said Ottavino. "Cameras cut the timeline down immensely. Without them, it's trial and error that could have taken years. But with the cameras, it was like four days and I was on the right track."
Ottavino walked too many batters in 2017, so he also developed a third pitch that he could throw for strikes. His new cut-fastball significantly reduced his walks from 6.58 per 9 innings to 4.17. In 2018, he struck out 112 batters, which is twice as many as 63 from the previous season.
His winter workouts in Harlem were a success. His ERA plummeted from 5.06 to 2.43 for the Rockies last season. One year later, he'll be wearing pinstripes and pitching for his hometown team.
Character Zero
In 2013, Ottavino made MLB history when he became the first player to wear the number zero. He has since worn "0" for the Rockies.
The Yankees are purists when it comes to their uniforms. They have not changed in a century. They do not even put names on the back of their uniforms. Acquiring "0" with the Yankees will be a long stretch. Then again, the Yankees are a legendary franchise loaded with Hall of Famers. Several numbers are retired, so they might give it to a request for "0" because they are running out of numbers.