Ja Morant did it again. It took 48 hours before Morant set a new career high with 52 points for the Memphis Grizzlies in a win against the San Antonio Spurs, which included a posterizing slam dunk over 7-foot center Jakob Poeltl.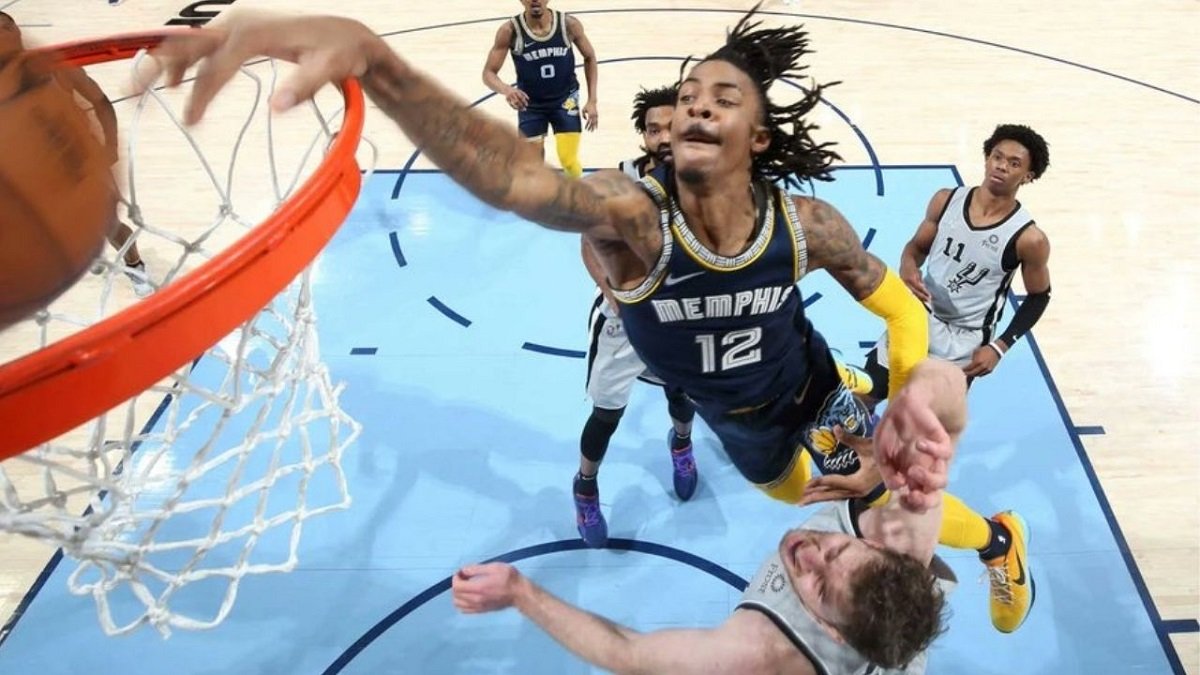 On Saturday night, Morant set a career high with 46 points when the Grizzlies picked off the Chicago Bulls. In his very next game, Morant outdid himself with 52 points versus the Spurs, which set a new franchise record for most points in a game by a member of the Grizzlies.
"I'm thankful for my teammates, my coaches," said Morant. "They believe in me and have all the confidence in the world that I'll make the right plays."
Morant shot 22-for-30 from the field, including a perfect 4-for-4 from 3-point range. He finished with seven rebounds and two assists. Those 22 made buckets set a new team record for the Grizzlies.
"I keep saying the same thing about him," said head coach Taylor Jenkins. "Ja is truly a special player, but when he makes big plays, it's infectious. It definitely pumps up our team and inspires everyone to play better. "
After scoring 98 points in his last two games, Morant now averages 27.6 ppg this season. He's seventh in the NBA in scoring. We picked Morant as out MVP in OG's Midseason NBA Awards, but it looks like the rest of the league is finding out what we always knew.
Ja-mazing Morant: 52 Points
The Grizzlies have never had anyone score 50 points or more in a game heading into last night. When Morant's teammates realized he was close to reaching the 50-point mark, they kept feeding him the ball and encouraging him to shoot.
Morant kicked it up another notch and scored 13 points in a row in the fourth quarter. In the process, Morant locked up a victory for the Grizzlies and when the final buzzer sounded, he passed the 50-point mark with 52 points.
"He's a beautiful player," said San Antonio coach Gregg Popovich. "What else can you say about him? It's not just that he's athletic, but he makes decisions. He knows what is going on on the court. So, you combine that cerebral part of his game with his athleticism and you've got a special kid."
Of course, the now viral dunk from Morant over Poeltl quickly made the rounds on social media.
"That dunk was crazy," Melton said. "The way he rose, stared at him and dunked it."
Thanks to an inbounds pass from center Steve Adams, Morant also made a logo shot to knock down a 3-pointer at the buzzer to end the first half.
"That's something I'll probably never be able to do ever again," added Morant.
The Grizzlies improved to 43-20 on the season, and have the third-best record in the league. They hold down the #3 seed in the top-heavy Western Conference standings.
A night for the record books for @jamorant 🥷

🥷 52 points (franchise record)
🥷 22-30 FG (most made FGs in a single game) pic.twitter.com/Dgg1ymUCna

— Memphis Grizzlies (@memgrizz) March 1, 2022
Check out more video highlights and installment of NBA High Guys.