The NBA season is just around the corner, which means it is time to prep for your NBA fantasy draft. Drafting rookies is always a risk, especially untested European players without much of a statistical record to go by. But this year, there are five rookies who currently stand out from the rest of their NBA draft counterparts.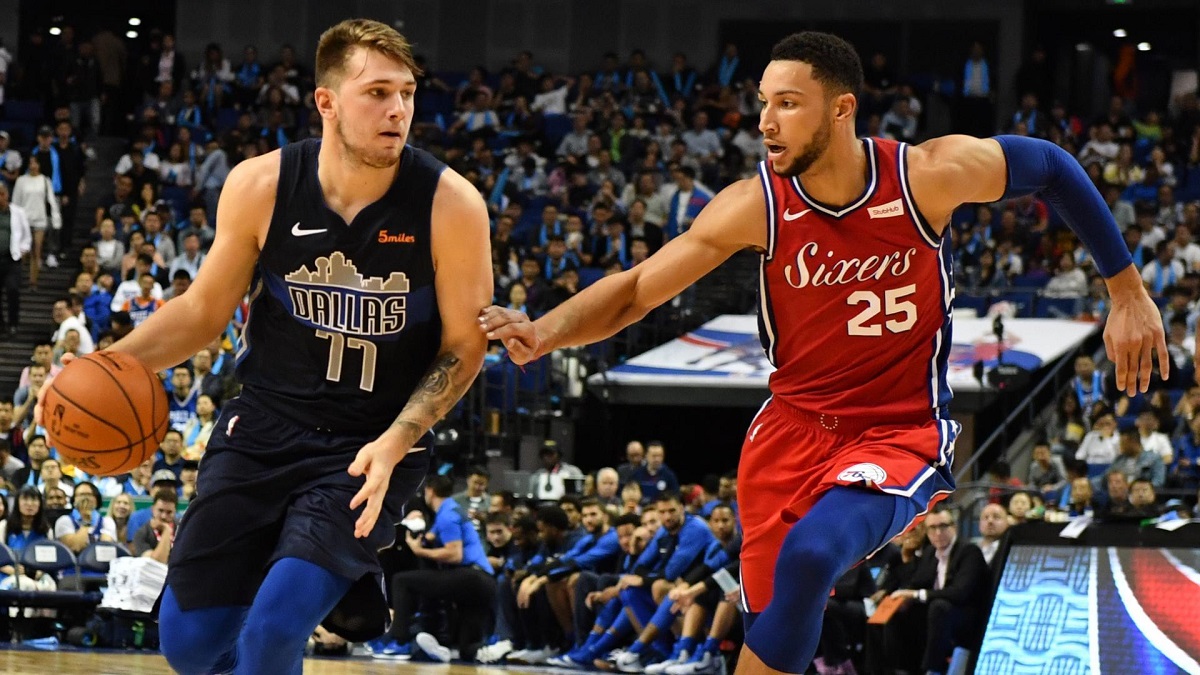 Deandre Ayton, Luka Doncic, Marvin Bagley III, Trae Young, and Kevin Knox all turned in excellent performances during the NBA Summer League and preseason. Ayton, the #1 overall draft pick from Arizona, is already living up to the hype as a top rookie for the Phoenix Suns. Meanwhile, Slovenia's Luke Doncic has added pressure riding on his future considering the Dallas Mavericks traded up in the NBA Draft to acquire him.
Here's a rundown of the top five rookies and what they bring to the fantasy table.
Deandre Ayton (Phoenix Suns)
Deandre Ayton was born in the Bahamas, but played two years of high school ball in San Diego and two years at a prep school in Phoenix, where he was teammates with Marvin Bagley III. Ayton was the consensus #1 high school player in the country, but decided to play for the University of Arizona Wildcats.
Ayton averaged 20 points per game and added 11 rebounds, while shooting 61% from the field in his only season with Arizona. Ayton was named both the Pac-12 Freshman of the Year and Pac-12 Player of the Year. Ayton was a First Team All- American. Ayton won the MVP of the Pac-12 Conference Tournament.
The Phoenix Suns picked Ayton with the #1 draft pick. Scouts were impressed with his size 7′ 1″ and a wingspan of 7'6″.
The Suns' breakout star Devin Booker and Ayton have yet to play a regular season game together, but the local media were already dubbing them Phoenix's version of Shaq and Kobe.
Ayton averaged 20.5 points per game in his first 4 preseason games.
Luka Doncic (Dallas Mavericks)
Luka Doncic was born in Ljubljana, Slovenia. Doncic has been a pro since he was 13 when he signed his first contract with Real Madrid. Doncic (21.5 ppg) won the Euro League championship with Madrid a month before the NBA Draft. He was also named the Euro League MVP.
Any time you draft a European player, it's a gamble. Very few European standouts can make an immediate transition from club ball to the NBA. Mark Cuban and the Mavericks are betting that Doncic will thrive.
On draft day, the Mavs traded a first round pick and Trae Young for Doncic. The Mavs essentially risked two picks on Doncic, so expectations are high.
Doncic sports a tattoo that reads, "Non desistas, non exieris." Translated from Latin, it means "Never give up, never surrender."
Marvin Bagley III (Sacramento Kings)
The 19-year old, 6'11" center had a sensational freshman season at Duke averaging 21 points per game and 11 rebounds. Bagley hit 61% of his shots including 40% of three-point land.
Duke's Cameron Crazies went berserk over Bagley when the freshman came out of the gate on fire and dropped 25 points in his debut. Bagley exploded for 34 points and 15 rebounds against Texas. He also grabbed a career-high 21 rebounds against Florida State.
Bagley became only the second player at Duke to earn both the ACC Rookie of the Year and ACC Player of the Year in the same season.
The Sacramento Kings picked Bagley with the second overall pick hoping Bagley will lead them to their first playoff berth in 13 seasons.
Bagley will get significant playing time with the Kings and start from Day 1.
Trae Young (Atlanta Hawks)
Trae Young played high school ball in Norman, Oklahoma and averaged 46 points. He stayed in his hometown to attend Oklahoma University.
In his third game, Young dropped 43 points in a win against Oregon. Scouts started comparing the 6'2″ Young to Stephen Curry.
Young dished 22 assists and tied a NCAA record (held by Sherman Douglas and Avery Johnson).  Young also broke a Kevin Durant's Big 12 record for most points by a freshman.
He finished the season leading the nation in scoring (27.4 ppg) and assists (8.7), while also leading the NCAA in total points, total assists, assist percentage, and turnovers.
On four occasions, Young scored 43 points or more. He scored 26 points or more in 21 out of 33 games, including 28 points in his first March Madness contest.
The Dallas Mavericks drafted Young #5 overall, but then traded him to the Atlanta Hawks for Doncic.
Young came into training camp expecting to battle Jeremy Lin for the starting point guard job. In 4 preseason games, he averaged 16 points and 5.5 assists per game.
Kevin Knox (New York Knicks)
A pro team in China offered Kevin Knox a contract when he was still in high school at Tampa Catholic in Florida. The 6'9″ basketball prodigy turned down the offer and went on to play a single season at the University of Kentucky, where he played small forward and averaged 15.6 ppg.
The New York Knicks picked him with the #9 overall pick.
Knox's head coach at Kentucky, John Calipari believed the Knicks made a wise choice.
"He's the youngest player in this draft but he's mentally mature," Calipari said in a post-draft press conference. "Physically his body is not there yet. He's just growing into his body. When that toughness sprouts out, everyone says how did we pass on this guy?"
Knox also turned heads during the NBA Summer League in Las Vegas, where he led the Knicks in scoring and took home the Summer League MVP to become an overnight sensation in New York City. But it didn't take long for him to learn how quickly fans in NYC can turn on professional athlete who don't deliver.
After a lackluster preseason averaging only 10 ppg, Knox caught guff from the boobirds.
Although he's not starting, Knox has an opportunity for more playing time with the Knicks' Kristaps Porzingis out an indefinitely rehabbing a torn ACL.