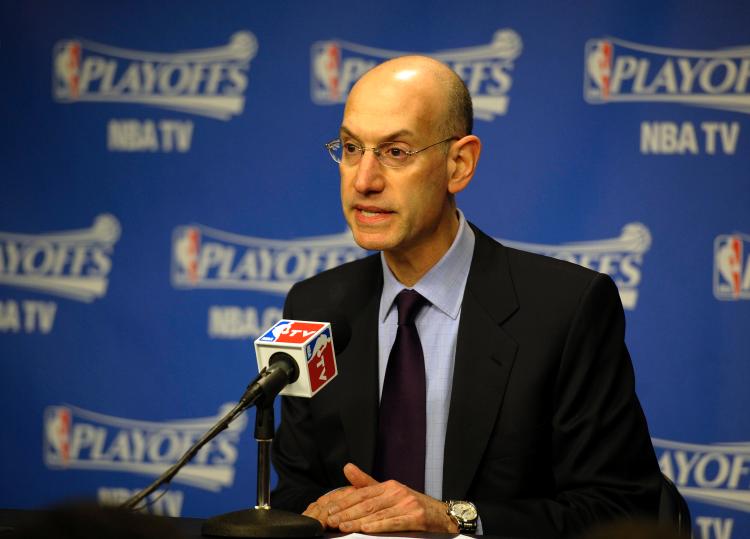 NBA Commissioner Adam Silver is leading the way of the United States' so-called "Big Four" professional sports leagues when it comes to sports betting and gambling.
Appearing May 24 on ESPN's "SportsCenter," Silver said of sports betting, "As I began to study this issue I realized that there's this enormous, measured in the hundreds of billions of dollars, underground betting market in the United States. Ultimately my job as commissioner is to protect the integrity of the game, and just like the stock market with insider trading, if you don't have an open exchange you can't know what insider trading is going on."
Silver has made quite a splash in his first two years as commissioner debating the controversial validity of gambling on professional and amateur sports. While NFL, MLB, NHL, and the NCAA have historically opposed betting on their games, Silver seems ready to veer off that time-honored position.
"I think it should be legal. I think it should be regulated. It should be transparent," Silver revealed.
Arguing His Case
Silver attended Duke University and received his law degree at the University of Chicago, one of the most prestigious Juris Doctorate programs in the nation. Like any good lawyer, Silver is making a strong case, and his argument is that the Professional and Amateur Sports Protection Act of 1992 (PASPA) needs repealed.
"When there's an enormous amount of betting all underground, we have no idea what's going on, and there's no transparency . . . We have no sense of what's happening," Silver continued.
In addition to regulating a market that he feels is already currently happening underground, Silver believes legalizing sports betting will help his league's overall popularity in the US while also protecting gamblers.
"I recognize that through sports betting comes engagement. Of course there are problem gamblers, but when people are putting in their credit cards and can be monitored, you can also stop and track if a person has a problem."
Underdog Warriors 
PASPA federally banned states from offering sports betting, with Nevada, Delaware, Montana, and Oregon being granted special exemptions from the statute. Today, only Nevada is taking advantage of its PASPA immunity, though New Jersey is awaiting a verdict in the Third Circuit Court in determining if it too can offer sportsbooks.
Out in the desert, the books have been hot as the NBA Playoffs are down to the conference finals. And no one, not even the most seasoned sports bettor, could have predicted the 73-9 regular season Golden State Warriors going down three games to one against the Oklahoma City Thunder.
The Warriors are at +340 to win the NBA title at Bovada, the commanding favorites heading into the playoffs now predicted to lose to the Thunder. Following a brief scare after the Toronto Raptors evened the series 2-2, the Cleveland Cavaliers, now up 3-2, are the overall favorites to reach and win the NBA Finals.
Bovada has the Cavs at +105, the Thunder at +170, and the Raptors a distant fourth at +7500.