Beleaguered quarterback Eli Manning leads the New York Giants into battle against the Atlanta Falcons, who are hosting their fifth home game in six weeks.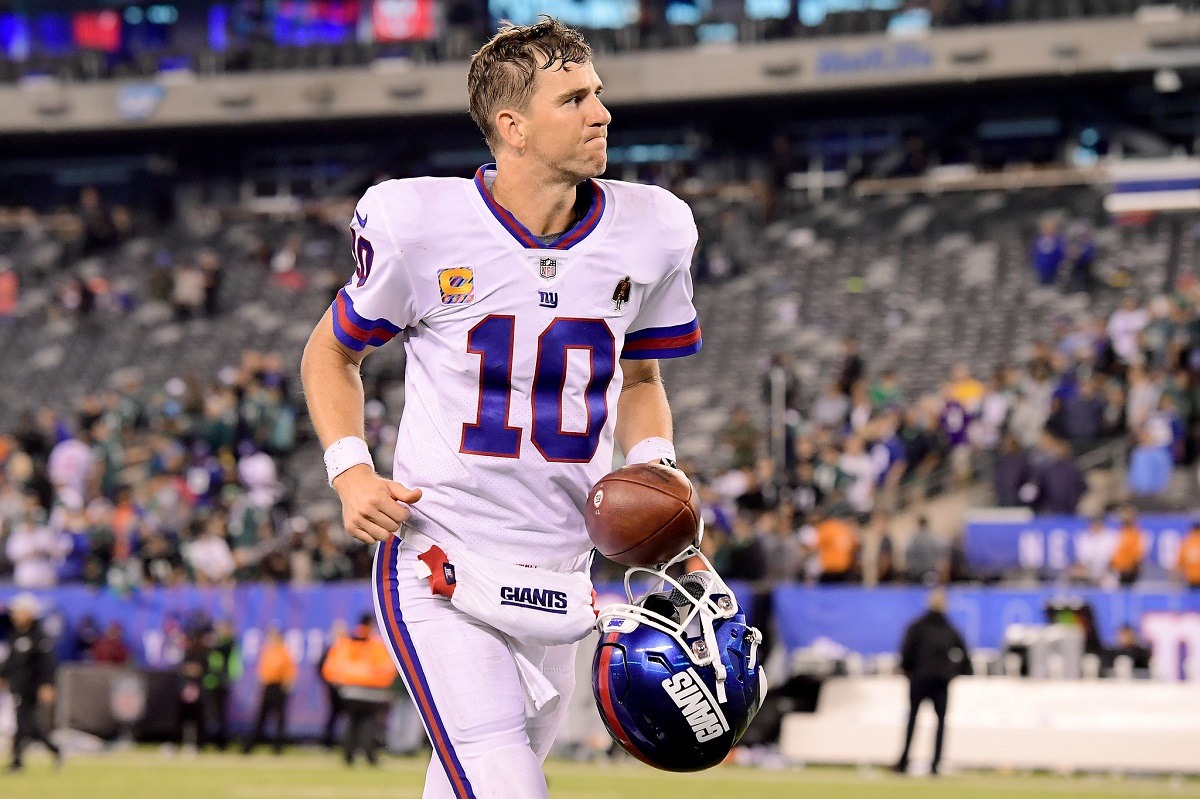 Although rookie RB Saquon Barkley has been outstanding so far, the Giants lost three games in a row and desperately seeking their second win of the season. Rabid New York fans are calling for Manning's retirement, but the Giants are sticking with him. Manning might be getting a break this week because the Falcons defense is horrendous and the second-worst in the NFL.
New York Giants (1-5) at Atlanta Falcons (2-4)
Kickoff: 8:15pm ET
Location: Mercedes-Benz Stadium, Atlanta
Point Spread: Atlanta -4
Over/Under: 54
Rookie Sensation Saquon Barkley
Saquon Barkley is an early favorite to win the Rookie of the Year. The electrifying running back from Penn State is putting up big numbers and coming off his best game of the season against the Eagles. Barkley rushed for 130 yards and 1 TD on 13 carries. He added nine receptions and 99 receiving yards.
Considering the remarkable ability of Barkley, the Giants are one of the worst rushing teams in the NFL and ranked #27 overall with 87.5 yards per game on the ground. With the Giants falling behind early in games, the onus has been on the passing instead of rushing.
Barkley has been a popular target for Eli Manning. Barkley is second on the Giants with 40 receptions. Only Odell Beckham has more with 45.
Fumbles are often a problem with rookies, but Barkley has yet to fumble a ball. Barkley has been productive has a hybrid back (438 rushing yards, 373 receiving yards, 4 rushing TD, and 2 receiving TD). The rookie gained at least 100+ combined-yards every single game this season.
Saquon Barkley Combined Yards from Scrimmage
Game 1: 128 plus 1 TD
Game 2: 108
Game 3: 117 plus 1 TD
Game 4: 110 plus 1 TD
Game 5: 129 plus 2 TDs
Game 6: 229 plus 1 TD
Eli's Swan Song?
The G-Men lost three games in a row and are coming off two disastrous games within five days of each other. New York City talk radio has been on fire the last couple of weeks with five boroughs worth of hot takes surrounding their quarterback. Eli Manning led the Giants to two Super Bowl wins over the New England Patriots. In his 15th season as QB of the Giants, Eli Manning is a folk hero in the NYC tri-state area, but even longtime fans are ready for a change.
Despite premium offensive weapons like Barkley and Odell Beckham, the highest-paid WR in the NFL, the Giants struggle to generate points only scoring 19.5 points per game. Last Thursday against the Eagles, the Giants scored 30+ points for the first time in 37 games.
Manning's drop off is partly to blame, but the lackluster offensive line allowing numerous sacks and committing penalties is another glaring problem. Manning threw 6 touchdown passes with 4 interceptions this season. In comparison, Matt Ryan tossed 14 TDs with only 2 INTs.
Manning's high completion rate is skewed because of his affinity for dump-off passes to RB Saquon Barkley. Third down situations are problematic for Manning and company. They are ranked #22 overall with 37.8% success rate.
Despite the 1-5 start and rumblings from the fans, Giants head coach Pat Shurmur said he's sticking with Manning.
"We believe in Eli," Shurmur said.
Manning could not be happier to see the Falcons on the schedule. He'll finally have a chance to throw downfield against the banged-up Falcons secondary that yields 296 passing yards per game.
Bad D in Hotlanta
If you play the Atlanta Falcons, you can expect a soft opponent that has the second-worst defense in the NFL allowing 32 points per game. Only Tampa Bay has a worse D (34.6 ppg) and the Bucs recently fired its defensive coordinator Mike Smith (ex-Falcons head coach) after last week's loss.
The Falcons are ranked #24 rushing defense allowing 121.3 yards per game. That's their strong point. The pass D allows 295.8 yards per game, which puts them 29th overall out of 32 teams.
Sweet Home Atlanta
Call if luck of the draw, but the Falcons already played four home games this season, and about to host its fifth. Despite the early advantage, the Falcons are only 2-2 at home.
Atlanta likes playing on Mondays. They are 5-1 against the spread in their last 6 MNF games.
Birds Down
Two Atlanta WRs are dinged. Calvin Ridley and Sanu were limited in practice this week. Veteran kicker Matt Bryant blew out his hamstring kicking last week. RB Devonta Freeman completed successful groin surgery and could come off the IR before the end of the season in late December. Luckily, the Falcons have Tevin Coleman and Ito Smith filling in. The Falcons still have an outside chance at the playoffs and the return of Freeman would boost their postseason expectations.
MNF Over Alert
The over/under totals for Falcons games have been some of the largest of the season. The over is 5-0 in the last five Falcons games this year. The over is 4-0 in the last 4 games in Atlanta.
The Giants allow 27.0 points per game, but they don't score enough. If Eli Manning can exploit the Falcons' secondary and get his mojo back, then he'll have a chance to win. Except another shootout on Monday Night Football.