Juan Soto left the Washington Nationals' Sunday game against the Miami Marlins with calf tightness, but appears to have avoided major injury.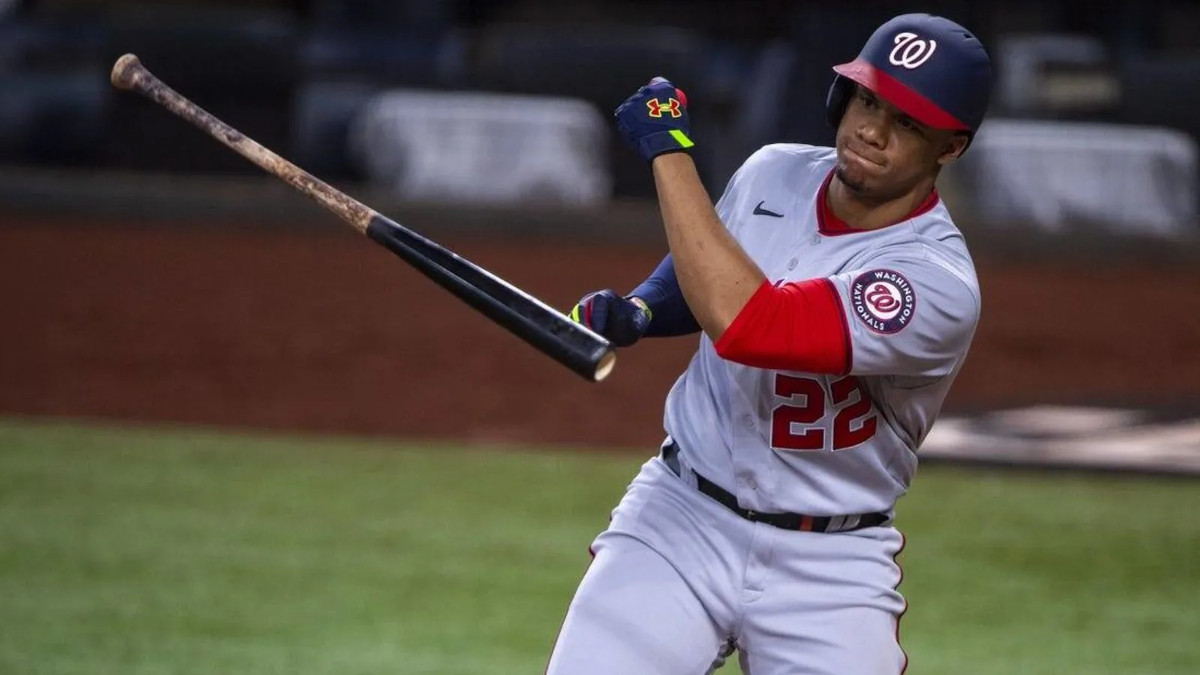 The Nationals superstar told reporters that an MRI on his left calf showed no damage.
Soto able to hit, not run, on Monday
Soto was then able to pinch-hit late in Monday's game, drawing a walk. The Nationals then put in a pinch-runner for the 23-year-old.
"He felt good enough to hit, but he couldn't run and we didn't want him to run," Washington manager Dave Martinez said after Monday's 3-2 loss. "He got on base for us, and we had to get him out of there."
Martinez said Soto is day to day, an assessment the outfielder agreed with.
"Today, I feel better and I hope I feel better tomorrow, too, and we'll take it from there," Soto said Monday.
Soto is hitting .226 with 15 homers and an .833 OPS so far in 2022 for the Nationals.
deGrom strikes out five in rehab start
Jacob deGrom took the mound for the Single-A St. Lucie Mets on Sunday, striking out five of the six batters he faced in his first rehab start. deGrom pitched in a competitive game for the first time since suffering a stress reaction in his right scapula before the season began.
The Mets ace looked sharp in his outing, hitting 101 mph on the radar gun.
"I felt like I had control of everything – the main thing was trying to locate the fastball and pitch off that," deGrom said afterwards. "[The shoulder] feels 100%. Because it was bone … you can't really push it. I had to wait until the bone was healed and move forward from there."
The 34-year-old deGrom hasn't thrown in the majors since July 7, 2021. He was enjoying a historic season up until that point, going 7-2 with a 1.08 ERA over 92 innings. But the two-time Cy Young Award winner suffered a sprained elbow which kept him out for the rest of the year.
The Mets plan to give deGrom several minor league rehab starts and hope to have him back in their rotation by the end of July.
Meanwhile, New York's other ace, Max Scherzer, will start on Tuesday night against the Cincinnati Reds. Scherzer has been out since May 18 after suffering a strained left oblique. He's 5-1 with a 2.54 ERA on the year.
Bogaerts misses Monday with thigh injury
Shortstop Xander Bogaerts sat out the Boston Red Sox's 4-0 victory against the Tampa Bay Rays on Monday after exiting Sunday's game with a cut on his left thigh.
Bogaerts hurt his thigh after Chicago Cubs catcher Willson Contreras spiked his leg while sliding into second base in the seventh inning on Sunday. Red Sox manager Alex Cora told reporters that Bogaerts was feeling "pretty sore" after the incident.
"It was a big cut," Cora said. "Hopefully, he feels better tomorrow, and we can use him."
Bogaerts remains day-to-day as of Tuesday. The 29-year-old shortstop is hitting .318 with 21 doubles and 47 runs scored for Boston this year.