Fan attendance is down across the board at MLB ballparks for a fourth year in a row and it's gotten so bad in Miami that the Marlins draw less per night than a AAA team in Las Vegas.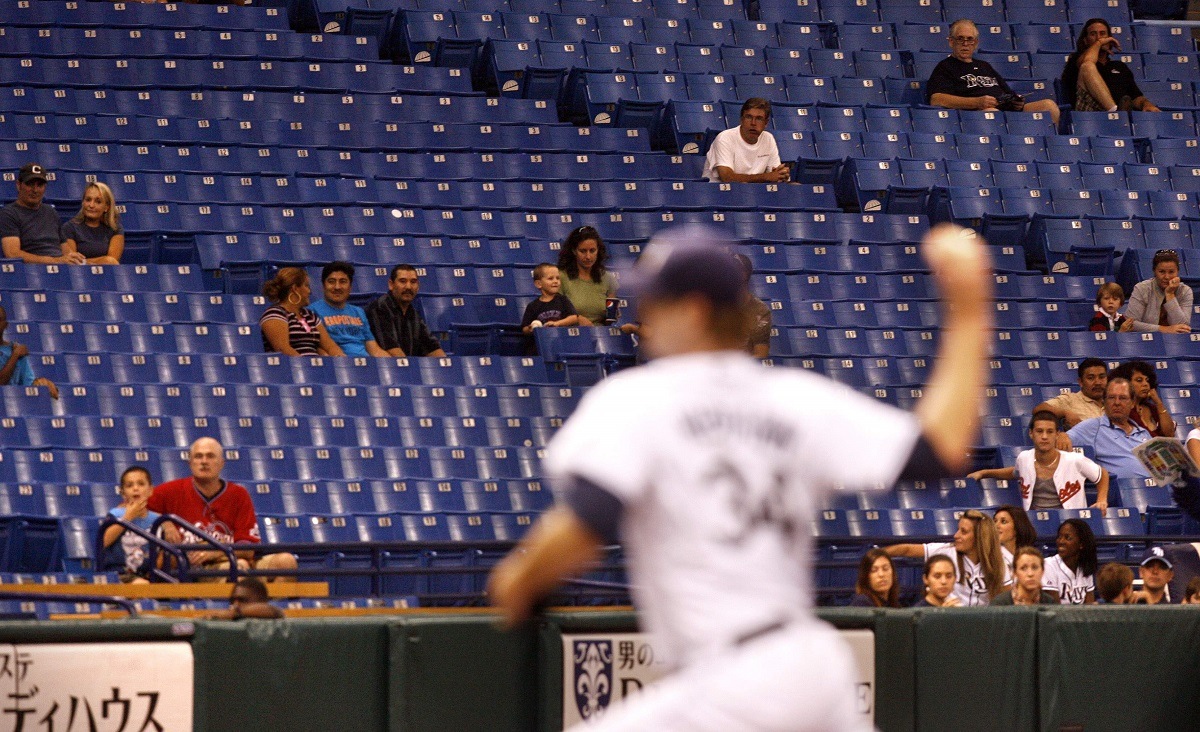 According to figures released by Major League Baseball, the average attendance of 26,854 per game in 2019. That figure is down 1.4 percent from last year's average of 27,242. That 2018 number marked the lowest attendance since 2003.
The combination of terrible teams, outdated stadiums, rising prices, and stiff competition in the entertainment sector are among the reasons why attendance dipped.
At least 19 MLB teams are suffering from lower attendance figures than last year. Several MLB teams are setting all-time low attendance records. The largest attendance drops are in Tampa Bay, Baltimore, Detroit, and Toronto.
The biggest gains in attendance are directly correlated with free agent signings. The Philadelphia Phillies and San Diego Padres experienced an uptick in season ticket sales and overall attendance. The free agent signings of Bryce Harper in Philly and Manny Machado in San Diego boosted sales for those franchises.
Games are progressing at a faster pace after MLB instituted new rules to speed the game up between a warm up shot clock to the reduction of mound visits. But baseball games are still the slowest in the major professional sports in America.
Too Many Bad Teams
When teams are bad, fans rarely come out. Doesn't matter if your team has a cool or newish stadium. If the team stinks, who wants to pay for it?
MLB.tv is a great way to follow your favorite team, especially if you live outside their market. MLB.tv subscriptions are up 8 percent, which is good news for the MLB. But it's minor factor in lower attendance figures. MLB.tv is still subject to local blackout restrictions.
The NBA is trying to figure out ways how to prevent teams from tanking and losing on purpose to secure a higher draft pick. This year's NBA Draft Lottery screwed over teams that were trying to tank all season. Only the New York Knicks were able to secure one of the actual top-four lottery spots with the New Orleans Pelicans securing the actual top pick.
For the last few decades, small market teams have been underspending on the free agent market. Miserly team owners are not willing to break the bank to make a legitimate run at the postseason. Sounds almost like the plot to "Major League" than real life.
The Miami Marlins are the perfect example of the broken system. Year after year, management trades away top talent, or allow free agents to sign with other teams. You knew it was going to be a long season when Derek Jeter and the Miami Marlins held a press conference to release the team's new color schemes and uniform colors, instead of news about signing a top free agent.
How bad is it in Miami? The Marlins are averaging 9,554 fans per game. Meanwhile, the AAA Las Vegas Aviators is averaging 9,582 in a stadium with 10,000 capacity.
What's Wrong with Tampa?
The Tampa Bay Rays jumped out to a hot start this season. They were in first place for the first six weeks of the season before the Replacement Yankees caught the Rays to seize first place. Despite the Rays boasting one of the best records in baseball in the first quarter of the season, the team is setting new attendance lows.
The other night, Tampa set a new record for fewest number of paid fans with 5,786.
"The more people there are, the more energy there's going to be," said Tampa Bay outfielder Kevin Kiermaier. "No matter what crowd you're playing in front of, you have to get motivated."
The Tampa Rays have their own identity issues. Their outdated stadium is located in St. Petersburg, which is located on the other side of the bay from downtown Tampa. Between traffic and poor mass transit options, getting to games is a hassle.
Between the Marlins and the Rays, the Florida franchises are among the worst teams in the MLB as far as attendance goes.
In the 1989 baseball movie "Field of Dreams", a voice told Kevin Costner, "If you build it, they will come." Thirty years later, simply having a stadium is not enough because fans are not coming out to watch Americas favorite past time like they used to.