Italy has already clinched its first ever Olympic medal in the sport of curling. Now, its mixed doubles pair has the opportunity to finish off one of the most impressive runs ever seen in the Winter Games as it takes on Norway in the gold medal game of the mixed doubles tournament.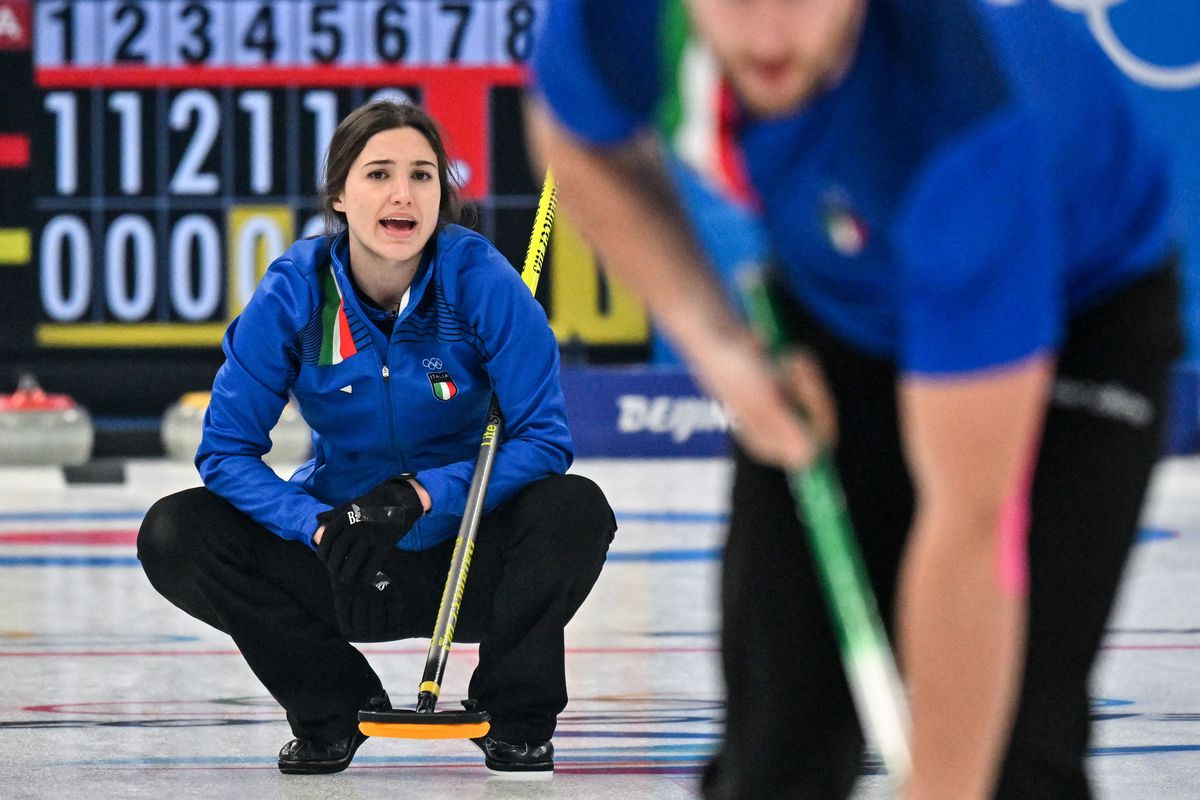 DraftKings Sportsbook lists Italy as a -180 favorite over Norway (+135) in the gold medal match. The Italians began the tournament as a +5000 longshot to win gold.
Italy hopes to raise profile of curling back home
Italy finished off the round-robin undefeated by knocking out favored Canada in their final game. Canada's Rachel Homan had a shot to win – which would have sent the Canadians to the medal rounds – in an extra end, but came up just heavy on a draw to the button. She still landed on another stone for backing, and the ensuing measure came down to less than a millimeter before Italy claimed victory.
Canada's mixed double curling team just got eliminated from medal contention in overtime by millimeters. Canada is red, Italy is yellow. It took them two measurements to officially determine Italy was closer to the center pic.twitter.com/7VPB7AHIL7

— Rodger Sherman (@rodger) February 7, 2022
The Italian pair of Stefania Constantini and Amos Mosaner then cruised past Sweden 8-1 in their semifinal. That makes Italy a perfect 10-0 heading into Tuesday's gold medal game.
"We are feeling so happy, and we are really proud of ourselves," Constantini said after the semifinal. "We realized that when we saw our families on the TV here, and we started to cry. It was a magic moment."
Italy has never asserted itself as a major curling powerhouse. The country has never medaled at the world championships in men's, women's, or mixed doubles play.
However, Italian curling is improving rapidly. Italy's men's team made the field in Beijing as well, and could be a dark horse medal contender. Mosaner says that he hopes the team's performance will boost the popularity of curling in his country.
"I'm really, really happy about that because we need more players in Italy," Mosaner said. "If we do a good job, then for the next Olympics there will be a lot of athletes to compete out there and to have a good team."
Norway clinches second straight doubles medal
Norway came into the medal rounds as the No. 2 seed after posting a 6-3 round-robin record. The team of Kristin Skaslien and Magnus Nedregotten then beat the United Kingdom 6-5 in a tense semifinal to reach the gold medal game.
Skaslien and Nedregotten won bronze medals in the 2018 Olympics, but only after the Russian team forfeited its bronze due to a player testing positive for performance enhancing drugs. Now, they are assured an even better medal in 2022.
"Four years ago we were underdogs," Skaslien told reporters. "We were kind of exhausted when we came to the playoffs. This time, we knew what it was all about."
Sweden and Great Britain will play for the bronze medals in mixed doubles curling ahead of the gold medal game. The British team comes into that matchup as a -160 favorite over Sweden (+120) to claim a spot on the podium.