Corbin Burnes pitched two scoreless innings to pick up the win as the Milwaukee Brewers defeated the Colorado Rockies 6-0, finishing off a three-game sweep of their NLDS series.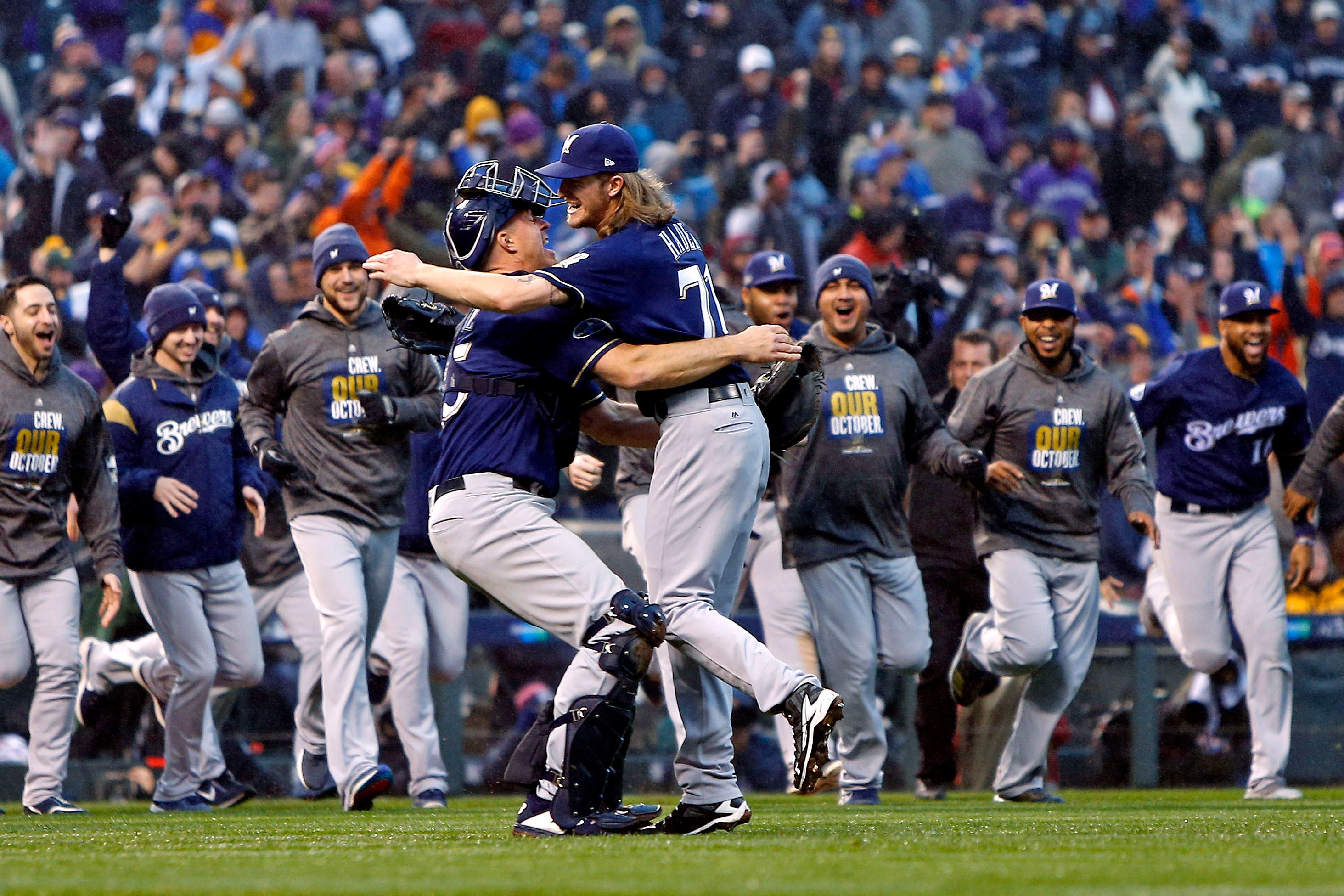 Milwaukee will now play either the Los Angeles Dodgers or the Atlanta Braves in the NLCS. The Dodgers currently lead the Braves 2-1, with Game 4 of their series scheduled for Monday night.
Wade Miley got the start for Milwaukee on Sunday, pitching 4.2 innings of shutout baseball before turning the game over to the Brewers' dominant bullpen. Meanwhile, the offense was powered by home runs from Jesus Aguilar, Orlando Arcia, and Keon Broxton.
Brewers Stay Red Hot Behind Steller Pitching
The Brewers have now won 11 straight games heading into the NLCS, making them baseball's hottest team at just the right time of the year.
"We've played so well, and in a lot of ways, it's kind of spoiled us a little bit," Brewers manager Craig Counsell said after the win. "Eleven in a row at this time of year means a lot of things are going right."
Counsell credited the pitching staff for powering Milwaukee in the series, and it is easy to see why. The team compiled a 0.90 ERA, the best mark in NLDS history. The dominance of the Milwaukee hurlers was also noticed by Colorado manager Bud Black.
"You've really got to tip your cap to those arms in the bullpen," Black said. "A couple of guys came out of nowhere, right? That kids Burnes had a nice run for him in these games. It's a good team. They got themselves in a pretty good position."
Milwaukee No Longer an Underdog
The Brewers have completed an incredible turnaround over the past three years. In 2015, the team finished 32 games out of first place in the NL Central, finishing 68-94. Now, just three years later, the team finds itself one round away from its first World Series appearance since 1982.
"These are the moments you work for," Brewers general manager David Stearns said during the team's post-game celebration. "To have the organization get to a point like this, where you can enjoy a couple of these celebrations, it's special. This is the goal. When you pick up players like [Lorenzo Cain and Christian Yelich], the goal is to win a World Series."
As the first team to reach the Championship Series round in either league, the Brewers have seen their odds of claiming that World Series title improve dramatically. William Hill now gives Milwaukee 7/2 odds of winning the championship, trailing only the Houston Astros (5/2), who currently lead the Cleveland Indians 2-0 in the ALDS.
Despite that recognition, Brewers outfielder Ryan Braun still feels like his team isn't getting the respect it deserves.
"Nobody picked us to win the division," Braun told reporters. "Nobody expected us to get to the NLCS. I'm sure when we get there, nobody will pick us to win. But we believe in each other and we're playing our best baseball when it matters most."