Four of the greatest distaff horses of the last five years go on the auction block this November when the owners of Monomoy Girl, Midnight Bisou, Uni, and Rushing Fall put their prize mares up for sale at the Fasig-Tipton November Sale.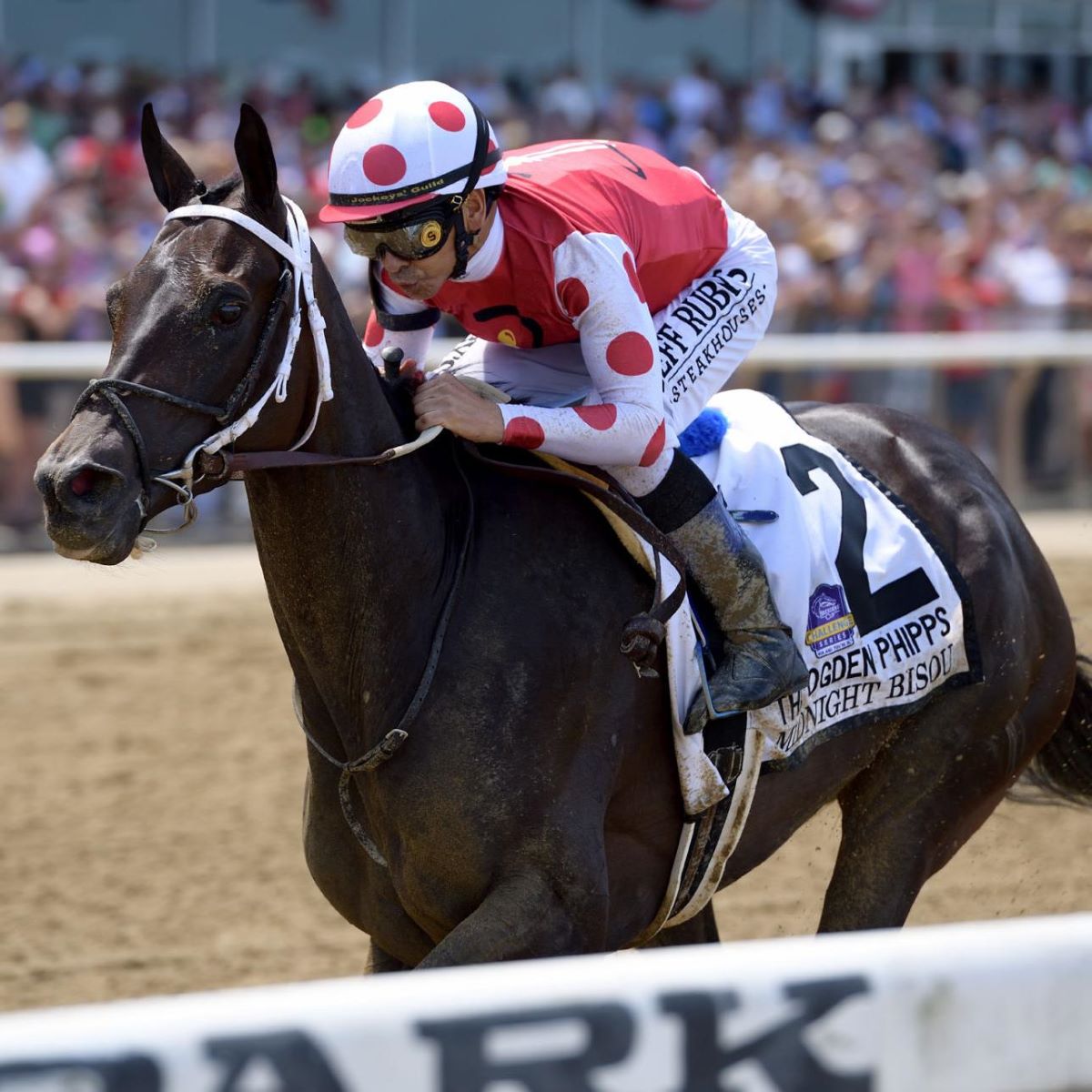 Held at Keeneland on Nov. 8, Fasig-Tipton's November Sale follows the Breeders' Cup, also at Keeneland. The November Sale is one night only, and features many of the world's top champions and broodmares — such as these four. They each are likely to bring a premium for breeders seeking blue-blooded mares with red-hot resumes.
Speaking of the Breeders' Cup, all four are likely to wrap up their racing careers there. Monomoy Girl is headed to the Breeders' Cup Distaff – which she won two years ago. Midnight Bisou may join her there, if she's not headed to face the boys in the Classic. Uni did just that at last year's Mile. Rushing Fall, meanwhile, is probable for the Filly & Mare Turf.
Combined, the four own 20 Grade 1 victories, with Monomoy Girl and Rushing Fall accounting for six apiece. Midnight Bisou owns five, and Uni three. They also racked up nearly $15.8 million in combined earnings, with Midnight Bisou accounting for $7,471,520 of that total.
These Four Win Nearly 66% of Their Races Combined
The combined records of the four are stunning. The quartet won 46 of their 70 combined starts and hit the board in 66 of their 70 races.
"They aren't one-hit wonders. They have been leaders in their divisions since they hit the racetrack," said Elite Sales' Bradley Weisbord, whose company consigns Monomoy Girl, Midnight Bisou and Uni.
Currently owned by Monomoy Stables, Michael Dubb, The Elkstone Group, and Bethlehem Stables, Monomoy Girl recently won the Grade 1 La Troienne Stakes on last Saturday's Kentucky Derby undercard. That was her third victory in as many 2020 starts, and her 12th in 14 lifetime starts.
Monomoy Girl Picked Up 2020 Where She Left Off 2018
Monomoy Girl won the 2018 Breeders' Cup Distaff before going on an 18-month, injury-plagued hiatus. She missed her entire 4-year-old season battling colic and a hamstring strain. Even with that, Monomoy Girl never finished worse than second in her 14 starts.
The consortium of Bloom Racing Stable, Madaket Stables, and Allen Racing own Midnight Bisou, who never missed the board in her 22 lifetime starts. Those include 13 victories and a dynamic second to Maximum Security in the Saudi Cup – one of her two runner-up finishes in three races this year. In her last time out, Midnight Bisou was upset by 9/1 Vexatious in the Grade 1 Personal Ensign at Saratoga.
The 2019 Eclipse Champion Older Mare tied the incomparable Beholder for most graded stakes wins by a filly or mare (13), a mark she can surpass in the Grade 1 Spinster Stakes at Belmont Park later this month.
Uni Trying to Find Her 2019 Form Prior to Fasig-Tipton
British ex-pat Uni came back this year after being named Eclipse Champion Female Turf Horse. Owned by Dubb, Head of Plains Partners, Robert LaPenta, and Bethlehem Stables, Uni set a Keeneland track record when she won the Grade 1 First Lady last year. That served as a nice prelude to her Breeders' Cup Mile victory where she registered her career-best 121 Equibase Speed Figure.
This year hasn't been as smooth for a mare with 10 wins, three seconds and four thirds in 20 races. Uni raced only twice: finishing third in the Grade 1 Just a Game Stakes at Belmont Park in June, and a miserable seventh in the Grade 1 Fourstardave Handicap at Saratoga last month.
On the Turf, Rushing Fall is a Grade 1 Terror
Indian Creek consignee Rushing Fall handles her sale on behalf of Five Racing Thoroughbreds. The 5-year-old mare is one of only three females in the modern era (Beholder and Lady Eli are the others) to win Grade 1 races at ages 2, 3, 4, and 5. Every one of her 14 races, save for her first, came in graded stakes where Rushing Fall owns 10 of her 11 victories and two seconds.
Owned by the Edwards family, Rushing Fall enters the sales ring in the best form of her life. She won all three of her 2020 starts, defending her Grade 1 Jenny Wiley at Keeneland in July, then taking the Grade 1 Diana Stakes at Saratoga last month. Her Jenny Wiley time of 1:39.02 for 1 1/16 miles set the course and stakes record.
"Rushing Fall is one of the more brilliant turf females we have seen in some time, compiling a near-perfect record in capturing her division's most prestigious and competitive races," Fasig-Tipton President Boyd Browning said in a release. "She is a true collector's item."