Starting point guard Kyle Lowry won't suit up for the Miami Heat in Game 5 against the Philadelphia 76ers tonight because he reaggravated his hamstring injury.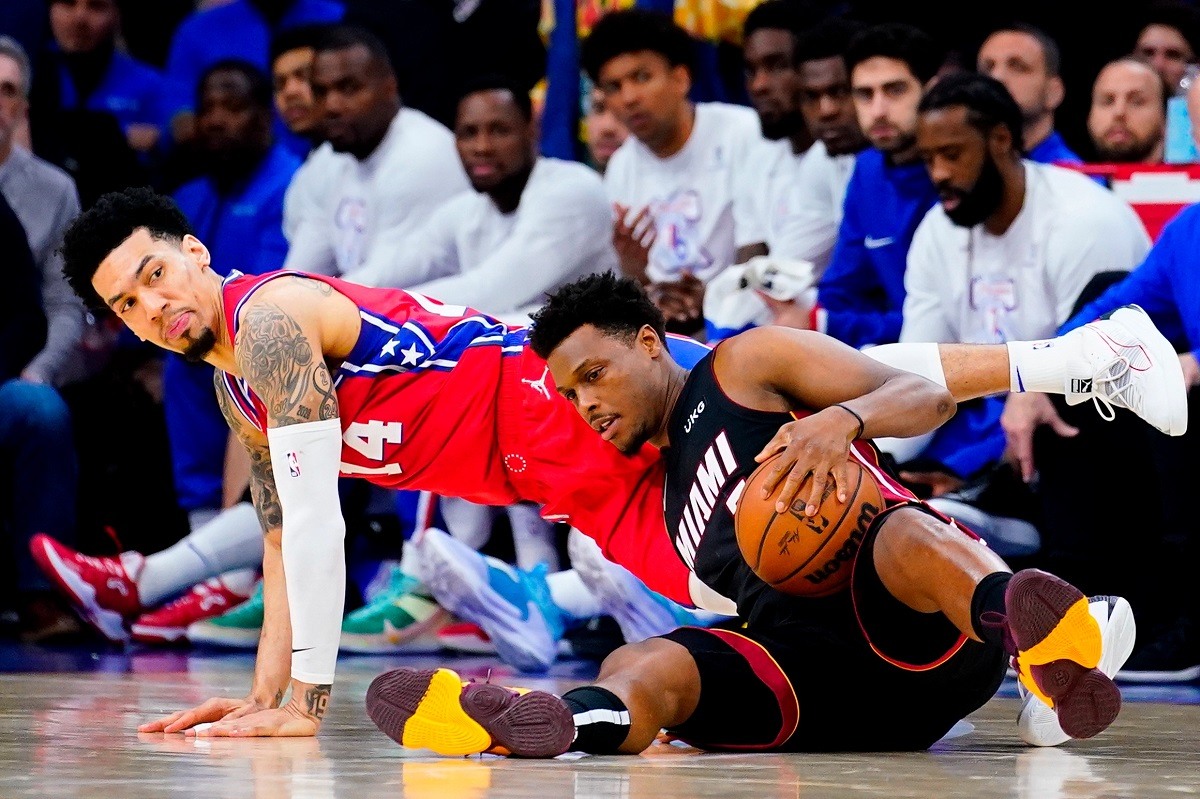 The initial injury occurred in Game 3 of the opening-round series against the Atlanta Hawks when Lowry tweaked his hamstring. He missed the next four games, including the last two games of the Hawks series and the first two games of the second round against the Philadelphia 76ers.
Lowry averaged 13.4 points, 7.5 assists, and 4.5 rebounds per game during the regular season in his first season with the Heat.
In the first round, Lowry averaged 8.3 points, 5.3 assists, and 3.7 rebounds per game against the Heat. During the first two games against the 76ers, Lowry looked a bit rusty and didn't score any points in Game 3. In the second round, Lowry averaged 3.0 points, 5.0 assists, and 3.5 rebounds per game.
With Game 5 slated in Miami, the Heat opened as -3.5 favorites. The line has since moved to -2.5 when news broke about Lowry sitting out with the hamstring injury.
The Heat are -150 odds to win the series, and the 76ers are +125 odds to advance to the Eastern Conference finals.
Lowry: day-to-day
Lowry didn't undergo an MRI because he knows his body and his hamstring felt tight. The Heat listed Lowry as day-to-day, and hope a couple of days off will allow him to play in Game 6.
"We've dealt with it before," said Spoelstra. "We've dealt with all the different rotation challenges and that's just what we're dealing with right now. We have plenty of guys that can step up, it can look a little bit different, but we've had recent experience with it."
The Heat took a 2-0 lead during the first two games at home. They dropped the next two games when the series shifted to Philadelphia and the 76ers got Joel Embiid back in the lineup. With the series tied at 2-2, the Heat are seeking to regain control.
"There is a human side to it," added Spoelstra. "I know how competitive Kyle is and I know how much he wants to be out there, particularly at this point in his career, this is what he's playing for, these moments. To be 2-2 locked up in a series, there's nothing better than that. So I do feel for him, but he's a great teammate."
Gabe Vincent (4.8 ppg, 2.3 assists) started at point guard replacing Lowry in the first two games of the series, but he's listed as questionable in Game 5 with a sore knee. If Vincent can't play, Butler could take over point guard duties. Butler exploded for 40 points in a Game 4 loss.
Check out more of OG's coverage of the 2022 NBA Playoffs.