It seems the New York Mets are making more news off the field rather than on it, and the latest incident showed the team's frustration. Manager Mickey Callaway, and pitcher Justin Vargas, got into an altercation with a reporter after Sunday's 5-3 loss to the Chicago Cubs.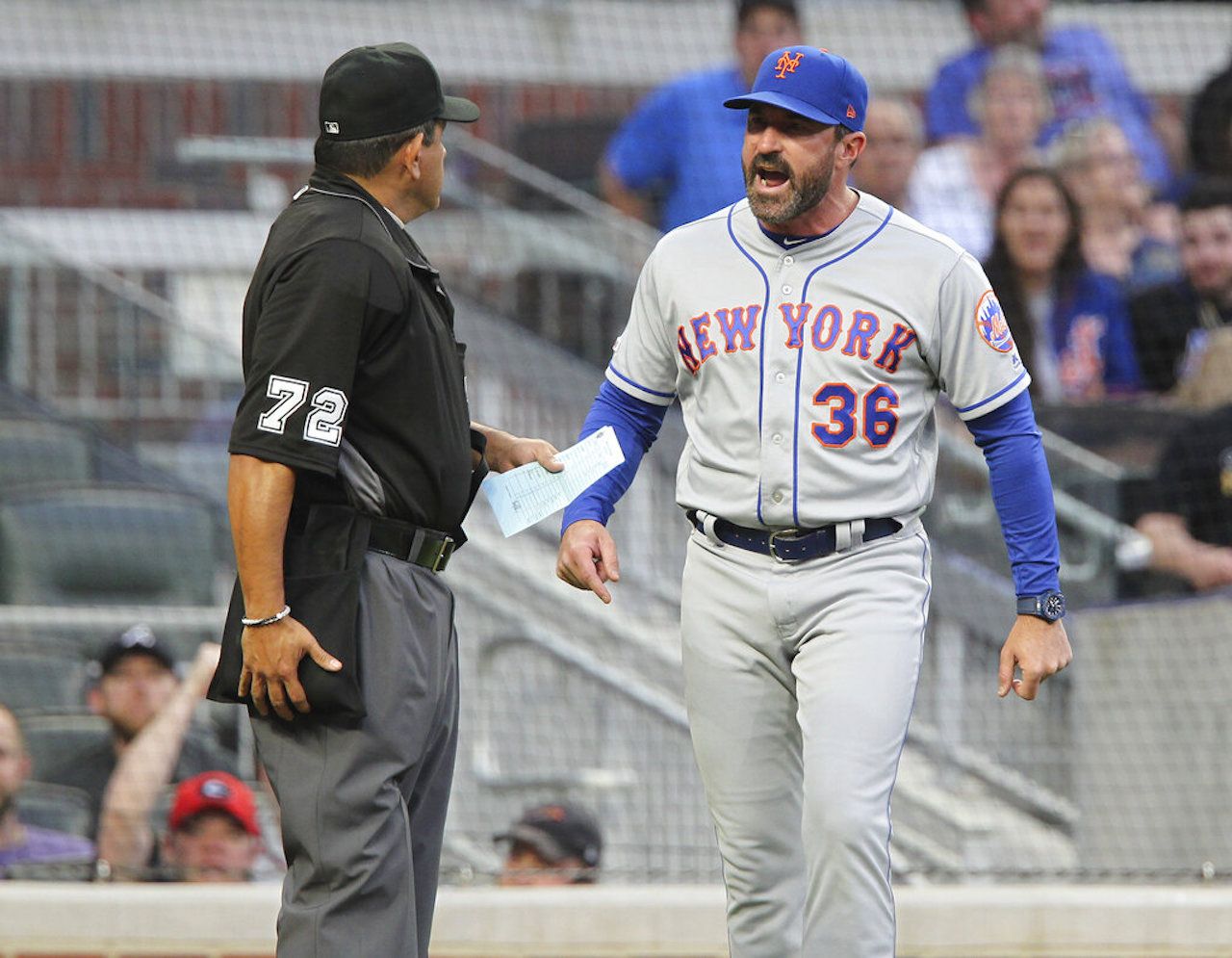 It started with Callaway, who is the second pick to be the first manager fired at 4/1. He was questioned by reporters about not using closer Edwin Diaz in the eighth inning.
"We're not going to use him for five outs," Callaway said of Diaz. "That's the bottom line."
This was the second time this season that Callaway had been second-guessed about not using Diaz earlier than the ninth inning. In Sunday's case, Seth Lugo stayed in the game, and gave up the go-ahead, three-run homer to Javier Baez.
After a testy meeting with reporters, where he was questioned several times about the move, Callaway got into an argument with one of them, who told him, "See you tomorrow, Mickey."
Callaway replied: "Don't be a smarta**, motherf*****." He left, then returned and asked a public relations member to eject the reporter from the clubhouse, again swearing at him.
Pitcher Relieves Manager
After Callaway's outburst, Mets pitcher Jason Vargas decided it was time for him to get involved. He began a stare down with the reporter, who asked the lefty if he had something to say.
Vargas, unfortunately did. He said, "I'll knock you the f*** out, bro," Vargas said. He then charged the reporter, having to be restrained by teammates Noah Syndergaard and Carlos Gomez.
Afterwards, the Mets issued a statement apologizing for the incident.
"The Mets sincerely regret the incident that took place with one of our beat writers following today's game in the clubhouse," the team said. "We do not condone this type of behavior from any employee. The organization has reached out and apologized to this reporter and will have further discussions internally with all involved parties."
Mets in Turmoil
After Sunday's loss, the team is 37-41, and only the lowly Miami Marlins are keeping them from the cellar in the National League East. The division was expected to be one of the most competitive in baseball, but the Mets are right where most predicted they would be.
Still, first-year general manager Brodie Van Wagenen has had to field questions about Callaway's future. He has steadfastly defending his skipper.
"As you've heard from previous conversations and comments I've made publicly is that Mickey has my full vote of confidence," Van Wagenen said recently. "He's our manager. And this is a scenario where we want to continue to give Mickey the best resources and the best coaching staff to be able to help him achieve our goals."
The fall guy was pitching coach Dave Eiland, who was fired along with bullpen coach Chuck Hernandez. Van Wagenen said he and Callaway discussed the move before it was made.
Vargas said getting rid of Eiland was not a popular move.
"It definitely caught everyone by surprise," Vargas said. "He's a big reason why I'm here. He's a big reason why I got back on track."