In Brugge, Lionel Messi started his first game in the PSG shirt since moving to Paris last month. Despite fielding Messi, Neymar, and Mbappe, PSG couldn't get past a solid Belgian side. FC Brugge – PSG finished 1-1.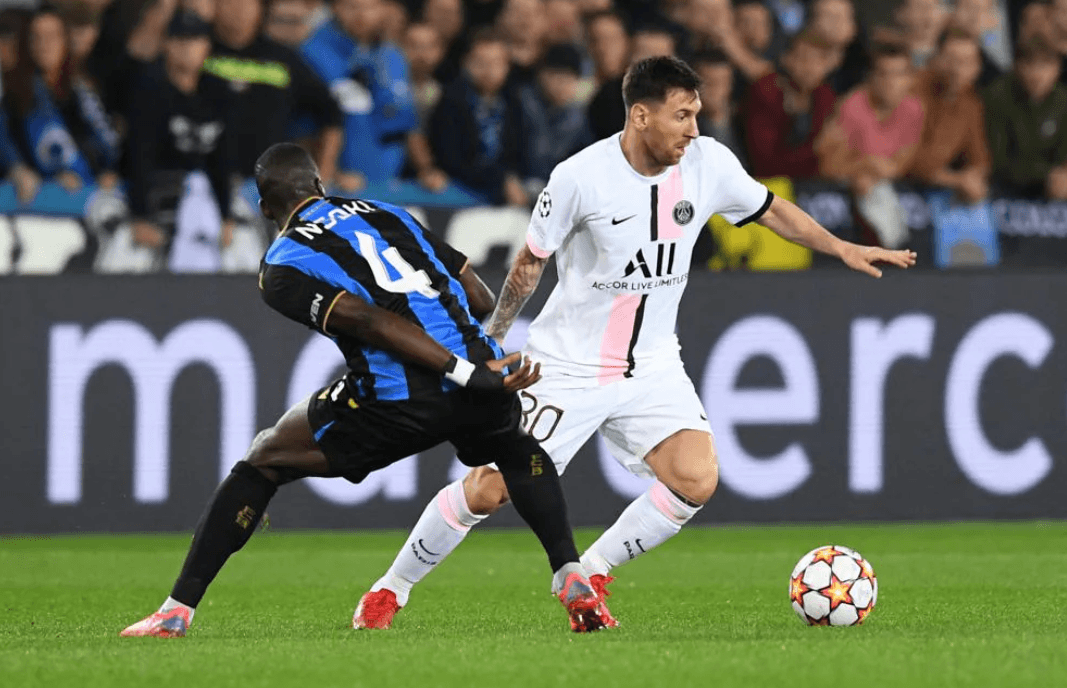 PSG could have seen itself down to 10 men early in the game. Leandro Paredes forced himself into a foul and, if it hadn't been for Marquinhos covering the line, the ref would have shown red instead of yellow.
PSG scored first, but neither of the team's world-class forwards put their name on the scoreboard. Spanish midfielder Ander Herrera netted after 15 minutes with a beautiful volley from 11 meters out. Mbappe turned his marker twice, then passed the ball to Herrera, who made it 1-0 to PSG.
Brugge captain Hans Vanaken equalized thanks to a deflected shot from inside the box ('26), then Messi hit the crossbar with a magnificent curler from the edge of the box just before the half-hour mark. It was the only remarkable moment in the game for the six-time Ballon d'Or Winner.
Mauricio Pochettino's men looked more and more tired as minutes went by. PSG also lost Mbappe to injury following a clip to his ankle from Brugge's Stanley Nsoki.
Fin du match à Bruges. 🔚

Le partage des points après cette 1⃣re journée de @ChampionsLeague 🆚 @ClubBrugge. (1-1)#UCL | #CLUPSG pic.twitter.com/lqhUKpzTeZ

— Paris Saint-Germain (@PSG_inside) September 15, 2021
Pochettino: 'We still have to create a team. It was not a good night'
PSG boss Mauricio Pochettino didn't hold back words after his team's draw in Brugge. The Argentine thinks PSG hasn't yet gelled as a team, and says everyone needs to work to "build an understanding" between Messi, Neymar, and Mbappe.
"We didn't have a good evening," Pochettino voiced. "We have to stay calm, keep working, and take the time we need. Things will get better. We need time to work for Messi, Neymar, and Mbappe," he added. "We need to build an understanding. That's been clear and we've said that in recent days We still have to create a team."
Pochettino went on saying that "nobody in the team can be happy with their performance and nobody can be happy with this result. We came here to take points. All the points. Hats off to Club Brugge. They wanted it more than us tonight and they deserve the point."
Brugge keeper Simon Mignolet was happy not to be involved in the game too much.
"I made two, three saves, not very difficult ones," Mignolet smiled. "I didn't have much work to do. We played very well collectively. We didn't give chances to an incredible attack. You can't mark them one-on-one, they have so much quality to beat their man. We tried to defend collectively and not to leave them any space," the former Liverpool keeper went on saying.
In the other match in Group A, Manchester City and Leipzig offered viewers a Champions League classic. The match finished 6-3. City now tops the group, with PSG and Brugge behind.