Last year, Switzerland's Daniel Yule won his second consecutive slalom victory in alpine World Cup action as he edged Norway's Henrik Kristoffersen on his home mountain of Adelboden. Will Yule repeat, or is it going to be a weekend of new faces on the podium?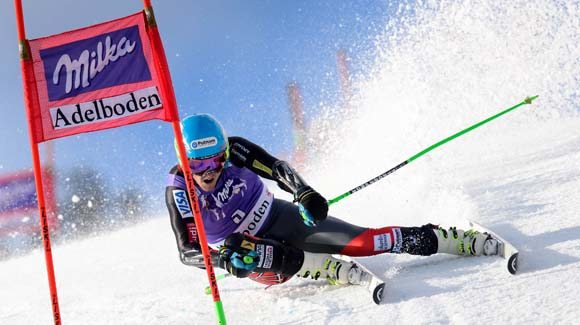 Friday will kick off a trio of events, including two grand slaloms and one slalom, in the Swiss Alpine village tucked into the Bernese Oberland region.
The town centers around the 15th-century village church and, of course, skiing. Perfect confines for Yule to engineer a repeat on Sunday's slalom — a make-up for the weather-postponed men's event at Madonna di Campiglio, which Yule won in December.
Norwegian Kristoffersen Loves Adelboden and the Giant Slalom
As for the giant slalom events on Friday and Saturday, Kristoffersen also has a soft spot for Adelboden. The 26-year-old, 10-year veteran was the first to win the three classic slalom races in Adelboden, Wengen, and Kitzbühel in the same season — a feat he accomplished at only 21 in January 2016.
That made Kristoffersen the most successful Norwegian in the World Cup slalom competition history. He also became the first male ski racer in 24 years to win six World Cup slalom races during a single season; Alberto Tomba won nine World Cup races (six slalom, three giant slalom) in the 1992 season.
Kristofferson, coming off the slalom and giant slalom World Cup titles in 2020, is currently fourth in the overall, first in slalom, and 12th in giant slalom this season. He's struggled to find the podium of late, but at +800 (BetMGM), it's a safe bet that the Norwegian could get his groove back and kick off 2021 at one of his favorite venues.
American Ted Ligety Still Skiing … Is He Worth a Shot?
At this point in the season, we've yet to mention American Ted Ligety. The five-time World Cup champion in giant slalom (2008, 2010, 2011, 2013, and 2014) has mostly been left out of the conversation for the past couple of seasons. Since December, he's been skiing increasingly competitively, cracking top 20s and posting top-10 finishes over the previous five giant slalom events. Ligety's fitness is good, he likes Adelboden (seventh last season), and he's still one of the sport's most technically sound skiers in this discipline. But, by his own admission, he's old.
"At this point, I guess I'm shooting for the Olympics," the Park City resident said in December. "If I was going to go this year, I was going to go the next year. It kind of seems silly to stop the year before the Olympics. So, go through then and then definitely be done. So, 37, I'd be an old guy at the Olympics."
Ligety won gold in the 2006 Olympic combined and 2014 Olympic giant slalom, and with an appearance in the 2022 games, would break Bode Miller's age record. Miller tied for super-G bronze in his fifth and final Olympics in 2014 at age 36.
Back at it. #coursewithaview #giantslalom dragginknucks #openskiresorts #skiingisfun @ Austria/Österreich https://t.co/tJUwZK5bvU

— Ted Ligety (@tedligety) January 3, 2021
Should he make it to Beijing in 2022, Ligety will be older than any US Olympic male skier in any discipline since ski jumper Peder Falstad at the 1932 Lake Placid Olympics.
Keep an eye on whether Ligety (+20000) can stay competitive for the remainder of the season in giants slalom; a podium finish or two would bolster his chances to make the team and, perhaps, show the old dog can still hunt.