Under an agreement reached between embattled trainer Bob Baffert and the Maryland Jockey Club, Kentucky Derby winner Medina Spirit will start in Saturday's 146th Preakness Stakes.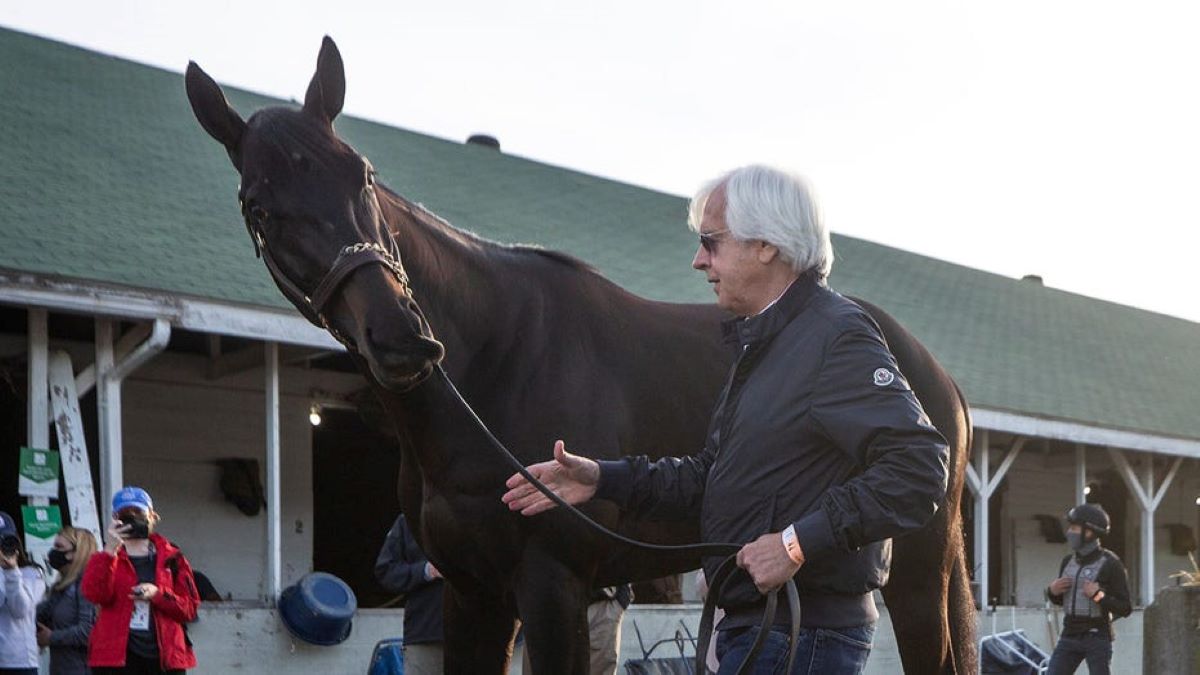 The announcement came shortly after Baffert issued a statement where he said the cause for Medina Spirit's positive test for the anti-inflammatory betamethasone could be from an anti-fungal ointment.
Baffert announced Sunday morning that Medina Spirit tested positive for 21 picograms of betamethasone. That anti-inflammatory is permitted by the Kentucky Horse Racing Commission, but must be out of a horse's system on race day. A picogram is one-trillionth of a gram.
Churchill Downs suspended Baffert from running horses at its track. It said if the split sample comes back positive, it will strip Medina Spirit of his Derby title.
Baffert said that Medina Spirit developed dermatitis on his hind end after his runner-up finish in the April 3 Santa Anita Derby. Baffert said in the statement that his veterinarian recommended the use of an anti-fungal ointment called Otomax. He said the vet's recommendation was to apply the ointment once a day up until the day before the Kentucky Derby.
Baffert points to ointment for Medina Spirit's positive test
"Yesterday, I was informed that one of the substances in Otomax is betamethasone," Baffert's statement read. "While we do not know definitively that this was the source of the alleged 21 picograms found in Medina Spirit's post-race blood sample, and our investigation is continuing, I have been told by equine pharmacology experts that this could explain the test results. As such, I wanted to be forthright about this fact as soon as I learned of this information."
Meanwhile, Baffert's attorney, Craig Robertson, hammered out an agreement with the Maryland Jockey Club that allows Baffert's horses to run the Preakness and undercard. He sent a letter to MJC attorney Alan Rifkin. This spells out Baffert's consent to a myriad of tests for his Preakness weekend card entries.
The agreement includes blood testing, medical record review and monitoring of Baffert's three horses. The trainer entered Medina Spirit and Concert Tour in the Preakness Stakes. He entered filly Beautiful Gift in the Black Eyed Susan Stakes.
Baffert's horses under a microscope
The three Baffert charges were tested upon arrival at Pimlico early Tuesday morning. The statement said further blood tests will be drawn Tuesday. An MJC-chosen lab gets will conduct the tests.
"If any of the horses test positive for a banned substance, or at a level for a permitted therapeutic substance which is above the designated limit, or if reasonable conditions warrant after MJC's review of the medical or administrative records, Mr. Baffert, or MJC on his behalf, will scratch that horse from the upcoming race in which that horse is entered this weekend at Pimlico," Robertson's letter read. "Mr. Baffert has given these consents to further the interests of horse racing and the public."
Baffert, meanwhile, said he won't be at Pimlico this weekend because he doesn't want to be a distraction. At the same time, he pressed his offensive to vindicate himself and Medina Spirit.
He made appearances on the popular Dan Patrick Show, on ESPN's SportsCenter, and on Fox News. On the latter, he played the "cancel culture" card, saying the positive test was indicative of that tired, politically charged phrase. His Tuesday statement elaborated further on his willingness to be transparent. Baffert said pharmacologists told him that 21 picograms of betamethasone "would have no effect on the outcome of the race."
Baffert insists no competitive advantage
"I want to reiterate two points I made when this matter initially came to light," he said in his statement. "First, I had no knowledge of how betamethasone could have possibly found its way into Medina Spirit (until now), and this has never been a case of attempting to game the system or get an unfair advantage. Second, horse racing must address its regulatory problem when it comes to substances which can innocuously find their way into a horse's system at the picogram (which is a trillionth of a gram) level. Medina Spirit earned his Kentucky Derby win."