Kentucky Derby winner Medina Spirit returned to racing for the first time in 3 ½ months on Sunday, capturing the Shared Belief Stakes at Del Mar. Along the way, Medina Spirit turned a trick no other Bob Baffert-trained horse has ever done.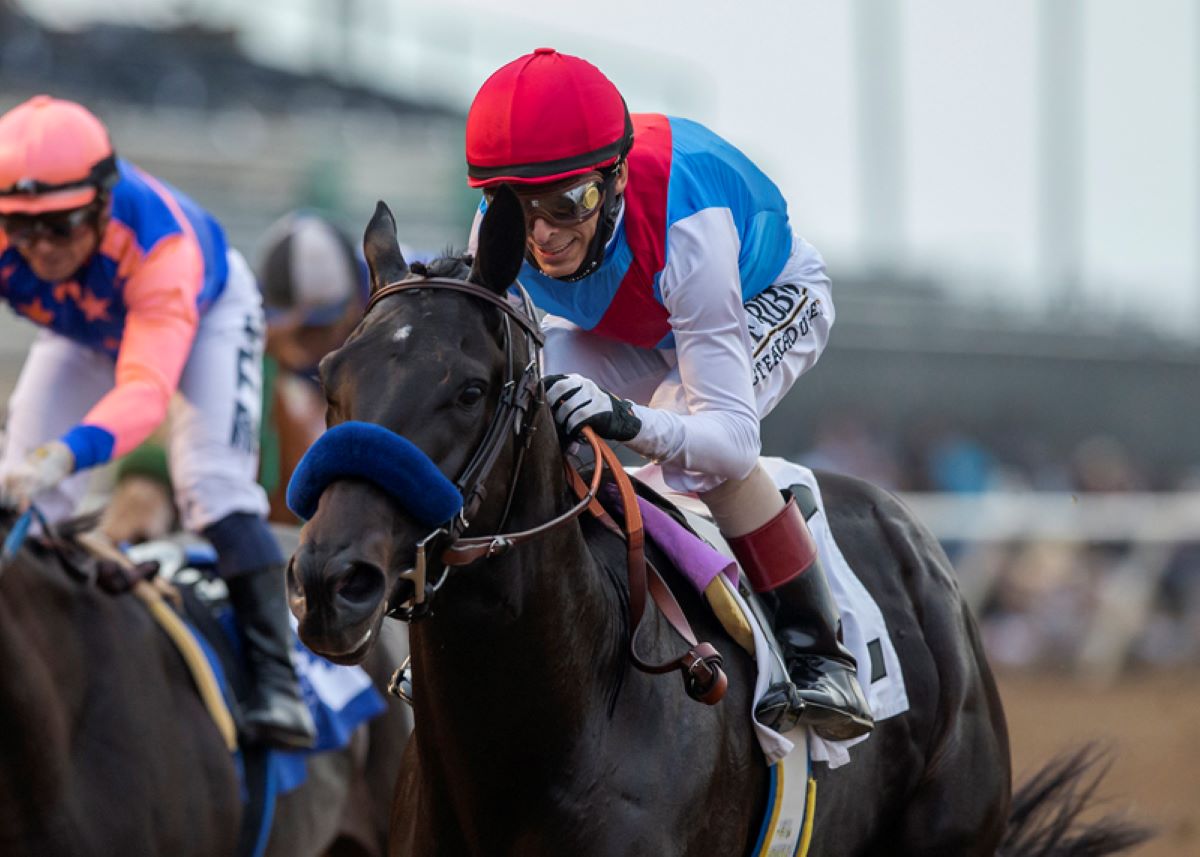 "For what this horse has gone through, he's such a game horse and I wanted to run him here and see if he likes Del Mar. I've never had a Derby winner come back and win here, so that's a first," Baffert told Del Mar Sunday.
Medina Spirit's first race since finishing third in the May 15 Preakness Stakes brought him a 1 ¼-length victory over Rock Your World. The 9/10 favorite went gate-to-wire in his typical, tenacious fashion, winning his third race in seven 2021 starts.
Not a bad afternoon for Baffert, who's kept a low profile this summer in the wake of Medina Spirit's positive Derby test for the banned-on-race-day medication betamethasone. Baffert hadn't planned running Medina Spirit in the Shared Belief until his son, Bode, told him Rock Your World was running. The Hall of Fame trainer called an audible and supplemented the Protonico colt into the field late.
Baffert kept Medina Spirit working
That doesn't mean Medina Spirit spent the summer on vacation. Baffert worked out the colt at Del Mar four times in August. Three of those produced bullets, including his last outing on Aug. 23. Medina Spirit went five furlongs in 58.6 seconds, the fastest of 69 at that distance.
Baffert may not do well bringing Derby winners to Del Mar, but he does well at Del Mar. That audible and Medina Spirit's 100 Beyer Speed Figure brought Baffert his 141st Del Mar stakes title, the most of any trainer.
As for Rock Your World, the Santa Anita Derby winner beat Medina Spirit in that race back in early April. He hadn't raced since finishing sixth in the June 5 Belmont Stakes. "He ran well. He ran a huge race. He got beat by the winner of the Kentucky Derby," Rock Your World jockey Umberto Rispoli said. "What are you going to do? I can't ask anything more of my horse."
Shared Belief sets both up for two different races
So what's the next ask for both? Both Baffert and Rock Your World's trainer, John Sadler, may ask their charges to run either the Grade 1 Pennsylvania Derby at Parx or the Grade 1 Awesome Again at Santa Anita Park. Both come with pros and cons that Baffert and Sadler must factor.
The Sept. 25 Pennsylvania Derby keeps the pair against fellow 3-year-olds, but it requires a cross-country ship. Rock Your World hasn't handled travel well. Before his also-ran sixth in the Belmont, Rock Your World finished a nightmarish 17th in the Derby.
The Oct. 2 Awesome Again keeps both colts in their native Santa Anita habitat, and it comes with a berth in the Breeders' Cup Classic for the winner. Both trainers have that race circled, but it sends them against older horses, including, possibly, Sadler's Tripoli. That older horse won a Breeders' Cup Classic berth courtesy of his Aug. 21 Pacific Classic victory.
Sadler told the Daily Racing Form that both races are "the obvious spots" for Rock Your World's next start. Baffert told TVG after Sunday's race that the Pennsylvania Derby is a possible destination, but the Awesome Again remains on the table.