Those in the know are confidant that an anticipated fight between Floyd Mayweather and Conor McGregor will happen, but no one can seem to answer when it will occur.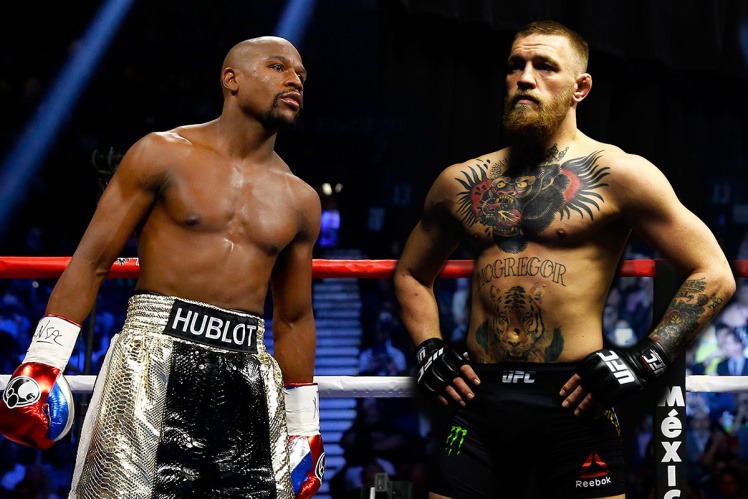 It was an intriguing match up when it was first proposed a year ago between the undefeated (49-0) boxer and the 21-3 UFC fighter.
UFC President Dana White, who sold his interest in the company in July, went on the Conan O'Brien's television show Wednesday and talked about his thoughts on the bout.
"I do think it's going to happen," White said. "I think it's going to be a tough deal, because obviously [there are] a lot of egos involved in this deal and a lot of people, so that always makes it tougher. On the flip side, there's so much money involved. I just don't see how it doesn't happen."
Battle Originally Mocked
When the idea was floated about in May 2016 many thought it was ridiculous. A boxing match between an accomplished pugilist against a mixed martial artist would be a disaster, pundits said.
Oddsmaker agreed, with some pegging the contest as a cake walk for Mayweather. The Westgate LV Superbook has him the overwhelming favorite at minus-2500 to win, while McGregor is plus-1100 to pull off an upset.
One of the more vocal critics has been promoter Bob Arum, who believes it is a travesty to the sport he spent his lifetime supporting.
"Conor McGregor is not a boxer, so if they box under boxing rules with the regular gloves and so forth, a novice will beat him," Arum told TMZ Sports. "Because he has no experience as a boxer. On the other hand, if they did the cage thing, Floyd wouldn't have a chance. So, it's just talk and it's absolute nonsense for these guys to fight each other."
Idea Becoming More Attractive
In recent months, however, the notion has gotten widespread support. So much so, that the 40-year-old came out of retirement to challenge McGregor to agree to the contest. His last fight was September 2105.
"I don't want to hear no more excuses about the money, about the UFC," Mayweather said. "Sign the paper with the UFC so you can fight me in June. Simple and plain. Let's fight in June. You're the B side, I'm the A side. We're not here to cry about money. I'm tired of all this crying about money and talking about you want to fight."
Further fueling speculation that the event will occur is the T Mobile Arena in Las Vegas has a June 10th date reserved but doesn't have a name announced.