The New York Mets are thriving through the first quarter of the season, even without two-time Cy Young Award winner Jacob deGrom. Now, they'll have to survive for as much as two months without veteran ace Max Scherzer.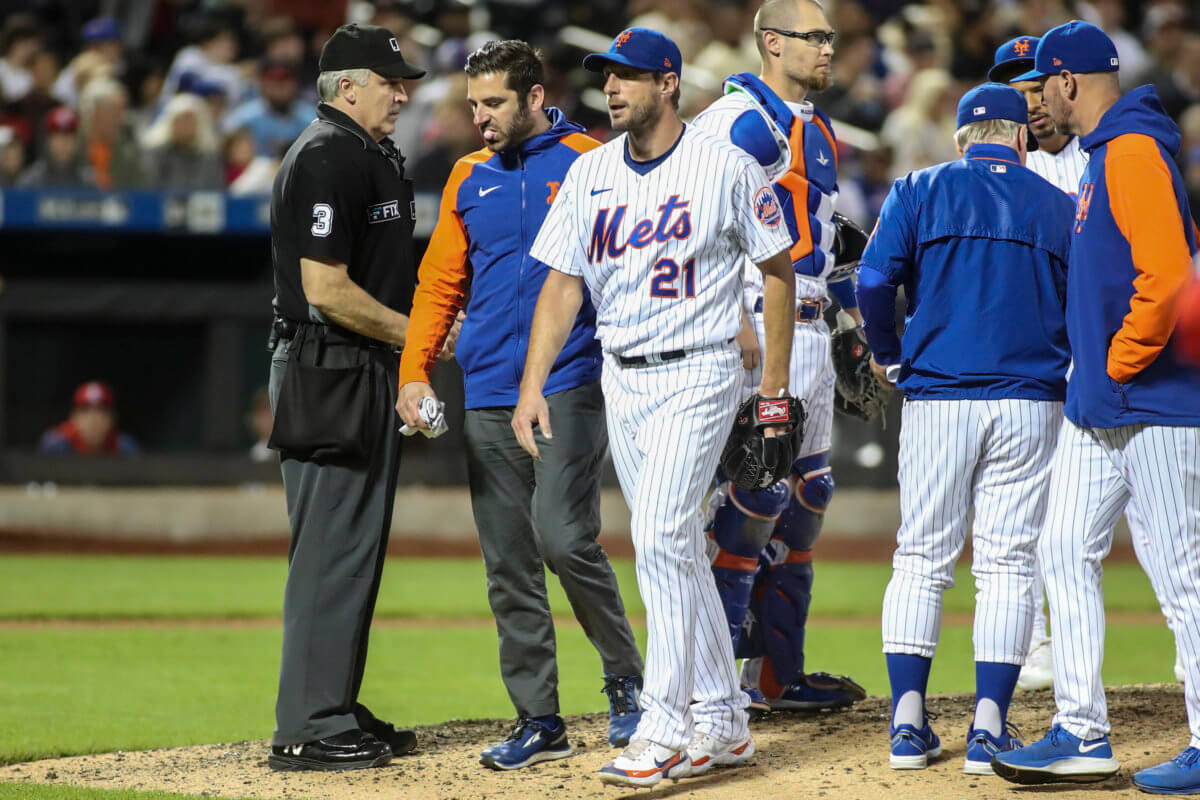 Scherzer suffered an oblique strain during the sixth inning of his start against the St. Louis Cardinals on Wednesday night.
Scherzer leaves game to avoid further injury
After throwing a slider to Albert Pujols, Scherzer signaled to the bench that he wanted to leave the game. At the time, Scherzer thought that stopping might prevent further injury.
"I don't think this is a major strain," Scherzer said after the game. "I was kind of tight and then all of a sudden it went. But I don't feel like I really ripped it. It just kind of got worse. So hopefully I got out of there quick enough to prevent a major injury here because I know oblique, intercostal, those things can be nasty."
It's unclear whether Scherzer prevented a more serious ailment by pulling himself from the game, but the Mets didn't get good news about his injury on Thursday.
An MRI revealed a "moderate to high grade internal oblique strain," according to the Mets. The team says that Scherzer could miss six to eight weeks with the injury.
The 37-year-old Scherzer, who the Mets signed in the offseason, is 5-1 with a 2.54 ERA on the season.
deGrom, Megill also on injured list
Mets teammates said Scherzer did the right thing by telling the coaching staff of the injury as soon as possible.
"He's a bulldog, and I know he loves to compete, but also, at the same time, he's really smart," first baseman Pete Alonso told reporters after Wednesday's game. "If he was feeling something, instead of pushing himself and getting hurt a lot worse than it actually is right now, then I think he did the right thing. I just want him to recover so we have him for the most possible time."
The good news for the Mets is that they've put themselves in a dominant position while they wait for their pitching staff to return to full strength. New York boasts a 25-14 record heading into Thursday's action. The Mets lead the NL East by six games over the Philadelphia Phillies. FanDuel Sportsbook lists New York as the -185 favorite to win the division this year.
🥴🥴🥴 pic.twitter.com/RvQzR8YIdG

— SNY (@SNYtv) May 19, 2022
That gives the Mets a cushion while they wait for their two aces to return to action. General manager Billy Eppler told reporters that deGrom's last imaging tests "looked really good" on Monday, though he remains at least a month away from pitching in the majors. deGrom has thrown on flat ground, but has yet to toss from a mound.
The Mets are also without starter Tylor Megill for the time being. The team placed Megill on the 15-day injured list on Sunday due to biceps tendinitis.