Luka Doncic shrugged off a horrible long-range shooting performance because teammate Dorian Finney-Smith knocked down eight 3-pointers to help lift the Dallas Mavs to a 111-101 victory in Game 4 over the Phoenix Suns.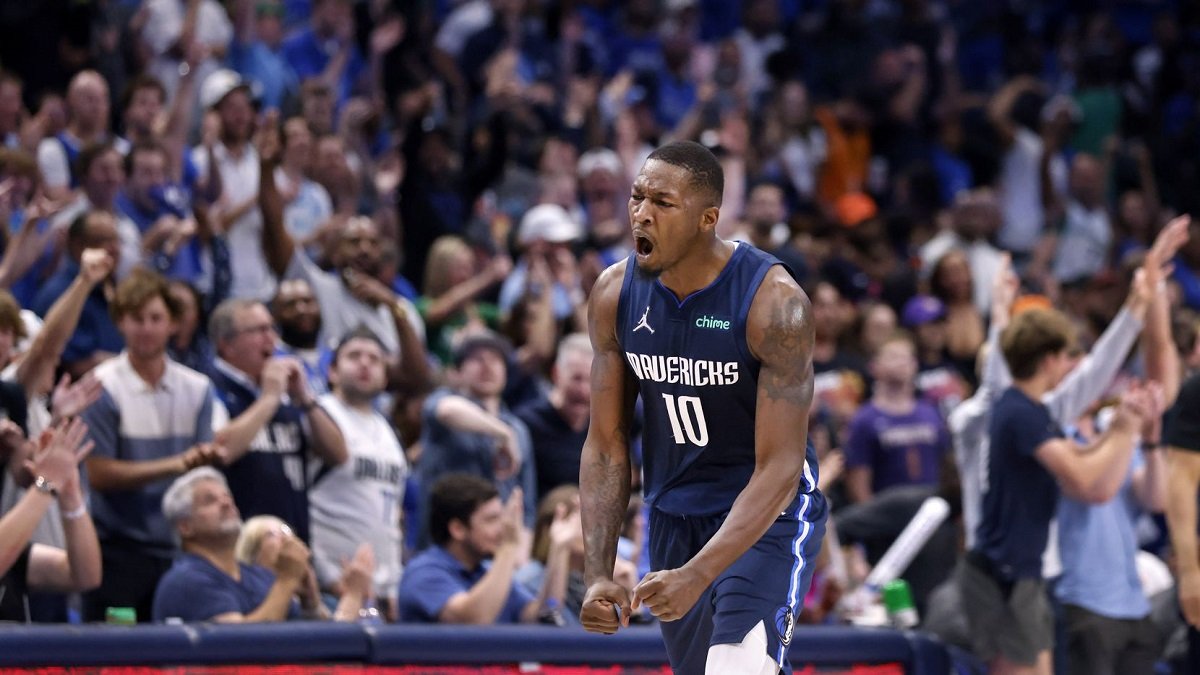 The #4 Mavs evened the series at 2-2 against the #1 Suns in the Western Conference Semifinals after falling into an 0-2 hole.
The Suns are still favorites to win the series at -260 odds and advance to the Western Conference Finals. The Mavs are +210 odds as the underdog to pull off the upset.
The Suns opened as -6 favorites when the series returns to Phoenix for Game 5 on Tuesday.
After dropping two games in a row, the Suns are no longer the consensus betting favorite to win the 2022 NBA championship. They're now +270 odds to win the title and behind the Golden State Warriors at +215 as the new favorite.
The Mavs saw their title odds uptick after tying the Suns at 2-2. The Mavs jumped from +2800 to +2200 odds to win the championship.
DFS Daggers
In the first two games, the Mavs lost because they did not get any offensive support from their starters who were not named Luka Doncic. Doncic outscored the other four starters in Game 1 and Game 2, which resulted in two losses.
In Game 3, an aggressive Jalen Brunson stepped up and led the Mavs with 28 points in nine-point victory.
In Game 4, Doncic led the Mavs in scoring with 26 points, 11 assists, and seven rebounds. However, Finney-Smith dropped a career-best 24 points and eight rebounds, while Brunson chipped in 18 points. All 24 of Finney-Smith points were the result of made 3-pointers. He shot 8-for-12 from downtown and ironically missed his only shot inside the arc.
"Luka told me when I had five 3s, he told me, 'You're about to get some more'," said Finney-Smith. "When LD tells you you're about to get some more treys, I figured I was going to get some."
The Mavs also got some much-needed help off the bench with three reserves scoring in double digits. Davis Bertans scored 12 points after he knocked down his first four 3-point attempts. Maxi Kleber added 11 points, and Spencer Dinwiddie contributed 10 points and four assists in just 19 minutes of action.
Sluggish Suns
The sharpshooting Mavs outgunned the Suns from 3-point range with 20 treys versus 9 for the Suns. That's a 33-point differential from deep.
The officiating has been awful overall in the 2022 playoffs. Suns fans were miffed that Chris Paul picked up five quick fouls and eventually fouled out chasing an offensive rebound. He finished five points, seven assists, and five rebounds in 23 minutes of floor time.
"I've got to look back at it," said Paul. "I mean, I can't put myself in the situation to give them that ability to do that. I've just got to look at myself and figure out how to do better."
"Everybody's got to take ownership, and it starts with me," said head coach Monty Williams. "I made some decisions tonight that put us in a tough spot. Should have kept Chris out of the game, especially right before halftime. And then as a team, we've got take ownership as far as guarding the ball so we don't have to help as much."
Booker led the Suns with 35 points in a losing cause. Deandre Ayton had a quiet game with 14 points and 11 assists.
Despite losing two games in a row, the Suns are not hitting the panic button.
"Last year was a learning experience for us," said Booker. "We went to six games last year with the Lakers, six games with the Clippers, six with the Bucks, six with New Orleans this year. We understand that it's a series. It's the playoffs for a reason."
Check out more of OG's coverage of the 2022 NBA Playoffs.