After 16 years and 34 fights, Manny Pacquiao decided he needed a new trainer. The welterweight made it official on Saturday, firing longtime corner manFreddie Roach, then four days later appeared to change his mind.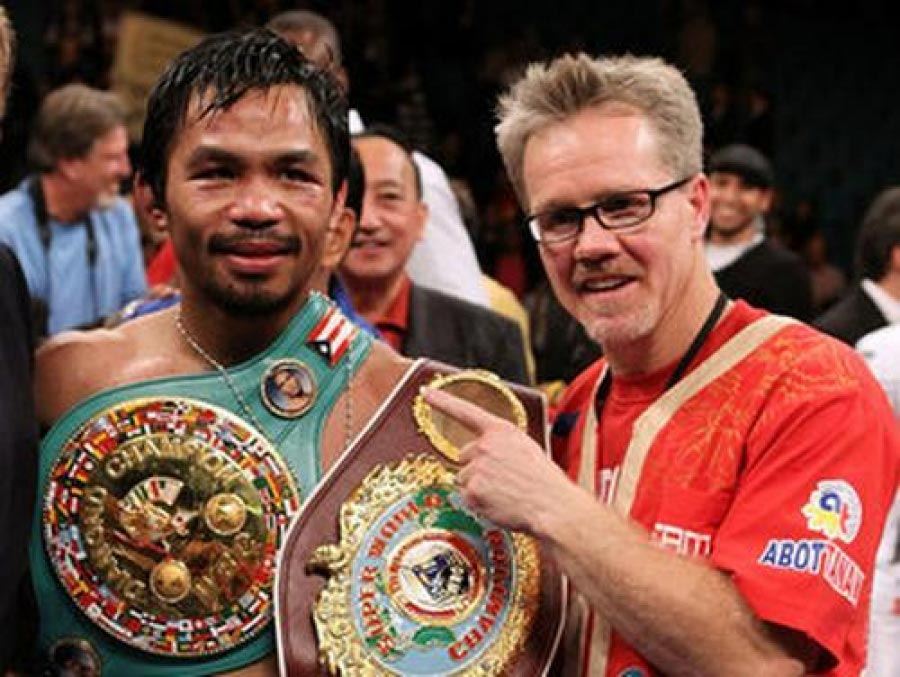 In a press release four days ago talking about his July 15 fight against Lucas Matthysse in Kuala Lumpur, Malaysia, it stated, "Pacquiao will be joined by his new promotions team along with trainers Restituto "Buboy" Fernandez and Raides "Nonoy" Neri."
The two are longtime friends of Pacquiao, and have little experience in the sport. Fernandez has been in his corner for previous bouts, but in a supporting role. Neri worked as a cook for the camp.
Trouble in Paradise
The signs that Roach may be on the way out were evident a couple of weeks ago when Michael Koncz, Pacquiao's longtime adviser, was interviewed by ESPN.
"Manny has told me Buboy will be handling the training on this fight," Koncz said. "What's important to Manny is that he has one voice to listen to in the corner that he trusts, and I guess that's Buboy for this fight."
Roach didn't find out about his dismissal until the release came out, and expressed sadness in the way it was handled.
"Manny and I had a great run for (16) years — longer than most marriages and certainly a rarity for boxing," Roach said on Friday in a statement given to ESPN. "I wouldn't trade any of it. Inside the boxing ring and the political ring, I wish Manny nothing but the best. I would be lying if I didn't say I wasn't hurt that he didn't contact me personally about his decision, but the great times we enjoyed together far outweigh that."
What may have caused the decision was the Jeff Horn fight in Australia, and Roach's comments after the July 2 bout. Roach told Sports Illustrated that he was alarmed at how he looked.
"Manny wasn't himself," Roach said. "He didn't look like the Manny Pacquiao I've known for a long time."
That, and other remarks, reportedly irked Pacquaio and put the topic of a change under debate.
Decision Time
The backlash from Pacquiao's decision to let Roach go was immediate. Pacquiao, who is a senator in his home country of the Philippines, decided to implement some diplomacy.
"Freddie and I are like a family," Pacquiao said on Wednesday. "We're like a close family and I didn't make up any decision yet about Freddie Roach. I am still not closing the door for Freddie. We just want to try and experience that Buboy will handle this one fight and after that go back to Freddie — I mean if I will make a decision, but right now I didn't make a final decision yet."
Pacquiao is 39, is 59-7-2 with 38 knockouts, but has lost four of his last nine fights. He has said he wants to continue his career and will do so with the bout against Matthysse. Sportsbet.com.au has him as a -215 favorite to +155 for the WBA welterweight champion and former super lightweight title-holder. The man nicknamed "Pacman" said he is ready.
"My time is not done yet," Pacquiao said. "That's what I am trying to prove July 15 that Manny Pacquiao is not done yet in boxing."