World Chess Champion Magnus Carlsen and American Fabiano Caruana are tied atop the standings after two rounds of the Magnus Carlsen Invitational, with the two rivals set to compete head-to-head in a Round 3 match on Wednesday.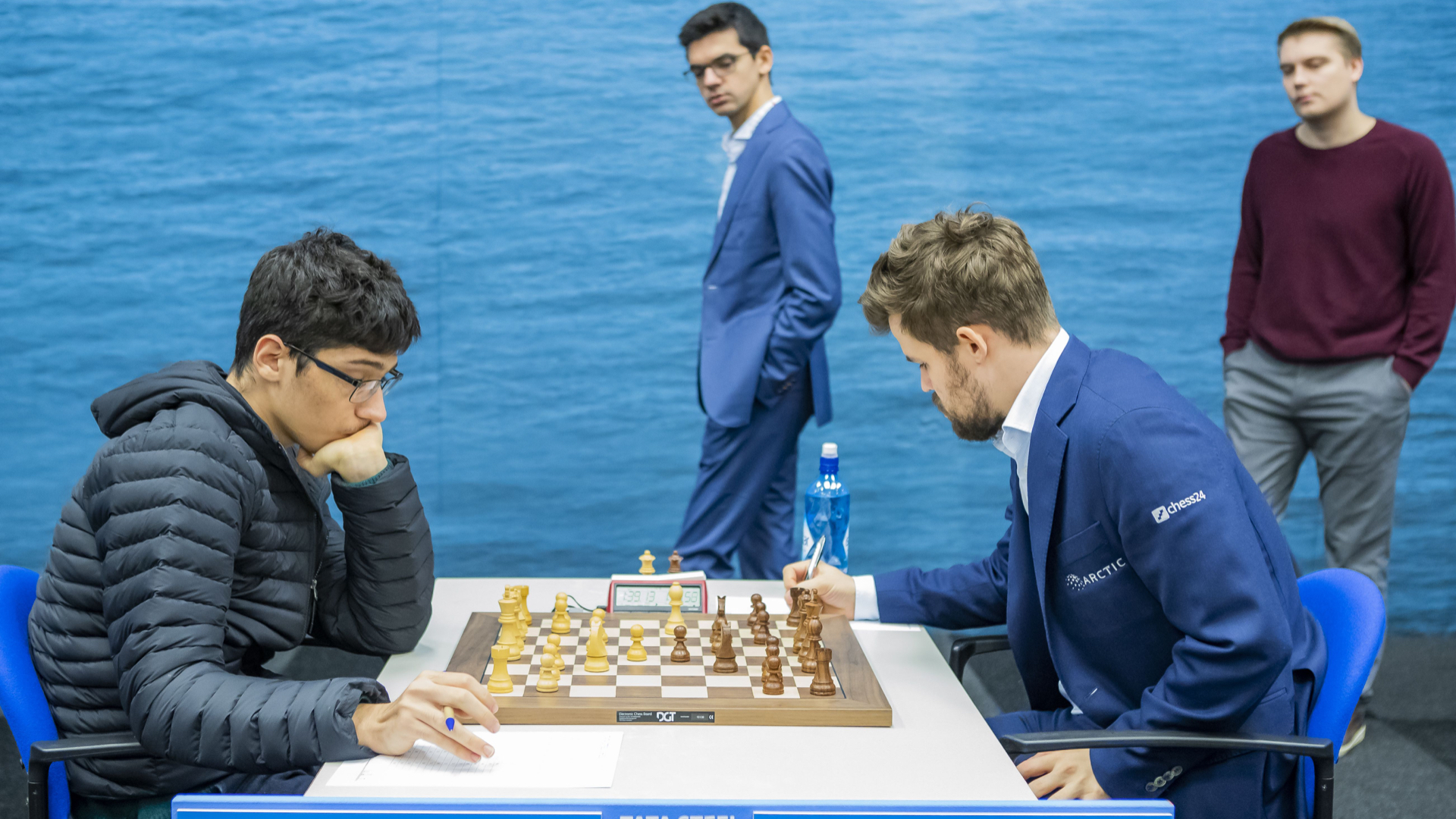 Caruana and Carlsen are the only two players in the eight-player field to have won each of their first two matches.
Carlsen Gets Revenge on Firouzja in Round 2
Neither players has secured the maximum number of points, however. The Magnus Carlsen Invitational (MCI) uses a match scoring system in which the outright winner of each four-game contest earns three points. However, if a match should end 2-2, then the winner of a tiebreaker Armageddon game earns two points, while the loser takes one.
Carlsen took two points in the first round after defeating American Hikaru Nakamura in a tiebreaker. He then faced off against prodigy Alireza Firouzja in a rematch of the Banter Blitz Cup final.
"Fantastic swindle!!!" (Grischuk) "There are no heroes when your king is in a mating net!"
Alireza Firouzja hits back to level the match against Magnus: https://t.co/GpkV1br701 #c24live #MagnusInvite pic.twitter.com/6N5eGu6lQ9

— chess24.com (@chess24com) April 20, 2020
Firouzja shocked many by beating Carlsen 8.5-7.5 in that final. Carlsen appeared to be on his way to getting revenge in decisive fashion after winning the first game of their MCI match. However, Firouzja pulled off what commentator Alexander Grischuk called a "fantastic swindle" to tie the match at one game apiece.
Carlsen went on to win the third game and draw the fourth to win the match 2.5-1.5. Afterward, he said he was still less than thrilled with his performance.
"Truth be told, I wanted to crush him today," Carlsen said after the match. "I felt like a narrow win wouldn't make up for the fact that I actually lost a match to the guy … the match should be over after three games. That's what I thought. That's what I wanted. And the fact that that didn't happen – yeah, it kind of pissed me off."
Top Contenders Vying for Playoff Position in Round 3
Caruana took the alternate route to five points, beating Ian Nepomniachtchi by a 2.5-1.5 score in the first round. He followed that up with a comeback against Ding Liren on Tuesday, winning the fourth and final game of their match to even up the score before taking the Armageddon tiebreak.
The victory gave Caruana a share of the lead, one point ahead of Nakamura, Ding, and Maxime Vachier-Lagrave.
Carlsen enters the third-round match against Caruana as a heavy favorite. Unibet rates Carlsen as a -182 pick to take the match in regulation, with Caruana posted at +425 odds.
Also on Wednesday, Nakamura (-134) gets his shot at Firouzja (+375). Thursday's Round 3 matches see Nepomniachtchi (-125) take on Anish Giri (+315), while Vachier-Lagrave (+110) battles Ding (+225).
---
Magnus Carlsen Invitational Standings (After Round 2)
Magnus Carlsen: 5 points
Fabiano Caruana: 5 points
Hikaru Nakamura: 4 points
Maxime Vachier-Lagrave: 4 points
Ding Liren: 4 points
Ian Nepomniachtchi: 2 points
Alireza Firouzja: 0 points
Anish Giri: 0 points
---
The eight competitors will complete a full round-robin, with the top four finishers heading into the knockout rounds. The overall winner of the MCI will win $70,000.
Carlsen (-143) remains the clear favorite to win the MCI tournament. Caruana (+600) and Vachier-Lagrave (+600) are considered his closest competitors, ahead of Ding (+800) and Nakamura (+800).