Luis Severino, the New York Yankees ace who went 19-8 last season, returned to action for the first time after spending the 2019 season on the IL. However, set-up man and All-Star Dellin Betances partially tore his Achilles in his first game back after also spending the entire season on the IL.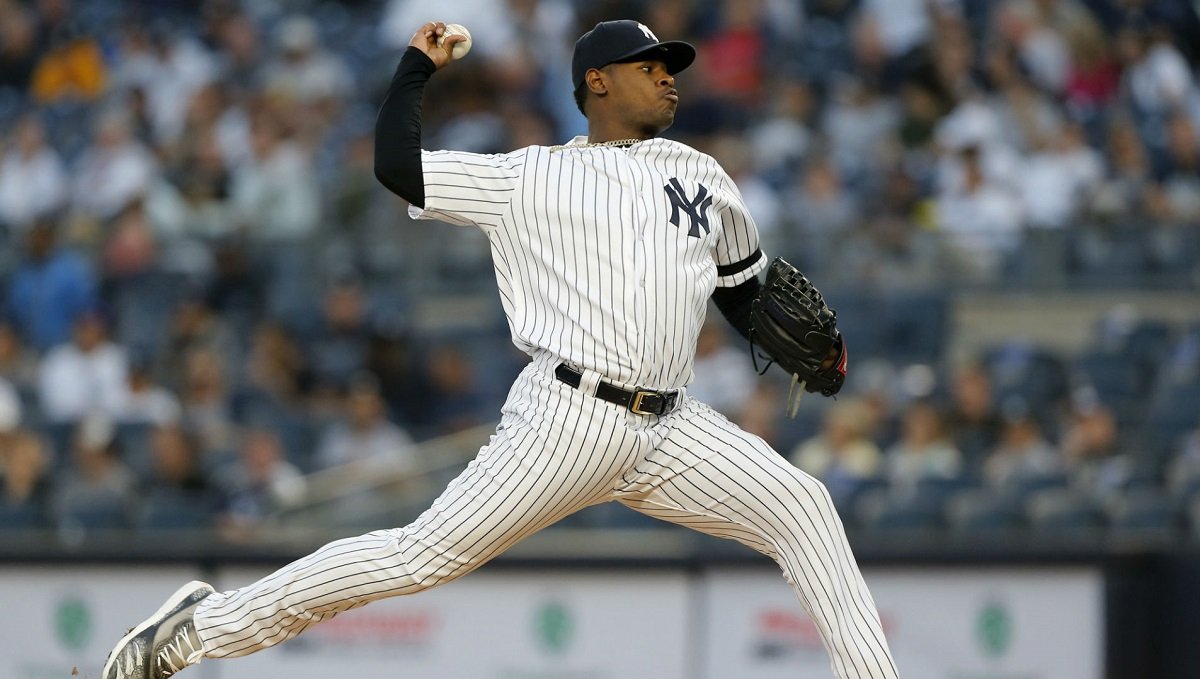 Just when the Yankees thought they were getting two of their top pitchers back in time for the playoffs, they suffered another setback with Betances.
The Yankees have been jinxed this season, with almost every member of the roster spending time on the IL at some point this season. Some players spent multiple stints on the IL. However, the replacement Yankees like Gio Urshela admirably held the line before the starters returned to action.
Betances Jinxed
In his first game of the 2019 season against the Toronto Blue Jays, Betances struck out two batters and then slipped off the mound. That's when he partially tore his Achilles. Team doctors will monitor the situation and determine if Betances requires surgery or not.
Betances, 31, experienced several setbacks during his rehabilitation. He initially went on the IL in spring training. Team doctors diagnosed him with an "impingement in his pitching shoulder", which seemed vague.
After sitting out for nearly four months, Betances experienced a setback while rehabbing his shoulder. That time, Betances injured his right latissimus dorsi muscle. Team doctors shut him down for another three months.
After a successful rehab in September, Betances was finally ready to make his season debut with two weeks remaining in the regular season.
He entered a game against the Blue Jays in the fourth inning, looking sharp and recording two strikeouts before the freak injury. Officials said he's done for the season.
Without Betances, the Yankees bullpen is still one of the best in the baseball, with Adam Ottavino, Zack Britton, Tommy Kahnle, and Aroldis Chapman shutting down the opposition.
Feeling Good, Luis!
Severino, 25, went 19-8 with the Yankees last season, and 14-6 in 2017. Severino missed most of the season with a lat and shoulder injury. Like Betances, Sevy incurred a different injury while rehabbing an initial injury.
Sevy played his first game of the season when he started against the LA Angels on Tuesday. He looked strong in his debut, and wasn't shy about bringing the heat. A couple of his pitches clocked 99 mph on the radar gun. Severino threw 67 total pitches over four scoreless innings, yielding just two hits.
"My fastball command was great," said Severino. "I still need to work a little bit more [on] sliders to lefties."
"What I loved was just how in control he was with his delivery," said manager Aaron Boone. "The stuff was very good, but it wasn't like he was reaching for it or trying to do it. He really stayed within himself the entire night, and really gave us four outstanding innings."
Back-to-back strikeouts to end the top of the 2nd. Topping out at 98.3 on his fastball (so far) 🔥 #SevySeason has arrived. pic.twitter.com/9TsxY093u9

— New York Yankees (@Yankees) September 17, 2019
Rotation: Looking Good Billy Ray!
With Luis Severino returning, Yankees fans are pumped. The rotation looked shaky all season, yet the Yankees were still on pace for 100-plus wins. The plan was to use Severino in relief, but if he continues to look this good, he could regain a spot in the rotation.
In the last month or so, the top of the rotation looked as good as they've been all season. Masahiro Tanaka rediscovered his cutter. James Paxton is mixing in more breaking balls and off-speed pitches to keep hitters off balance. JA Happ found some inner zen on the mound.
CC Sabathia has been looking his age. With CC on a short leash, Boone figured out a plan to couple Sabathia with Domingo German.
Potential NYY Playoff Rotation:
James Paxton (L)
Masahiro Tanaka
JA Happ (L)
CC Sabathia (L) / Domingo German
Luis Severino
Boone tapped German to step into Severino's spot in the rotation. German leads the Yankees in victories with an 18-4 record. Only Justin Verlander has more in the majors. However, the young Severino has now pitched the most innings of his career with 140-plus. In an effort to limit his work, Boone coupled German with Sabathia. This tandem could be a perfect fit in the postseason, with Boone using CC for two or three innings, and then handing the ball off to German for three or four more.
Whether he's the fifth starter, long reliever, or a situational reliever, a healthy and sharp Severino is a good problem for Boone to have.
"It's been a long time, a long road back," said Severino. "But I'm here now and healthy and I can help my team."
According to William Hill, the NY Yankees are 4/1 odds to win the 2019 World Series.