Luc Longley, the first Australian player in the NBA, won three championships alongside Michael Jordan and the Chicago Bulls. However, Longley was omitted from the Michael Jordan documentary The Last Dance, so an Australian TV network produced a documentary series titled "Luc Longley: One Giant Leap" about Longley's rise in the NBA and his tough adjustment in post-basketball life back home in Australia.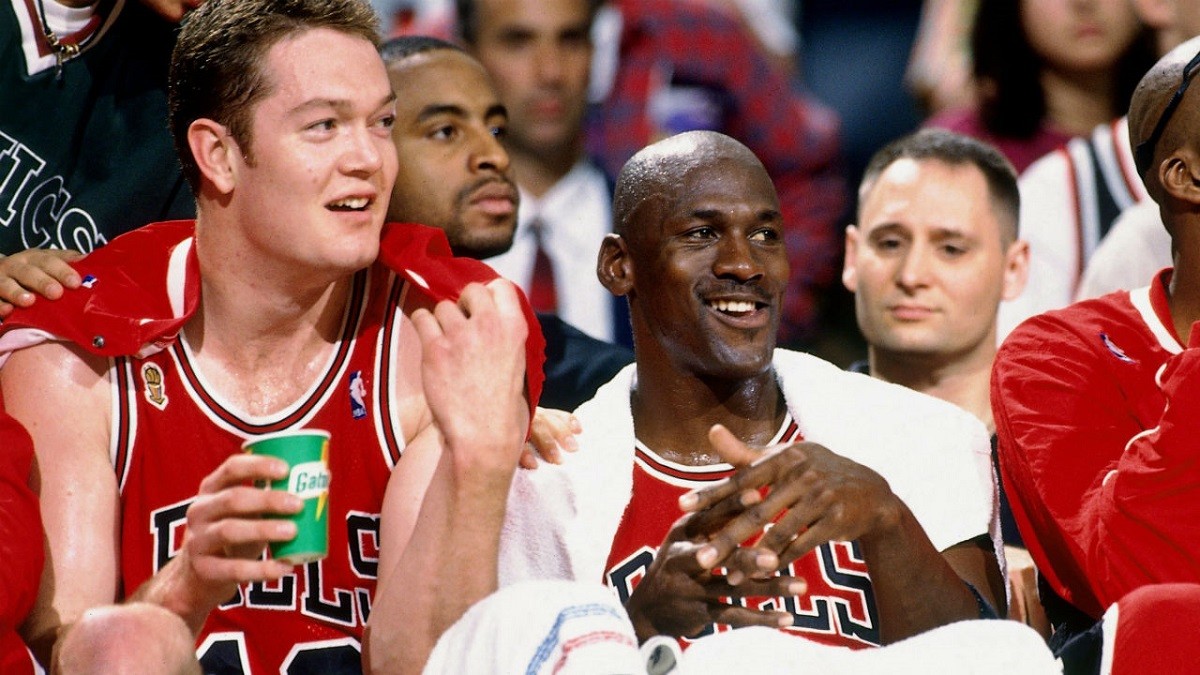 The Australian Story documentary, which appeared on ABC (Aussie's version of the BBC), is currently available for free on YouTube.
"It's about how does a hippie kid from Fremantle where there's really not much basketball end up getting to the summit with Michael Jordan and winning three championships," said Longley.
The biggest gripe from fans about The Last Dance was the glaring omission of Longley.
"I didn't expect to be a heavy feature in it because they hadn't interviewed me, but I did expect to be in it more than I was," said Longley. "Sitting there on the couch and watching episode after episode where I wasn't in it. Yeah, I was bummed about that."
Longley is a self-described hippie kid from West Australia who never thought he'd be a pro basketball player, let alone the starting center on a Chicago Bulls team that won three-straight NBA championships between 1996 and 1998.
Several key members from the Bulls were interviewed by Australian TV including Jordan, Scottie Pippen, Steve Kerr, and Phil Jackson.
West Australia > New Mexico > Chicago
The documentary begins with Longley growing up in West Australia just outside Perth. Although his parents were hippies, his father played organized basketball as a member of the Australian national team. That's where Longley first picked up the game.
Longley accepted a scholarship from New Mexico and headed to the states where he got his first taste of American culture, celebrity, and sports fandom.
As a member of the 1988 Australia Olympic team that finished in fourth place and narrowly missed out on a bronze medal, Longley finally realized he had the skills to play hoops at the pro level.
Longley struggled as a rookie with the Minnesota Timberwolves, but thrived as soon as the T-Wolves traded him to the Chicago Bulls.
Although he had a thorny relationship with Jordan at times, Longley got along great with the rest of his teammates. Longley developed strong ties with Scottie Pippen and Steve Kerr. Head coach Phil Jackson also took a shine to Longley because he felt they were very similar personalities — quiet and thoughtful — but Jackson took a softer approach to coaching Longley and was more of a good cop to Jordan's bad cop mentality.
Extended Michael Jordan Interview
Australia Story also posted the entire interview with Jordan, which they used to pull clips and soundbites for the Longley documentary.
"He matters to me, and his story needs to be told," said Jordan.
You get the sense that Jordan wasn't being a dick just to be a dick, but rather pushed — and at times bullied — Longley to reach a level of aggressiveness that he needed to achieve in order for the Bulls to win championships.
The ever-cool and laid back Longley said he never took it personally and respected Jordan, but there were definitely times that he didn't appreciate Jordan's tactics which Jordan described as tough love. It's not easy playing on a team with Alphas, especially the "Supreme Alpha Michael Jordan", but Longley eventually meshed with the Bulls and was a pivotal contributing member to three consecutive NBA titles, especially the last one in 1998.