The SEC Championship game is a must-win for Georgia if they want to stay in the top four of the College Football Playoff Rankings. But LSU coach Ed Orgeron talks like it's his team that needs the victory. The 12-0 Tigers are 7-point favorites for Saturday's game at Mercedes-Benz Stadium in Atlanta — a site where the winner could return in three weeks for a playoff semifinal at the Peach Bowl.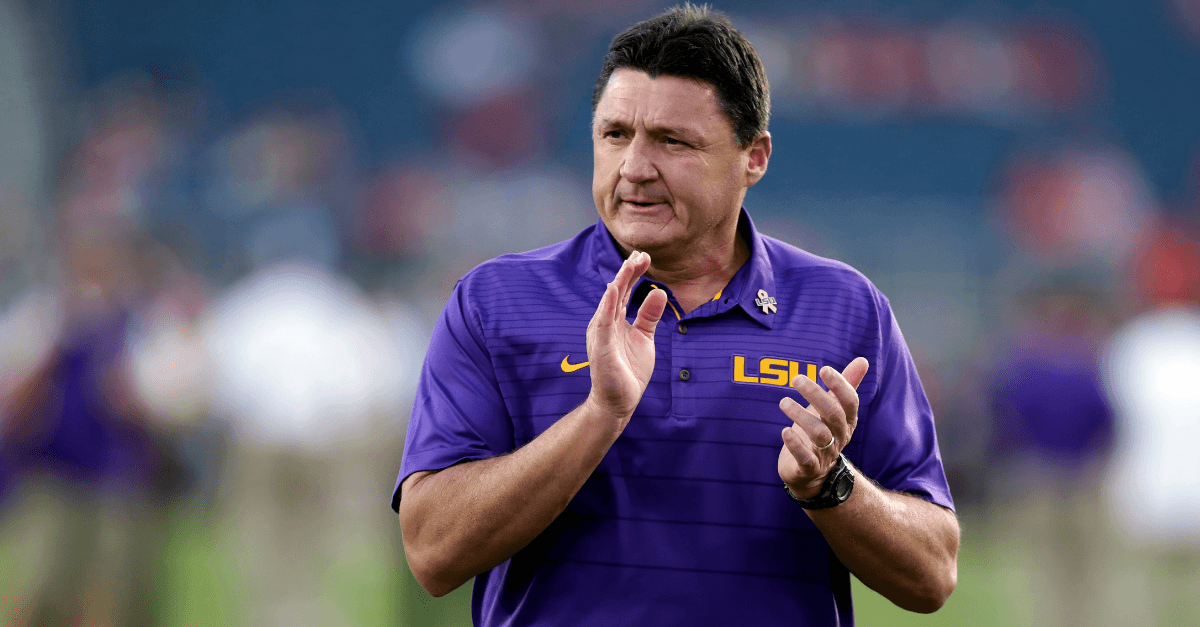 The Tigers are No. 2 in the CFP Rankings, and a loss would probably drop them to No. 4, where they would still make the playoff. Georgia, who are 11-1 and No. 4, probably have to win this game to stay in the final four. A loss would open the door for No. 5 Utah, No. 6 Oklahoma or possibly, No. 7 Baylor
Still, Orgeron told reporters at his Monday press conference the team isn't taking any chances, and don't want anyone else deciding their fate if they lose the SEC Championship game.
"No, not even thinking about it. Uh-huh. I'm not buying into that at all," Orgeron said. "We got to win. I don't know if we got to win to get in the playoffs or not. I'm not even talking about that. Our goal is to beat Georgia and win the SEC (Championship), then let's see what happens. Coming in to play, we're not talking about that. We're not even considering it right now."
Georgia Familiar with SEC Championship
This will be the third straight appearance for Georgia in the SEC Championship game. The Bulldogs are 1-1, including a 35-28 loss to Alabama last year.
LSU hasn't been to the SEC Championship game since 2011, where they dominated Georgia, 42-10. Orgeron is making his first appearance, and says fans are excited for this game.
"Yeah, they're fired up obviously. That's what they want. LSU wants a winner," Orgeron said. "Being in the SEC Championship means a lot. This is my first one. A lot of people have been telling me about it. I'm sure it's going to be a great game."
Orgeron isn't concerned that this game is in Georgia's backyard, and even though it's on a neutral site, he knows the edge goes to the Bulldogs.
"I know our fans are going to be there," Orgeron said. "I feel good about that. Everywhere we go, we've had great fans. But we will treat this as an away game."
LSU Offense Vs. Georgia Defense
Both coaches agree that LSU's offense performance in the SEC Championship game will be the key to whether the Tigers earn a victory. LSU has the No. 2 ranked offense in the country behind Oklahoma, and averages 560.5 yards a game. They have scored less than 40 points in only two games this year, and have point totals of 66, 65, 58, 56, 55, and 50.
"I mean, I think that's hard," Smart said of LSU's productive offense. "I think if you can score points like they're doing, that's great. What's bad about that? I think we all want to do that some."
Quarterback Joe Burrow, who transferred from Ohio State two years ago, leads LSU. Burrow, who is the overwhelming -2500 favorite to win the Heisman Trophy, has made the Tigers' up tempo offense possible. Orgeron said Burrow is a huge part of the team's success.
"I do believe, and I said it before, he's one of the most important recruits in LSU history in my mind," Orgeron said. "The reason why? He was able to change LSU's offense from a pro-style offense to a spread. Hopefully it's here to stay."