A single bettor picked the lock of Gulfstream Park West's 20-cent Rainbow 6 Sunday, cashing the lone winning ticket for $249,204.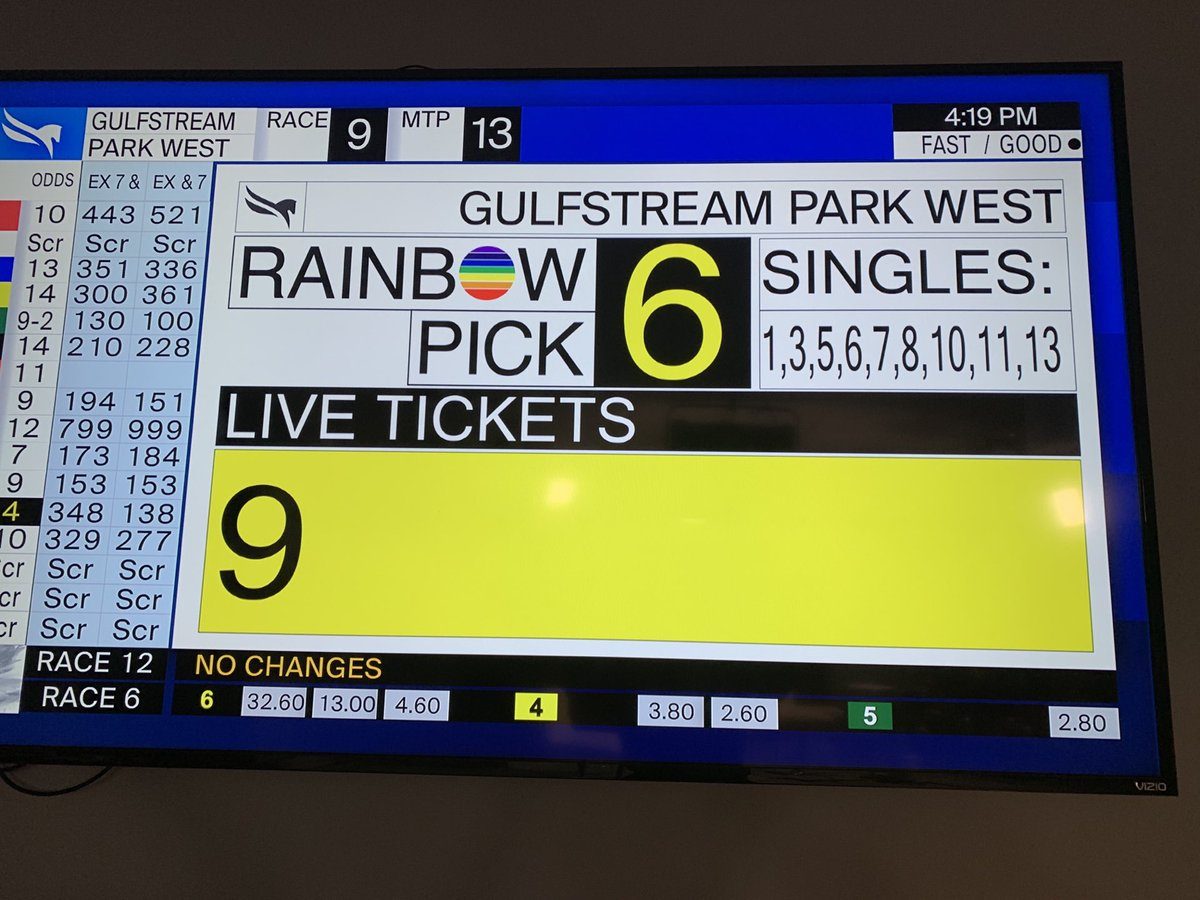 This followed on the heels of Gulfstream Park West's sister track – Santa Anita Park – yielding a nearly half-million dollar Rainbow 6 last week. The Gulfstream Park West Rainbow 6 contained a couple of long-shot bombs that culled the herd of potential winners.
The first of those came in the fifth race, the second of the Rainbow 6 races. After 2/1 Galit Jack opened matters by winning the fourth race, Myfirstexwife took books to the cleaners. She won the five-furlong, $19,000 claimer at 32/1, paying $64.40 for a $2 win bet.
Running for Riz drafted off that, winning the $32,000 claimer sixth race at 15/1. That rewarded bettors at $32.60. I Get It got the seventh race at 17/1, an allowance optional claimer for 2-year-olds. That paid $19.20.
Two Relatively Safe Bets Complete the String
Form slightly returned in the eighth when She's All Woman ($6.40) at 3/1 won the $24,000 claimer. French horse Shendam, at 9/2, completed the winning sequence, capturing the ninth race, a 1 1/16-mile $19,000 claimer.
The single winning ticket was purchased Sunday. That ended an 11-day, unclaimed string for the Rainbow 6 at Gulfstream Park West. That wager requires bettors to pick six winners from designated races. The jackpot only gets paid out if a single unique ticket is sold with all six winners.
What a payout! $249.204

Congratulations to the lucky winner of the Rainbow 🌈 Pick6 today at #GPWest! pic.twitter.com/O3ieL1TBrs

— Gulfstream Park (@GulfstreamPark) October 18, 2020
If there's no unique ticket with all six winners, 70% of that day's pool goes to the bettors with the most winning tickets. The other 30% carries over into the jackpot pool.
Last September, Gulfstream Park surrendered a $2,211,783.62 Rainbow 6 payoff after bettors couldn't pick the Rainbow 6 lock for 47 consecutive days.