Liverpool held on to a 2-1 victory over Brighton & Hove Albion on Saturday to remain undefeated in the Premier League, despite seeing goalkeeper Alisson sent off with a red card. The victory expanded Liverpool's lead at the top of the table to 11 points.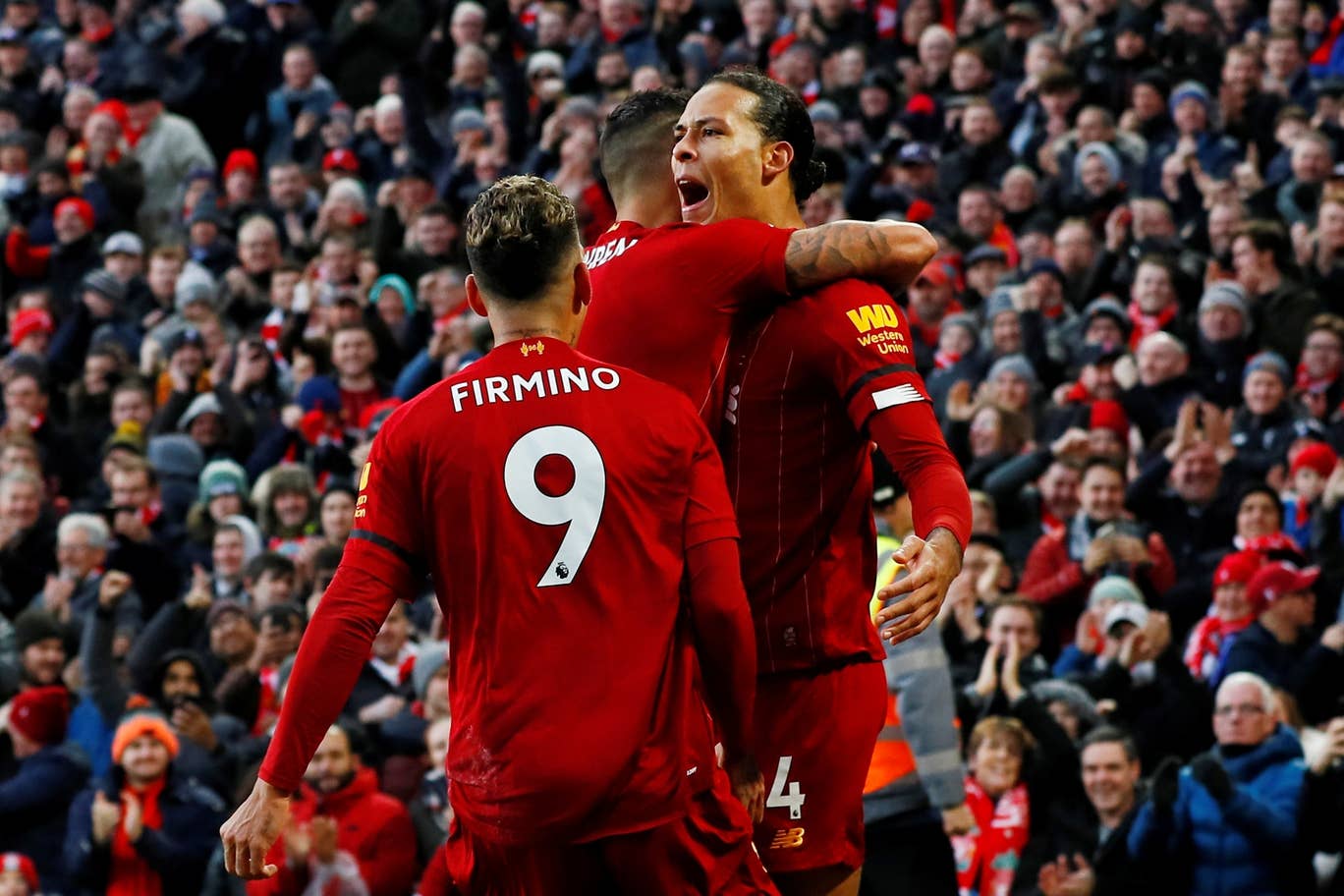 The Reds saw their advantage move to double digits thanks to Manchester City's 2-2 draw at Newcastle United.
Liverpool Holds On After Alisson Red Card
Those two results leave Liverpool on 40 points, while City has just 29, and is tied for second place with Leicester City. Leicester is expected to move into second place on Sunday when they host Everton, with FanDuel Sportsbook making the home side a -165 favorite in the match.
Liverpool got off to a fast start early against Brighton, as Virgil van Dijk scored two goals in a span of six minutes to give his team a 2-0 lead less than a half-hour in. The Reds failed to convert their chances after that, leaving Brighton with a sliver of hope throughout the match.
Alisson handled the ball outside of the box in the 77th minute, earning himself a red card. Lewis Dunk scored against backup goalkeeper, Adrian just two minutes later, and a 10-man Liverpool was forced to frantically defend to hold on to its three points.
While Liverpool is now undefeated in 14 EPL games this season – with only one draw marring an otherwise perfect start – manager Jurgen Klopp still thinks his team has room to improve.
"We have so much space for improvement, it is incredible, we know that," Klopp told reporters. "But the first job is to win the game, and we did that. We will not stop working on it."
Meanwhile, two-time defending champions Manchester City just haven't looked like the team that compiled a record-setting 98 points last season. On Saturday, City twice took leads on goals by Raheem Sterling and Kevin De Bruyne, only to see Newcastle equalize within minutes.
"We could not score all the chances we had; they scored the two chances they had," City manager Pep Guardiola said afterwards. "Sometimes it happens. In good moments, be calm. In bad moments, live these kinds of moments."
City, Leicester Can't Afford to Falter in EPL Title Race
Liverpool has now equaled its club record undefeated run of 31 consecutive matches (dating back to last season) in England's top league, and are a deserving favorite to win the EPL this year. Even with two-thirds of the season remaining, FanDuel has Liverpool as an overwhelming -430 favorite to win the league.
That doesn't mean the race is over, however. We only need to go back to last season, when Liverpool had a seven-point lead in early January, but gave it all back while City finished with 14 straight wins to top the table by a single point.
---
EPL Title Race Odds
Liverpool: -430
Manchester City: +300
Leicester: +2100
Chelsea +11000
All Other Clubs: +25000
Odds via FanDuel Sportsbook
---
That may be why City is only listed at +300, despite the significant deficit they face. It would also be a mistake to completely discount Leicester: they can cut the lead to eight points with a win against Everton, and are currently the third choice to win the EPL crown at +2100.
For now, all City can do is try to stay close so that their home match against Liverpool in early April remains meaningful. Leicester will also host Liverpool on Boxing Day in a match that could potentially turn the EPL title race on its head.