Manchester City survived an early scare to beat Brighton & Hove Albion 4-1 on Sunday, a result that clinched the Premier League title for the Citizens.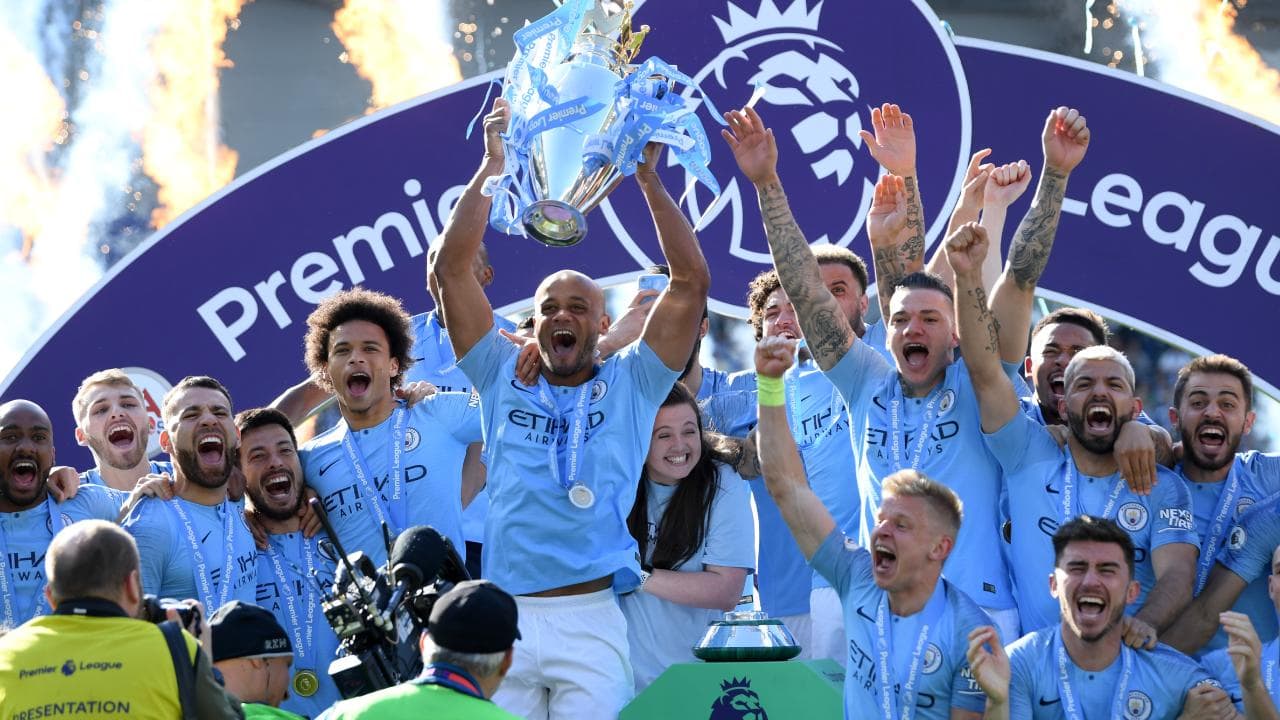 City earned its second straight Premier League trophy, finishing one point ahead of Liverpool in the final standings.
Manchester City Survives Early Brighton Scare
That was a much closer finish that the previous year, when Manchester City coasted to first place with 100 points, 19 points ahead of Manchester United. This time around, City and Liverpool finished with 98 and 97 points respectively – the second and third best seasons in EPL history.
Heading into the final day, City was a heavy favorite to retain its crown. Playing at Brighton, a team that narrowly avoided relegation, the result seemed like a foregone conclusion – though Liverpool held out hope that Brighton could perhaps manage a draw to open the door for the Reds. Meanwhile, Liverpool hosted Wolverhampton in a must-win match.
Liverpool put the pressure on early, when Sadio Mane scored the first goal of the two relevant games in the 17th minute. Still, it seemed inevitable that City would find a way to score at least once, and most felt the defending champions were still in the driver's seat regardless of the result at Anfield.
There was a moment of excitement in the 27th minute, as Glenn Murray scored off a corner to give Brighton a stunning 1-0 lead, which provided the first real glimmer of hope that Liverpool might enjoy a miracle finish. But a minute later, Sergio Aguero equalized, and Aymeric Laporte made it 2-1 Manchester City heading into halftime.
While Brighton still had moments where they threatened to score in the second half, City was always the better and more dangerous team. Riyad Mahrez effectively ended the drama by scoring City's third goal in the 63rd minute, and Ilkay Gundogan finished off the scoring nine minutes later to give Manchester City its 4-1 margin of victory. Mane would score again late to give Liverpool a 2-0 win of its own, but it was not enough to deny City its second straight title.
"It means a lot," Manchester City manager Pep Guardiola told reporters after the match. "We have to say congratulations to Liverpol as well. They helped us to push on. It's been an incredible season for us…to win the title, we needed 14 wins in a row and couldn't drop points."
Early Odds Predict Two-Team Race in 2019-2020
Liverpool manager Jurgen Klopp told reporters that he was proud of his team, which tallied the most points ever for a team that didn't win a title in any of Europe's five biggest leagues.
"The boys pushed themselves to new levels, which I love, and that development and improvement is not finished. It is the first try," Klopp said after the match. "As long as Manchester City are around with their financial power, no team will pass them easily. We need to be very close to perfection to win the Premier League as long as this is the case."
Bookmakers in the UK have already posted odds for next season, and once again, a two-team race is expected at the top. Manchester City (4/6) is the favorite according to William Hill, with Liverpool (5/2) close behind. The only other teams listed below 125/1 are the rest of the "Big Six," including Manchester United (10/1), Tottenham (14/1), Chelsea (16/1), and Arsenal (25/1).