The Eastern Conference final of the Stanley Cup Playoffs has gone to form so far, with the home team winning all four games. The Rangers will try to continue that trend in New York on Thursday, as they host the Tampa Bay Lightning for Game 5 of the playoff series.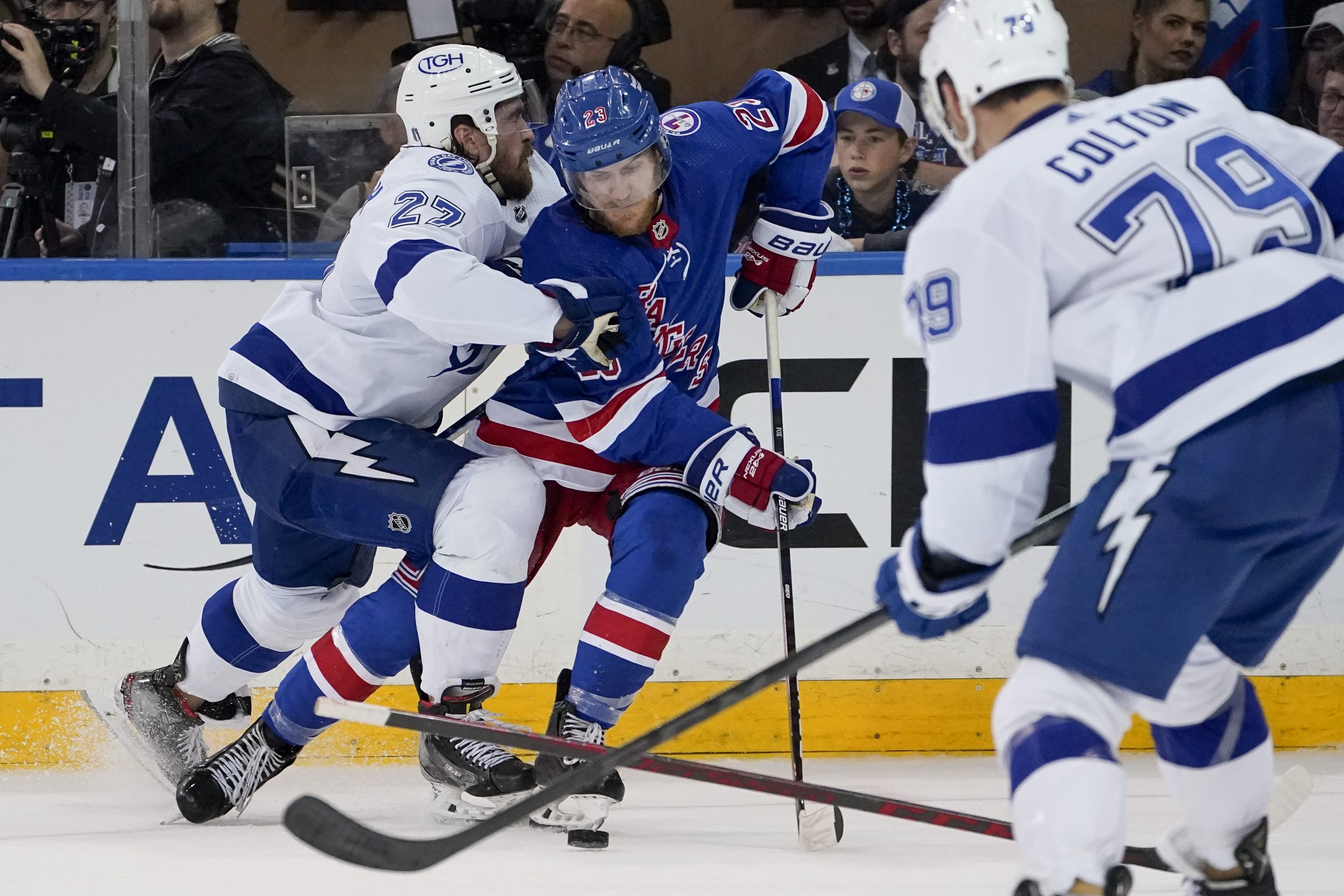 With the series knotted at 2-2, the Lightning come into Game 5 as a -128 favorite over the Rangers (+106), according to FanDuel Sportsbook.
Gallant dismisses talk of momentum
The Lightning have won two straight games, dominating the play in Game 3 before controlling the scoreboard in a 4-1 win on Tuesday. But Rangers coach Gerard Gallant isn't worried about the fact his team has lost two straight.
"How many times have I said it? There's no momentum," Gallant told reporters. "When we're up two games to none, I don't think we carried any momentum. I just think it's about getting ready for the next game. The momentum doesn't carry over. I really believe that."
Home-ice advantage has been an ongoing trend throughout the playoffs. The Rangers have only lost once at Madison Square Garden, something Gallant wants his team to remember heading into Game 5.
"We're 8-1 at home, so let's go play our home game again and get right back at it," Gallant said. "It's going to be a battle. We're playing against a team that had a lot of experience the last three years, obviously. They're not going to give it to us. We've got to go out and take it."
Tampa Bay has won the past two Stanley Cup titles. While the Lightning aren't the favorites to repeat – the Colorado Avalanche claim that honor – they are just two wins away from getting the chance to go for a third straight championship.
Lightning, Rangers both missing players for Game 5
The Lightning clamped down on the Rangers' offense over the past two games. And while they'll be playing away from home now, they'll attempt to carry that philosophy with them to New York.
"When we talk about our 'D' one, it's closing fast, not allowing teams to get to the cycle game and get to those prolonged shifts in your zone," Tampa Bay defenseman Ryan McDonagh told reporters. "We try to get on them quick and get going, so we can play on the offensive side."
Injuries will play a role in Game 5 as well. The Lightning will once again compete without center Braydon Point, who will miss his ninth game with a lower-body injury. Tampa Bay coach Jon Cooper has said Point is getting closer to returning, and hasn't ruled him out for later in this series.
"If he plays, he's going to be ready to play," Cooper told reporters. "He's not ready to play right now."
The Rangers face game-time decisions for two of their centers: Ryan Strome and Filip Chytil. Strome left Game 3 with a lower-body injury and didn't play at all in Game 4. Chytil suffered an upper-body injury in the second period on Tuesday.