In 2012, little-known 43/1 long shot I'll Have Another won the Robert B. Lewis Stakes at Santa Anita Park. This feat drew mild murmurs and a few curious looks throughout the horseracing world. After all, the Doug O'Neill-trained colt came into the Lewis off a horrible sixth in the Hopeful Stakes five months earlier.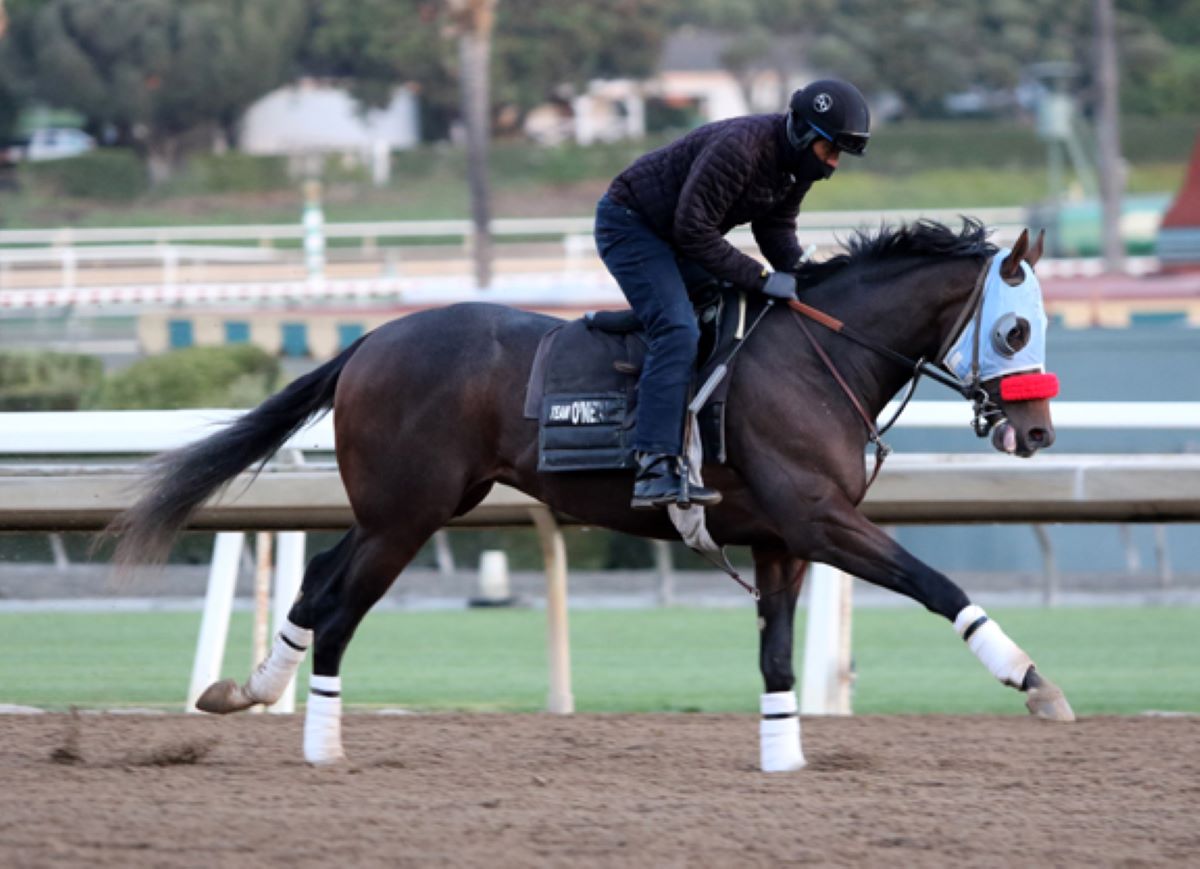 That Hopeful Stakes loss – complete with an abysmal 45 Equibase Speed Figure – marked the last time I'll Have Another lost a race. That Lewis victory – complete with 108 Equibase — propelled I'll Have Another to a memorable spring.
Two months later, he won the Santa Anita Derby. That meant little to Churchill Downs oddsmaker Mike Battaglia, who slapped 15/1 odds on I'll Have Another for the 2012 Kentucky Derby. This, in turn, meant little to I'll Have Another. He caught and passed front-running, 4/1 favorite Bodemeister – a Bob Baffert trainee named after his son, Bode — in the stretch for a Derby victory that paid $32.60.
In the Preakness at Pimlico two weeks later, 3/1 I'll Have Another reeled in and passed Bodemeister again in deep stretch to win again. The day before the Belmont Stakes, O'Neill scratched I'll Have Another after discovering a tendon injury. Just like that, his meteoric career was over.
Sham Had His Day in This Race
And, it all started in the Lewis. The Grade 3, 1-1/16-mile Lewis Stakes – named after the late California businessman, philanthropist, and horse owner Robert Lewis – is one of the Derby trail's oldest races. It dates to 1935, where it went by the name Santa Catalina Stakes. Sham, the foil for Secretariat during that memorable Triple Crown season, won the 1973 edition.
And the Lewis, offering 10-4-2-1 qualifying points to the top four finishers, holds its own as a West Coast prep. Between 1980 and 2019, 46 Lewis runners qualified for the Derby. Three of those, Ferdinand (1986), Bob Lewis' Charismatic (1999), and I'll Have Another, captured the Derby. I'll Have Another is the only horse to date pulling the Lewis/Derby double.
Fast forward to 2021 and the Lewis once again features another Baffert-O'Neill showdown in waiting. As it should, considering the two combined for five of the last nine Kentucky Derby victories (Baffert with three, O'Neill with two). Both trainers bring two horses apiece into Saturday's fray, giving horseplayers a choice on who plays the Bodemeister role and who plays I'll Have Another.
Surprise: Baffert Saddles Another Lewis Stakes Favorite
Baffert, who won this race eight times between 1999 and 2020, opens with rail-sitter and race favorite Medina Spirit (5/2). The last time we saw Medina Spirit, he was opening eyes and dropping jaws by finishing second to Life Is Good in the Sham Stakes.
His three-quarters length loss came because Medina Spirit ran out of race. He was gaining with every stride, and a repeat of his 110 Equibase and 99 Beyer Speed Figure here will drop the mic on his competitors. The extra distance is no issue for the $35,000 purchase who's already banked $45,200 in two outings.
O'Neill raises with Hot Rod Charlie (3/1). His last outing opened even more eyes than Medina Spirit's did. That was his narrow, three-quarters of a length loss to Essential Quality in the Breeders' Cup Juvenile at 94/1. The race before that, however, Hot Rod Charlie barely staved off Parnelli to win a Santa Anita maiden special weight. This is the same Parnelli (12/1 here) who finished 13-½ lengths behind Medina Spirit in the Sham.
A son of 2013 Preakness champion Oxbow, Hot Rod Charlie clocked a 94 Beyer for that Breeders' Cup. He needs at least that kind of effort here to validate that outing.
Don't Look Now, but Spielberg's in the Picture Again
Baffert re-raises with Spielberg (7/2), the $1 million colt making his seventh appearance. None of those, however, paint a clear picture for horseplayers wondering how to play Spielberg. More than $257,000 in earnings aside, this is one of the most manic-depressive horses on the Derby trail.
Will you get the Spielberg who won the Los Alamitos Futurity by a nose over O'Neill's The Great One? Or will you get the Spielberg who finished a woeful fourth in the Bob Hope Stakes, or a distant third in the American Pharoah? Not even Baffert knows.
Interestingly, Spielberg is the son of Union Rags, who won that 2012 Belmont I'll Have Another missed.
---
Grade 3 Robert B. Lewis Stakes/Santa Anita Park
Morning Line (Jockey/Trainer)
Medina Spirit, 5/2 (Abel Cedillo/Bob Baffert)
Rombauer, 8/1 (Mike Smith/Michael McCarthy)
Parnelli, 12/1 (Umberto Rispoli/John Shirreffs)
Hot Rod Charlie, 3/1 (Joel Rosario/Doug O'Neill)
Roman Centurian, 8/1 (Juan Hernandez/Simon Callaghan)
Waspirant, 20/1 (Ruben Gonzalez/John Shirreffs)
Wipe the Slate, 4/1 (Mario Gutierrez/Doug O'Neill)
Spielberg, 7/2 (Flavien Prat/Bob Baffert)
---
O'Neill's final card is Wipe the Slate (4/1). Another victim of Life Is Good, this coming by 9-½-lengths in a maiden race, Wipe the Slate wiped out a maiden field at Santa Anita a month later. The son of O'Neill's 2016 Derby winner Nyquist, Wipe the Slate took that race by 3-¾ lengths with a 96 Equibase.
He may be the weakest of O'Neill's three-headed Derby contenders, but this race will go a long way in seeing what slate awaits Wipe the Slate this spring. Here, he's probably best underneath in exotics.
The pick: Medina Spirit. Speed, distance, and training show why he's the most proven of the bunch. Look for value-priced exotics to stuff underneath, because as a Baffert-trained favorite at Santa Anita, 5/2 on Medina Spirit isn't happening when the gate opens. Long term, this is a race where at least six of the eight contenders bear closer looks here, and going forward.