Leading French sports newspaper L'Equipe wrote about Messi's earnings at PSG. According to the journalists, Messi will make $130 million if he stays at Parc des Princes until 2024.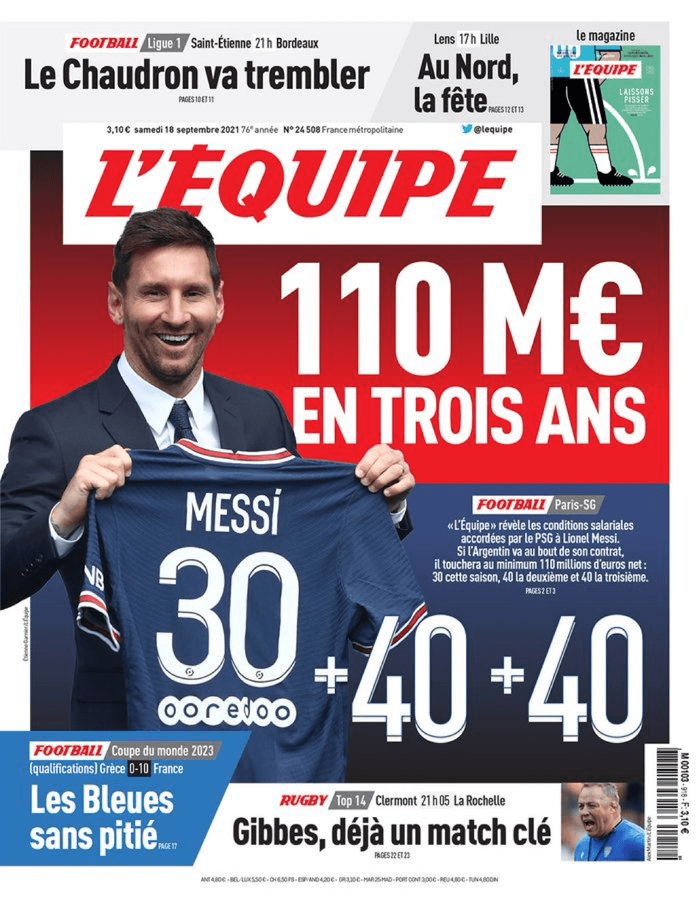 The club denies such a financial plan, saying the article is 'unacceptable' and 'disrespectful.
35+47+47
L'Equipe wrote on its first page on Saturday that Messi would earn $35 million in his first year at PSG, with a bonus of $12 million in his second and third years. The third season in the deal is not firm. Messi and PSG will have the possibility to extend for the 2023/24 campaign if certain clauses are met. Also, the wages published do not include individual and team bonuses, which could add to the total.
Messi will be paid $1.2 million through PSG's cryptocurrency Fan Token, with the club agreeing on a contract that would ensure them a profit worth between $30 and $35 million a season.
34-year-old Messi penned his contract with PSG in August. He is yet to produce an impact on the team. His two outings so far, against Reims in Ligue 1 and Brugge in the Champions League, didn't see Messi score. Leo hit the crossbar with a beautiful effort in Brugge, but PSG struggled and could only take home a 1-1 draw on their opening night of Champions League football this season.
📺 Le résumé de la rencontre 🆚 @ClubBrugge (1-1)

💫 #CLUPSG pic.twitter.com/sYQrDlI01Z

— Paris Saint-Germain (@PSG_inside) September 17, 2021
PSG sporting director Leonard: 'We can't accept that front page in L'Equipe'
PSG's bosses didn't take L'Equipe's revealings too well. Leonardo, the PSG sports director, accused the paper of lying.
"We can't accept that front page from a newspaper like L'Equipe," an angry Leonardo commented.
"It's completely false. It's a lack of respect and we did not like it. It is very far from the truth. In terms of duration, but also in terms of numbers," the Brazilian added.
"There are confidentiality clauses, but I can say that it is not true that his contract is for three years. It's far from reality. I do not understand the timing of publication. The duration of the contract is two years. It has no mandatory or non-mandatory option," Leonardo stressed.
After a difficult Champions League game in Brugge, PSG return to life in the French Ligue 1 with a shocker. On Sunday evening, they host Lyon in Paris (20:45 CET). PSG are at -263 for a win, with Lyon at +700. A Messi goal from outside the box is at +225. A bet on Messi sending at least a shot on goal in both halves is at +163, while at least a goal scored by Leo in both halves brings +400.