The NFL has yet to name a location for Super Bowl LX in 2025, but that hasn't stopped sex workers at legal Nevada brothels from offering their support in helping bring the game to Las Vegas.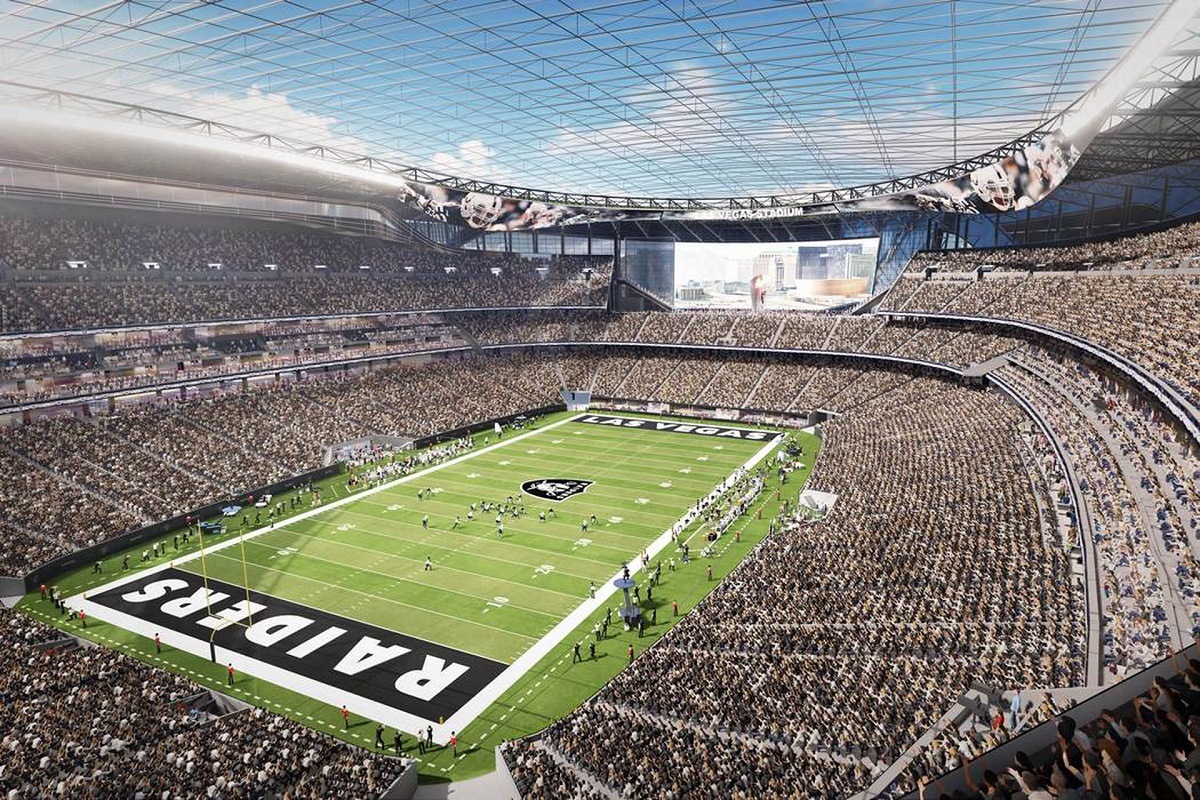 New(ish) celebrity gossip website The Blast reported Sunday about licensed Nevada sex workers beginning to conceptualize (and promote) their participation in a future Las Vegas Super Bowl, which many assume is an inevitability after the Raiders complete their new $1.8 billion stadium, just a short post route from the famed Las Vegas Strip.
The Las Vegas stadium is scheduled to open in 2020, and the legal prostitutes who work at Sheri's Ranch, a nearby brothel in Pahrump, Nevada, say they can't wait for the massive, 65,000-seat domed — er — erection to be complete.
Alissa, a sex worker at Sheri's Ranch, about 65 miles west of the future stadium site, told The Blast, "If Las Vegas gets a Super Bowl, we ladies promise to throw a massive, no holds barred party the likes of which NFL fans have never seen before."
Prostitution is not legal in Clark County, where Vegas is located, but that hasn't stopped brothels in nearby Nye County from offering their services to help support the effort for landing a Super Bowl in the Silver State.
Nevada's outgoing Gov. Brian Sandoval recently created a committee focused on bringing major conventions and events, like the Super Bowl, to the new stadium when it opens. Major business interests in Las Vegas have already begun lobbying the NFL to bring the Super Bowl to Las Vegas. So far, no legal bordello representatives have been invited to participate.
Plenty Legal Use of Hands
Cathouse empresario and fellow Republican Dennis Hof may have been able to give the legal Nevada sex industry a voice in any future Super Bowl plans, but he died shortly before winning his election to the state assembly last week.
"A Super Bowl in Vegas would be a Godsend for adult players and fans looking for a little extra fun during their Big Game vacation," said Kitty Cat, another regular worker at Sheri's, which (ahem) pegs itself as an adult vacation and "sex resort."
"Since prostitution is legal outside Las Vegas, big name celebs can explore their sexual desires at safe and legal places like Sheri's without ever worrying about getting busted."
Cat was referring to a former NFL player Warren Sapp, who got busted soliciting a prostitute in 2015 during Super Bowl weekend in Phoenix, Arizona. Last February, in Minneapolis, there were more than 100 prostitution-related arrests during Super Bowl weekend.
For previous Super Bowls in Tampa, police controversially rounded up local sex workers and posted their mugshots in the paper. At Nevada brothels, the workers are able to advertise themselves with better lighting.
Build Stadium, Super Bowl Will Come?
The NFL is virtually certain to award Las Vegas with a Super Bowl hosted at the Raiders' new stadium. It's been a tradition for all recently opened football venues to host a Super Bowl, but only after two years of operation according to NFL rules.
NRG Stadium in Houston, for example, opened in 2002, and hosted its first Super Bowl in 2004. NRG Stadium hosted the Big Game again in 2017. AT&T Stadium in Arlington, Texas, home of the Dallas Cowboys, opened in 2009 and hosted its first (and so far only) NFL championship game in 2011.
Similarly, Lucas Oil Stadium in Indianapolis opened in 2008 and enjoyed hosting honors in 2012. Levi's Stadium in the San Francisco Bay area opened in 2014 and was hosting a Super Bowl by 2016. US Bank Stadium, home to the Minnesota Vikings in Minneapolis opened in 2016. Minneapolis hosted the Super Bowl earlier this year.
Mercedes-Benz Stadium in Atlanta, Georgia, which opened in 2017, will host the upcoming Super Bowl.
Los Angeles will host the 2022 Super Bowl at the soon-to-be completed LA Stadium at Hollywood Park in Inglewood.
Super Bowl LVII will return to Glendale, Arizona. The University of Phoenix Stadium, which opened in 2006, hosted the Big Game four times.
---
Upcoming Super Bowl Locations:
2019 Super Bowl LIII – Atlanta, GA, Mercedes-Benz Stadium
2020 Super Bowl LIV – Miami Gardens, FL, Hard Rock Stadium
2021 Super Bowl LV – Tampa, FL, Raymond James Stadium
2022 Super Bowl LVI – Los Angeles, CA, Los Angeles Stadium
2023 Super Bowl LVII – Glendale, AZ, University of Phoenix Stadium
2024 Super Bowl LIX – New Orleans, LA, Mercedes-Benz Stadium
2025 Super Bowl LX – TBD
---
Wide Open in Sin City
Everyone likes a good time and no other city in America can throw a 24/7 party like Las Vegas. The betting aspect makes Vegas an even crazier option. There's no other location for a future Super Bowl that will allow attendees to legally wager on the game, lest the NFL wants to schedule a future Super Bowl in New Jersey in early February.
The Super Bowl is already one of the largest betting days of the year. Between the action offered at casinos all over Vegas, and the use of sports betting apps anywhere in the state, which will allow Super Bowl in-game wagering, handles at Nevada sportsbooks would be expected to go through the new stadium's open-domed roof.
"Let's get the Super Bowl in Vegas for 2025," Sheri's Ranch worker Alissa said. "We're willing to play our part and we're wide open to the possibilities."