Even though the Los Angeles Lakers struggled this season, LeBron James leads the NBA in scoring in his 19th season and has been breaking old records while setting new ones. LeBron recently passed NBA Hall of Famer Karl "The Mailman" Malone (36,928 points) to become #2 on the all-time scoring list. LeBron now setting his sights on Kareem Abdul-Jabbar, who currently holds the NBA record with 38,387 points.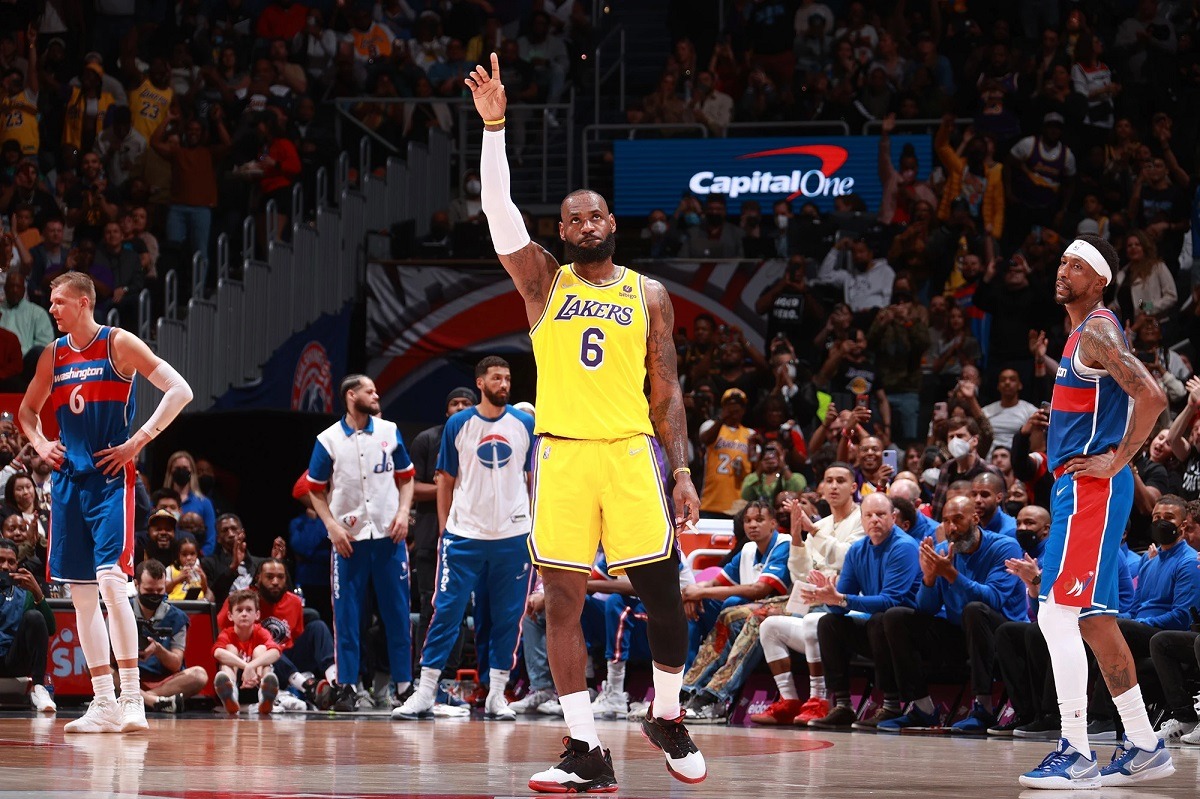 If LeBron can stay healthy, King James will pass Abdul-Jabbar and, eventually, secure the scoring throne sometime next season.
---
NBA All-Time Scoring Leaders
Kareem Abdul-Jabbar 38,387
LeBron James 36,985
Karl Malone 36,928
Kobe Bryant 33.643
Michael Jordan 32,392
---
LeBron, at age 37, is the NBA's scoring leader averaging 30 ppg, with 10 games remaining in the regular season. Only 23 NBA players were good enough and healthy enough to play 19 seasons, but none of them came close to what LeBron has done this season.
Chasing greatness: LBJ vs KAJ
Abdul-Jabbar slowed down during the twilight of his career, especially in his last two seasons with the Showtime Lakers. While Abdul-Jabbar was a shell of his former self in the winter of his Hall of Fame career, LeBron is still considered one of the top players in the NBA, averaging 30 points, 8.2 rebounds, and 6.3 assists per game. With a PER rating of 26.64, LeBron is ranked #4 in the league.
If LeBron stays healthy and averages 25 ppg next season, he'll be on pace to secure the new record less than 50 games into next year. We estimate that historic moment will happen sometime before the 2023 All-Star Break.
"When I was younger, I used to think, 'Ain't nobody catching Karl Malone. Nobody catching Kareem,'" said Carmelo Anthony from the Lakers.
"I will not allow myself to think about it," said a humble LeBron after he passed Malone. "I've always just played the game the way I've been playing it over the years, and these things have just happened organically by trying to win every game, playing the right way, playing for your teammates, and things of that nature."
LeBron and players of his generation benefit from several advantages over the previous generation of NBA superstars. The advances in technology, sports medicine, and nutrition allow modern players to prevent injuries and recover from injuries at a faster rate than the old guard. The current generation of NBA stars are paid ridiculous contracts and they do not have to hustle side jobs in the offseason, which means they can focus on their bodies and on improving their games. Let's not forget that 40 years ago, NBA players traveled with the public and flew in cramped coach seats for games, versus teams with their own private planes or chartered planes.
LEBRON PASSES KARL MALONE FOR SECOND ALL-TIME IN REGULAR SEASON SCORING 😤 pic.twitter.com/tkbAszUHDT

— NBA on TNT (@NBAonTNT) March 20, 2022
Abdul-Jabbar: One-and-done in 2022
LeBron is only 37 but he's logged 19 seasons as a pro baller because he entered the league as an 18-year-old prodigy. He had the benefit of skipping college and entering the NBA directly from high school before the NBA ended the direct conduit. LeBron was one of the last batch of NBA stars who were able to bypass the college ranks and declare for the NBA draft. Current NBA rules stipulate that high school graduates must play a gap year — in college, at the NBA's developmental league, or overseas — before becoming eligible for the draft.
Abdul-Jabbar spent four years in college at UCLA, where he won three championships under legendary coach John Wooden between 1967 and 1969. Abdul-Jabbar, who entered college with his birth name of Lew Alcindor, played ball at a time when even the premier stars in the NCAA stayed in college through their senior season. Heck, when Abdul-Jabbar attended UCLA, freshmen weren't able to play varsity ball, so he was limited to playing games on the freshman squad. During his first season in Westwood, the freshman team regularly whooped the varsity team because no one could stop Abdul-Jabbar.
Clearly, someone of Abdul-Jabbar's scoring prowess would have been a one-and-done player in the modern era. Or, if he played at the turn of the century as one of LeBron's peers, Abdul-Jabbar could have gone directly from Power Memorial High School in New York City to the NBA ranks.
More LeBron stats: 30K/10K/10K
LeBron recently became the first player in NBA history to pull down 10,000 rebounds, while dishing 10,000 assists. LeBron is also the only player in NBA history to score 30,000 points plus 10,000 rebounds and assists, which is something that Malone, Michael Jordan, and Abdul-Jabbar never achieved.
He passed both the 10K mark in rebounding and assists this season. If he remains healthy, he could become the first player to reach the 40K/10K/10K mark. Heck, if LeBron pulls a Tom Brady and plays through his mid-40s, he can become a 45K/10K/10K player.
LeBron hinted that he won't retire until he's had a chance to play with his son Bronny. His oldest son is still a couple of years away from making his NBA debut, but LeBron indicated he would sign a free-agent contract with the team that drafts Bronny. He would love the father/son combo to suit up for the Lakers, but also mentioned it would be cool if it happened with the Cleveland Cavs. In many ways, it would be fitting for LeBron to begin and end his career in Cleveland.
LeBron has often said he won't ever play for the New York Knicks because of his not-so-hidden disdain for owner James Dolan. However, the Knicks could finally lure King James to the Big Apple if they draft Bronny. Wayne Gretzky ended his career with the New York Rangers and skated his last season in the NHL at Madison Square Garden. Perhaps, LeBron can make his curtain call at MSG?
LeBron James is the first player in NBA history with 10,000 rebounds and 10,000 assists. pic.twitter.com/WS4RLdQ9hx

— StatMuse (@statmuse) March 14, 2022