Jon Gruden stepped down as head coach of the Las Vegas Raiders in response to a brewing scandal involving a trove of salty emails he sent between 2011 and 2018 that were rampant with homophobia, racism, and misogynist content.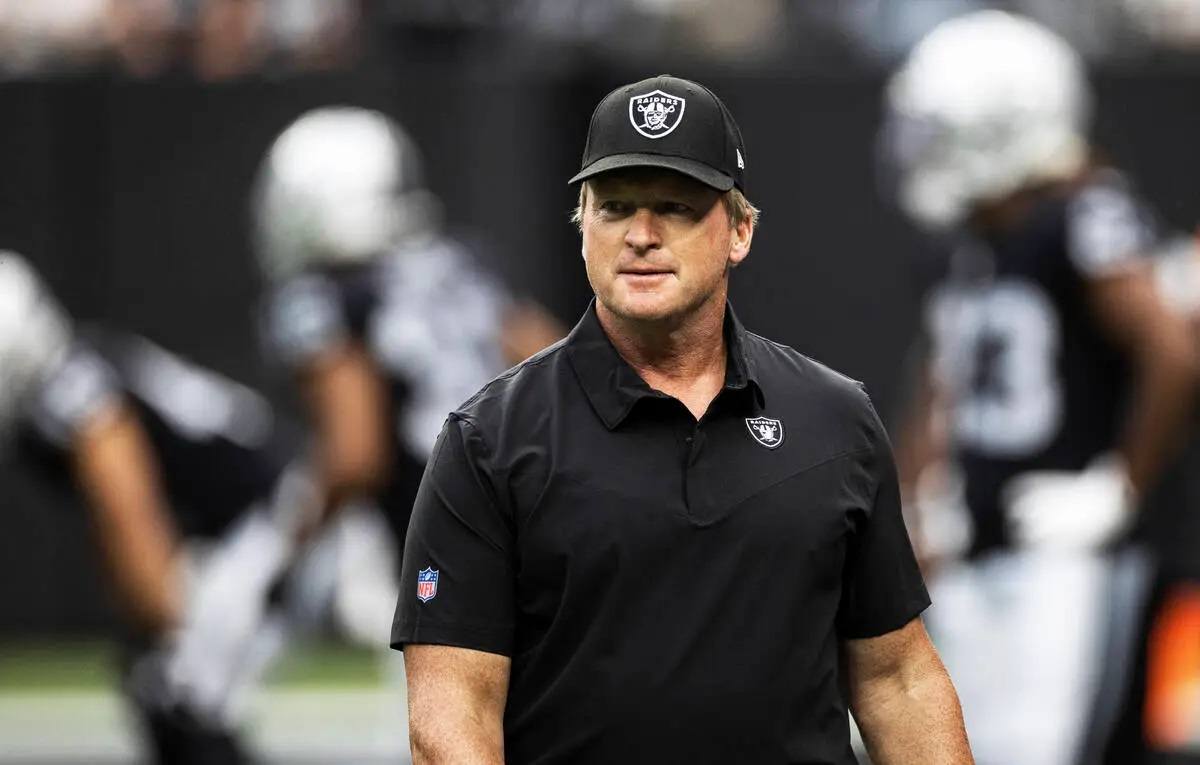 According to a report by the NFL Network, Raiders owner Mark Davis had a meeting with Gruden on Monday afternoon about the emails, and the Raiders and Gruden ended his 3.5-year stint with the team. Gruden had originally signed a 10-year contract with the Raiders that was worth $100 million.
Gruden coached the Oakland Raiders at the turn of the century with a 38-26 record between 1998 and 2001. A season after leaving the team, he won the Super Bowl with the 2002 Tampa Bay Buccaneers. After a seven-year stint with the Bucs, he stepped away from coaching in the NFL and became a popular broadcaster and host of Monday Night Football. He was 22-30 since rejoining the Raiders in 2018.
Separate investigation snags Gruden
The New York Times was conducting a different investigation into the Washington Football Team and its toxic workplace when it uncovered the Gruden scandal. The Times discovered a series of emails Gruden sent between 2011 and 2018 to Washington's former president and general manager Bruce Allen that included offensive language. During that span, Gruden was employed by ESPN as an announcer.
The NFL sent Gruden's incendiary emails to the Las Vegas Raiders for review. An initial email surfaced over the weekend where Gruden used a racist slur against NFL Players' Association (NFLPA) executive director DeMaurice Smith. Gruden apologized and said he didn't have a racist bone in his body.
"I'm ashamed I insulted De Smith," Gruden told ESPN. "I never had a racial thought when I used it. I'm embarrassed by what's out there. I certainly never meant for it to sound that bad."
After the first email came to light, The New York Times released a new batch of emails that revealed widespread hatred for gay players in the NFL, disdain for female referees, contempt for multiple team owners, and a distinct hatred for NFL commissioner Roger Goodell.
Future of the Raiders?
There's no word on who will become the next head coach of the Las Vegas Raiders following Gruden's departure. The Raiders lost two games in a row after starting the season 3-0. They were beaten by rookie quarterback Justin Fields and the Chicago Bears in Las Vegas on Sunday.
The Raiders are slated to play the Denver Broncos in an AFC West matchup at Mile High in Week 6. The Raiders opened as +3 underdogs, but the line has since moved a half-point to +3.5.